Ethiopians are crazy for meat.
And Ethiopia is one of the world's top livestock producers – everywhere you go you'll see herds of animals.
Walking down the street in Addis Ababa you'll get a whiff of raw meat – and I mean fleshy raw meat where you can almost smell the grass on the animal – it's great – at least for those of us who love meat.
Then you'll see the slabs of freshly slaughtered cow, lamb, and goat hanging in a little room with a butcher dressed in a white doctors coat carrying a big knife while slicing off pieces of flesh by the chunk.
Though Ethiopian vegetarian food is common and especially eaten on fasting days, most locals still love meat when they have a chance.
Step into anyone of these local restaurants (there seems to be thousands in Addis Ababa), usually marked by a big yellow sign sponsored by St. Georges beer, and you'll be in for a meat treat.
Some men go for the gored gored, a hunk of raw meat sushi.
Get exclusive updates
Enter your email and I'll send you the best travel food content.
But for a cooked version try the tibs, and more specifically, the derek tibs, which is the version that's basically just sauteed in butter with just a hint of spice.
Derek Tibs
There are many variations and styles of tibs, but for the most part it's a certain type of meat (either beef, lamb, or goat) cooked in Ethiopian butter with a few spices, onions, and peppers.
Tibs is the Ethiopian version of nyama choma.
Derek tibs is the version that's cooked dry, kind of like stir frying, but just with some butter in a pan and searing the meat until some pieces get crunchy.
It's often served in a flaming hot earthenware dish with hot coals on the bottom. This keeps the meat sizzling hot and you get some meat crispies at the bottom.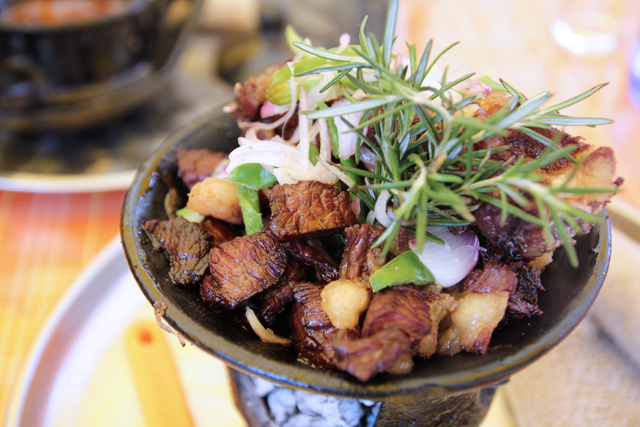 This particular derek tibs I enjoyed, was served with a few sticks of fresh rosemary on top, adding a lovely fragrance to the already delicious and all-natural meat.
Ethiopian tibs is nearly always served with a side sauce, known as awaze, mixed with Ethiopian mustard and chili powder.
The sauce is slightly spicy and the mustard has a kick like wasabi. It's excellent with the meat. 
Along with the awaze sauce, tibs is also always served with injera, the staple bread, and something you'll be eating for every meal in Ethiopia.
At this restaurant in Addis Ababa, I thoroughly enjoyed my 1/2 kilo of derek tibs, and it cost a total of 80 ETB ($4.17) – pretty good deal for a big pile of delicious meat!
Get exclusive updates
Enter your email and I'll send you the best travel food content.