A few weeks ago, my wife Ying and I, decided to go visit Joel, one of our great friends who is a teacher in the almost unknown town of Chumpuang (ชุมพวง โคราช).
Chumpuang is located about 6 hours from Bangkok by bus, in the Isan region of Thailand, in Korat.
As much as I love Bangkok, I was quite excited to get out of the city for a bit, find some fresh air to breath, cruise around the rice fields, and eat some unique and marvelous Isan food.
From Bangkok, we caught a bus from Mo Chit bus station, on a route that went from Bangkok north towards Laos, passing through Chumpuang along the way – and of course, we hopped out of the bus in Chumpuang.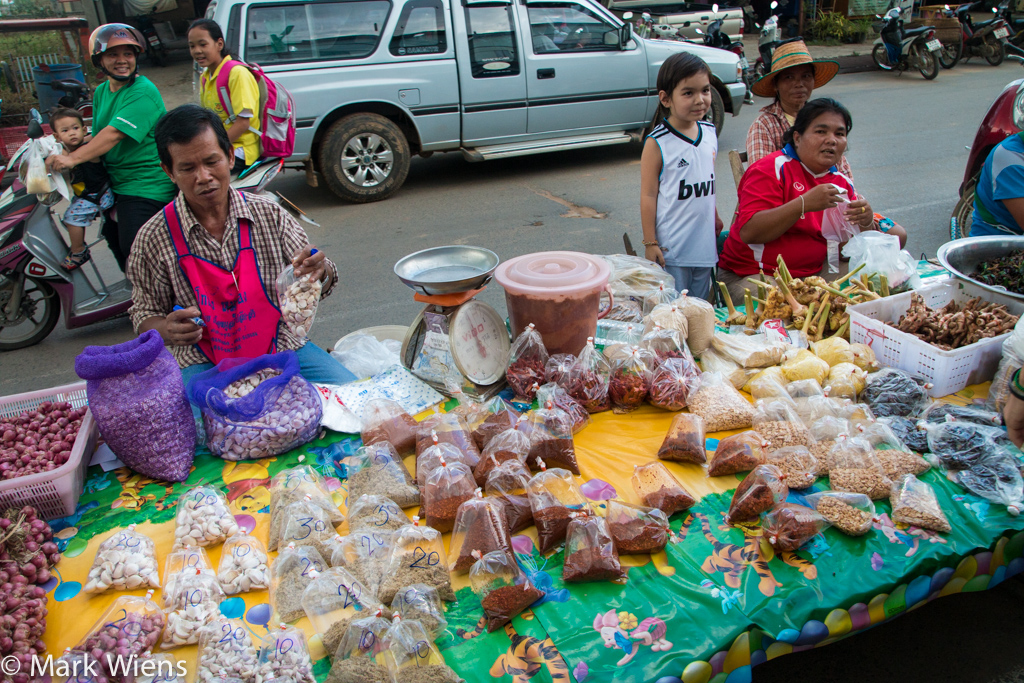 Chumpuang (ชุมพวง โคราช)
Chumpuang is a tiny little town, actually more of a rice farming Isan village in Thailand.
It's about 2 hours from one of the biggest cities in Isan, Korat, and about 1 hour north of Phimai, a small town that's known for its ancient historical ruins (more on this later).
The main attractions in Chumpuang are pretty low key: local life, exploring rice fields, going to the evening market, and my personal favorite activity: eating.
Doing just about nothing, but enjoying the fresh countryside, is one reason why Chumpuang (ชุมพวง โคราช) is a great place to visit.
Village life
Chumpuang (ชุมพวง โคราช) reminded me of my trip to Yangshuo, China, a few years back, a place where I spent the day riding my bike around rice fields, surrounded by insanely gorgeous karst mountain formations.
One of the most fun things to do in Chumpuang is explore the countryside, bike ride through the peaceful rice fields, and take in the beauty of the rural landscape.
My friend who lives in Chumpuang really enjoys biking, and he had a friend who owned a number of mountain bikes, so we could cruise around.
Along with rice, peanuts are popularly grown, and since peanuts happen to be one of my personal favorite snacks in the world, I was happy to see lots of peanut fields.
One day as we were bicycling through a small village, a few kilometers from central Chumpuang, we bumped into a monk ordination ceremony.
We were in the middle of nowhere, and all of a sudden a brigade of people dancing and singing came marching towards us.
Get exclusive updates
Enter your email and I'll send you the best travel food content.
They were all extremely nice, immediately offering us shots of whiskey, and encouraging us to dance with them for a few minutes.
It was fun, but after we politely greeted them, and took our obligatory shots of whiskey at 9 am, we bid our farewell and continued on our bike ride.
Chumpuang Evening Market
One of the highlights of visiting any small city, or even big cities, is going to the local markets.
I've said this time and time again, from Addis Ababa to Samut Prakan, markets are one of the best places in any country to explore local life and culture.
Chumpuang's evening market was a small side of the road market, where a congregation of food stalls set up in the evening.
The majority of the stalls were selling fresh produce and meat to purchase and take home to cook.
There was a good selection of vegetables and herbs, some of which are less common to find in Bangkok, and others similar.
This lady was selling a beautiful selection of vegetables, all neatly arranged in careful order — vegetables are beautiful aren't they?
Snacking in Chumpuang
Within the Chumpuang evening market, there were a few interesting snacks.
In Bangkok you'll find sai kook Isan (video), or Isan style sausage on the side of nearly every major street.
It's a favorite snack in Thailand, especially during the mid afternoon, sometime in-between lunch and dinner.
But in Bangkok, sai krok is nearly aways made from pork, and so I was quite pleased to find sai krok wooah (ไส้กรอกอีสานวัว), sausage made from beef at this small Chumpuang evening market.
It smelled quite meaty, a bit like nyama choma, and as soon as I saw and smelled it, I immediately needed to eat it.
The sai krok wooah (ไส้กรอกอีสานวัว) was about half beef and half rice on the inside, and just lightly spiced, plus salty. It kind of tasted like beef salami to me, and along with alternating bites of fresh chilies, it was tasty.
Insects, mostly silk worms and things like grasshoppers and crickets (จิ้งหรีด), are a popular salty snack. They are crispy and protein rich.
You can read more about insect snacking in Thailand here.
Sticky rice is the staple for most people in Isan, and one way to eat day old sticky rice is to coat it in an egg mixture, form it into small patties, and grill it, known as khao jee (ข้าวจี)
It's honestly not my favorite, it sort of tastes like burnt margarine over crusty rice.
Food in Chumpuang
Finally, let's get to the highly important subject of food and meals, after all, food is one of the best reasons and one of my priorities when I travel.
Isan is well known for its distinct style of cuisine.
You might have eaten Thai sticky rice and green papaya salad (som tam) – these are two of the most well known Isan staple foods, but there's so much more to Isan food.
In Bangkok, there are countless Isan street food restaurants and stalls, but in every region of Isan, there are unique and interesting local dishes.
One of the things I had never eaten before was something known as pla ra bong (ปลาร้าบอง), a type of Isan fermented fish paste, that was sold in a small plastic bag.
We decided to buy a package of it, and take it to my friend's favorite ahan dtam song (stir fry) street food stall, and have her prepare it for us.
The first evening she made pla ra bong pad (ปลาร้าบองผัด), the fermented fish paste stir fried up with galangal, lemongrass, and an egg, and topped with fresh slivers of lemongrass and a handful of fresh chilies.
It was salty, had a slight fish cheese flavor to it, and it was incredibly tasty.
We ate it along with raw vegetables and with bites of rice. This preparation version of pla ra bong (ปลาร้าบอง) was probably one of the most delicious dishes I ate on this entire trip to Isan.
The next evening we went back to the evening market and got another package of the same pla ra bong, and went back to the same street food stall to have her cook it up.
This time she made yam pla ra bong (ยำปลาร้าบอง), a salad with the raw version of the fermented fish sauce. Being raw, it was quite a bit stronger in flavor.
I liked the raw salad version, but overall, I liked the stir fried version better.
You can find awesome som tam (Thai green papaya salad) in Bangkok, but in Isan, they take some tam to the next level.
At a small restaurant, more like the front yard of someones home, I had a few of the best plates of som tam I've ever had in my life (more about this spot later).
Watch the vlog of my time in Chumpuang
(If you can't see the video, watch it here: http://youtu.be/XRvC5yb74Cw)
Conclusion
Chumpuang (ชุมพวง โคราช) is just a tiny little-known village in Isan, Thailand.
It's really not on the map for any reason.
But it's the little off the beaten path towns like Chumpuang that have so much character and so much friendliness to offer. The evening market had some interesting things to try, the vendors were friendly, and the fields of rice were gorgeous.
Hope you enjoyed these photos of my pleasant trip to Chumpuang, it was a great time to get out of Bangkok, and to explore local life in the Isan countryside.
While I normally publish most of my Thai food articles over of EatingThaiFood.com, I thought I'd do a series of posts about some of the delicious food I ate during this recant trip to Isan.
More updates and delicious food from Isan coming soon…
Get exclusive updates
Enter your email and I'll send you the best travel food content.