Dar Es Salaam, Tanzania, is located right along the Indian Ocean, and while you can go to beaches at places in town like Coco Beach, it's not really recommended to swim there (and not always the safest).
So one of the closest swimming beaches, which happens to be an island, is Bongoyo Island. Visiting the small island in the marine reserve, is one of the top things to do in Dar Es Salaam.
To get there you have to take a boat from the Slipway Center where you pay a fee for the day, board a boat, and they'll deliver you to Bongoyo and bring you back at a later time.
The boat ride costs $20 per person (or the equivalent in Tanzanian Shillings), and the ride takes about 30 minutes.
The problem is that, they won't depart unless there are 4 people or more. So if there's not enough people for the 9:30 am departure, they won't leave until 11:30 am (unless you pay more to accommodate 4 people) – can be a pain.
The ride to Bongoyo Island departs from the Slipway shopping center on the peninsula, and especially the afternoon journey can be a bit choppy.
If you get sea sick easily it might not be the best idea for you to visit (of course, this all depends on conditions and time of year).
Get exclusive updates
Enter your email and I'll send you the best travel food content.
Also make sure you have some plastic bags or a waterproof bag to keep your valuables in during the boat ride as sometimes you can get splashed quite heavily.
Bongoyo Island, Dar Es Salaam, Tanzania
Bongoyo Island is part of the Dar Es Salaam marine conservation area.
It's a leisure island, mostly used for relaxation as a swimming and snorkeling beach that's close and easily accessible from Dar Es Salaam.
Once you arrive on Bongoyo Island there's not much to do other than relax on the beach, wait for lunch, and hang out. There is the option to do a little walking around on and across the island, but it's often just too hot and sunny, and the walk is not all that spectacular.
Shade bandas (little huts) cost 5,000 TZS, and they are definitely worth it if you plan to stay at Bongoyo Island for a few hours.
As soon as you arrive, someone will come around and ask you for your lunch order. There are a number of seafood items normally available, but be sure to ask which ones are available on that particular day (because typically not everything is available each day).
A few years ago when I visited Bongoyo Island, I had the whole grilled Changu fish which I remember being quite delicious, but the last time I went, they didn't have any fish that day.
So instead we ordered one plate of calamari and chips and a side of crab.
Lunch is served whenever the food is ready, normally around 12:30 or 1 pm.
Though they invite you back into the dining hut for lunch, you can also retrieve your food and bring it back to your banda so you can eat with a view of the ocean.
The calamari plate was pretty good, the squid was nice and tender and the fries were typical Tanzanian food style, not crunchy enough, and pretty oily, but still quite tasty. A pool of tomato sauce made things better!
The crab on the other hand was terrible, it was all dried out, and despite it looking pretty good from the outside, there was only a tiny bit of meat on the inside. I was disappointed with the crab.
Also, you can bring your own food and beverages so you don't have to purchase anything once you're on Bongoyo Island.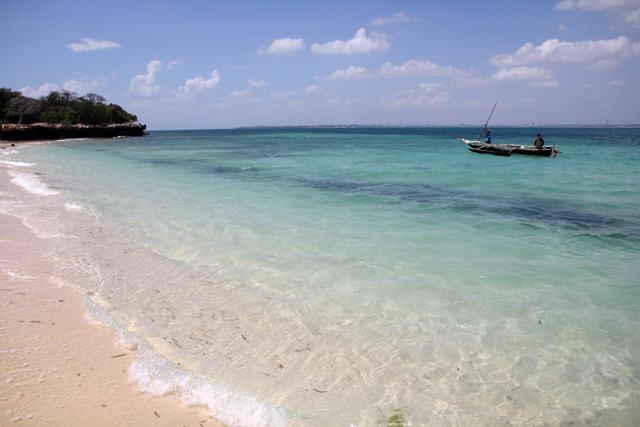 The beach at Bongoyo island is not quite Zanzibar, but it's a good little escape from the city of Dar Es Salaam, and it's easy to get there.
Weekends can be busy, but if you go on a weekday, the island should be nice and quiet.
Relax under a shaded banda, take a dip in the sea, and when you're ready, jump back on the boat and head back to Dar Es Salaam.
Related articles
Get exclusive updates
Enter your email and I'll send you the best travel food content.