One of the things I have loved so far, about being part of and traveling with a Thai food TV show, is that I get to do so many things that would be very challenging (both budget and contacts) by ourselves (just my wife and I).
Being a TV show, they not only have the budget, but the leverage, to do so many cool "behind the scenes" food things in Thailand.
One of those things… how to make and even harvest the ingredients for shrimp paste (kapi กะปิ), an essential ingredient across Southeast Asia, and very important in countless Thai dishes.
Bangkok to Samut Songkhram – Day 9
It was another early day on Day 9, Ying and I actually woke up at about 3:30 am in order to eat breakfast and get ready, and the van picked us up at 4:30 am from our house.
We drove to Samut Songkhram (สมุทรสงคราม), the province that's right next to Bangkok, sort of to the southwest.
Samut Songkhram is famous for a number of things, including fermented shrimp paste (kapi กะปิ)… and that's exactly what we were going to learn how to make… and eat!
Fishing trip
It took about 1.5 hours until we arrived at the shrimp paste factory, and after greeting our host, we then headed to the mouth of the ocean to take a boat and fish for krill.
I actually barely knew what krill were until we headed in the boat with a local fisherman to harvest some.
The coastline at Samut Songkhram is full of mangroves and the water is muddy.
During the boat ride, we stopped along the bank to check out some huge troops of monkeys, who stared at us, as we stared at them.
The coastline in Samut Songkhram is full of mangroves, and the water is mostly shallow and quite muddy, making the conditions almost perfect for krill – that's why Samut Songkhram is so famous throughout Thailand for its shrimp paste.
After arranging with the fishermen, we then headed into the boat, and went fishing. The fisherman had a 10 meter long net, which was made from a very fine mesh.
In the ocean, there were upstanding sticks, and he hooked the net over the sticks, and then let the net drift with the current. Almost immediately, he started catching some krill on the inside of the net.
What are krill (เคย)?
Krill (known in Thai as koy เคย) are tiny little shrimp-like crustaceans that live in the ocean.
They are often eaten by big sea mammals like whales, but throughout Southeast Asia, from Thailand to the Philippines, they are used to make shrimp paste.
They are so small, they sort of stick together in a sticky paste, almost like glue that's halfway dry.
After catching a full net of krill, the fisherman brought in the net, and we headed back to the shore line.
Using a big plastic basket, he added the krill, and then shook it in the water in a effort to separate the good krill from the garbage, things like leaves and sticks that had gotten caught in the net.
Get exclusive updates
Enter your email and I'll send you the best travel food content.
Jay Jim Kapi Khlong Kone (เจ๊จิ๋ม กะปิคลองโคน)
Samut Songkhram is known throughout Thailand for producing some of the best shrimp paste in the country, and Kapi Khlong Kone (กะปิคลองโคน) is the area that produces the best quality shrimp paste.
Since I'm a lover of Thai dishes made with shrimp paste, like khao kluk kapi (fried rice with shrimp paste) and nam prik kapi (chili sauce with shrimp paste), I was excited to see how the krill transformed into kapi (กะปิ).
P'Jim, the owner of the shrimp paste factory, greeted us.
The first step was to take the krill, and mix it with sea salt – the recipe was 1 kg of sea-salt to 10 kg. of raw krill.
After mixing it evenly, we then spread the mixture over a tarp, and put it in the sun to dry.
The best krill should be slightly transparent, and you should be able to see their tiny black eyes. For the demonstration, we used the highest quality krill.
The krill must then sit in the sun for three days in order to dry out and de-hydrate, and during that period it turns to a purple pink color.
After three days, the krill are finished drying out, and they are then sifted through a metal mesh, in order to filter out all the big bits of garbage, like sticks, and small fish, or little bits of shell, or anything.
We didn't have three days, so luckily P'Jim had a bag of kapi that had already dried for three days.
We pushed the shrimp paste through the metal mesh, and just like making minced meat through a grinder, we pushed the shrimp paste through the metal mesh.
After that, the shrimp paste is then put into a huge plastic tub, and preserved for about 1 month until it's ready to be sold or eaten.
Pictured above is 700 kilos of shrimp paste, worth about 50,000 THB.
Myself, being a lover of shrimp paste, and loving so many of the dishes that use shrimp paste, it was so cool to go to the source, and see not only how it's made, but even how the krill are first harvested.
At Jay Jim Kapi Khlong Kone (เจ๊จิ๋ม กะปิคลองโคน) factory, they also have a small shop set up, where if you ever stop by, you can purchase their best quality paste.
Ying made sure to buy a few kilos of the best stuff to bring back home – it really did taste amazing. I can't wait to make some Thai recipes using the kapi (กะปิ) we bought.
Price – 80 THB per kg.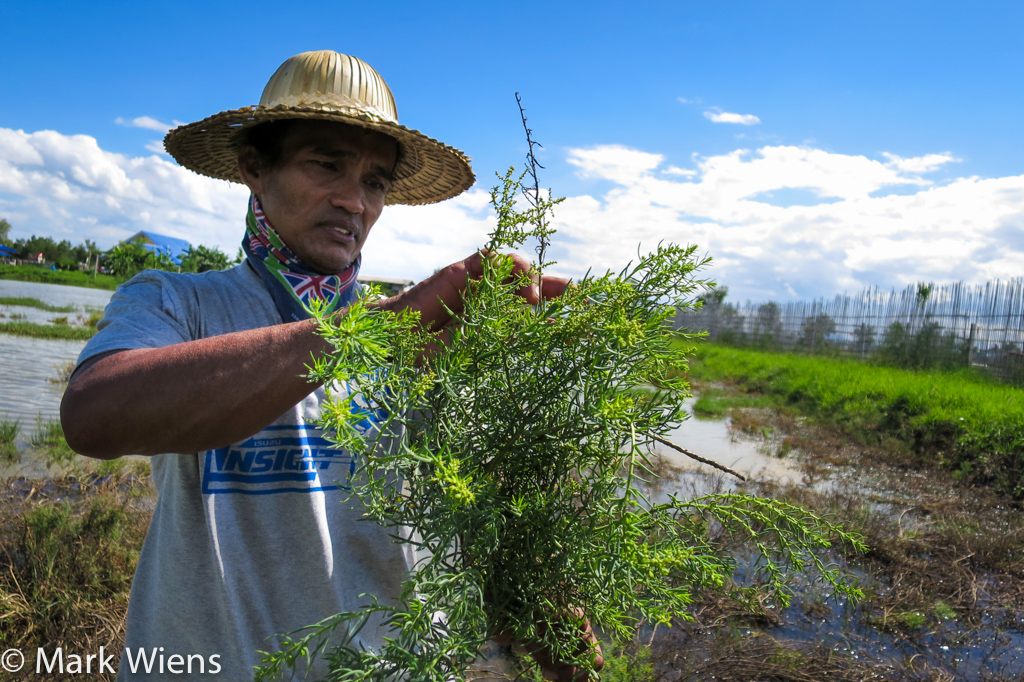 Bai Shakram (seepweed) ใบชะคราม
After leaning the process of making kapi (กะปิ), we then headed into the field to find a vegetables known as bai shakram (ใบชะคราม).
Bai shakram (known in English as seepweed or suaeda) is a very interesting vegetable.
Even in Thailand it's not very common anymore, and I rarely ever see it in Bangkok, so I was quite excited to pick some fresh seepweed and see how they cooked it and served it with the nam prik (chili sauce).
The shrub grows only in salt water, sort of on the bank, and so it soaks up a lot of salt. To cook it, the leaves have to first be boiled for a few minutes to release all the salt water – otherwise they would be too salty to eat.
Cooking with kapi (shrimp paste)
P'Jim then cooked us a full meal of a variety of dishes, all prepared using shrimp paste as an ingredient.
We had a type of tom som kapi (ต้มส้มกะปิ), sour soup, much different from the southern Thai version I normally eat at home.
It was sweet and sour, with nice pieces of fresh fish and lots of green onions mixed in.
She also made meuk pad kapi (หมึกผัดกะปิ squid stir fried with shrimp paste), typically one of my favorites, but I actually didn't care for it here very much.
The ingredients were good, but it was way too sweet for me.
The best dish of the meal for me was the bai shakram rad kati (ใบชะครามราดกะทิ), marinated in coconut cream, and served alongside the nam prik kapi (shrimp paste chili dip).
It's such an amazing vegetable, slightly salty, and it has a lovely crisp texture.
She also made an omelet with bai shakram (ไข่เจียวชะคราม), which was delicious as well, especially when adding some nam prik kapi to each bite.
From harvesting fresh krill in a boat, to learning about the process for making shrimp paste, and finally eating a meal where all the dishes were flavored with shrimp paste, it was a very enjoyable experience at Jay Jim Kapi Khlong Kone (เจ๊จิ๋ม กะปิคลองโคน).
Bang Khon Thi – Samut Songkhram (บางคนที สมุทรสงคราม)
After lunch, we got back into the van and continued on to the small village of Bang Khon Thi, which is pretty close to some of the famous floating markets like Amphawa.
There we met up with P'Ree, the owner of Rong Krua restaurant.
A few days before I had eaten the best tom yum goong of my life, but we were going to cook another version, the local traditional Maeklong (Samuk Songkhram is also known locally as Maeklong) recipe.
Downpour – Change of plans
Our first step was to go to the market… and that's when it started down pouring.
The rain didn't let up, so we had to put our plans on hold, and couldn't shop for the ingredients.
Chantara Resort (ชาญธารา รีสอร์ท) at Bang Khon Thi
Instead we ended up checking into Chantara Resort earlier than we had expected, at about 5 pm.
The rain kept on coming, but it bought me a little time to catch up on some articles I needed to write. The rain finally started to let up just after 6 pm when the sun was starting to go down.
The rain stopped, revealing a beautiful sunset over the river.
Rong Krua Restaurant (ร้านโรงครัว)
For dinner we went back at Rong Krua Restaurant (ร้านโรงครัว), and enjoyed an amazing spread of local Maeklong dishes.
My favorite dish was the pla too tom madan (ปลาทูต้มมะดัน), a soup made from mackerel fish, and madan (which is a type of garcinia fruit), an incredibly sour little fruit.
The soup was spicy, sour, and herbaceous.
I also really loved the hoy lot pad cha (หอยหลอดผัดฉ่า), razor clams stir fried with fingerroot, chilies, kaffir lime leaves, and lots of basil.
Night fishing
It was about 9 pm after we finished eating dinner, but we still had one more scene to film: fishing for freshwater prawns at night.
We met up with a couple local fishermen, and I boarded a very small (really just made for one person) boat. So we were pretty low in the water. Luckily the water was pretty calm flowing.
Prawn fishing was pretty fun, but the most fun part was being in the calm water at night – it was a little eerie and peaceful at the same time.
After finishing the scene, we headed back to the hotel, and I was pretty tired, so I hit the sack and was asleep within seconds.
(NOTE: If you're just joining me on this series, I'm in the middle of filming a Thai food TV show (I'm the host). I'm doing my best to blog about everything we do and eat. So stay tuned for upcoming posts.)
Get exclusive updates
Enter your email and I'll send you the best travel food content.