Barbecue House, located in the Upanga district, is consistently one of the best restaurants in Dar Es Salaam, Tanzania.
As the name suggests, they specialize in local Tanzanian style barbecued meats on the grill.
The owner, has been operating this fantastic Dar Es Salaam dining establishment for quite a few years now, I think around 20 years or so.
And nearly every time I visit Dar Es Salaam, the first restaurant I eat at is Barbecue House.
During the daytime Barbecue House just looks like a normal home, but at night the grills emerge and the chicken and skewers of meat start to smoke away.
One of the absolute best reasons to eat at Barbecue House is for the sauces, four different bowls of house-made sauce that are so flavorful, you'll want to drink them.
The green chili sauce, the red chili sauce, and the tamarind sauce are all spectacular, but even the red chili sauce (my second favorite of the choices) is trumped by the coconut chutney, a sauce that's just as good as Sri Lankan pol sambol.
Get exclusive updates
Enter your email and I'll send you the best travel food content.
To go with the sauces, they first deliver a huge plate of thinly sliced raw cabbage salad. The salad is merely an excuse to sop up as much of the sauces as possible, and you'll immediately realize just how spectacular all four of them are.
Being one of the best restaurants in Dar Es Salaam, Barbecue House makes no mistakes when it comes to samosas. These little deep fried triangles of goodness, can't be missed. The meat, chicken, and even vegetarian samosas are all delightful.
And by this point you probably already known, that with some of the sauce added, they're even better.
Price – 700 TZS ($0.42) each
For barbecue chicken, Barbecue House has the normal version and the "hot" version, and to my liking, it really does have some kick to it.
Tanzanian barbecue chicken is similar to tandoori chicken, but it's usually grilled instead of roasted in a tandoori oven.
The chicken barbecue is excellent at Barbecue House, always cooked fresh, and packed with flavor.
Price – 5,500 TZS ($3.35)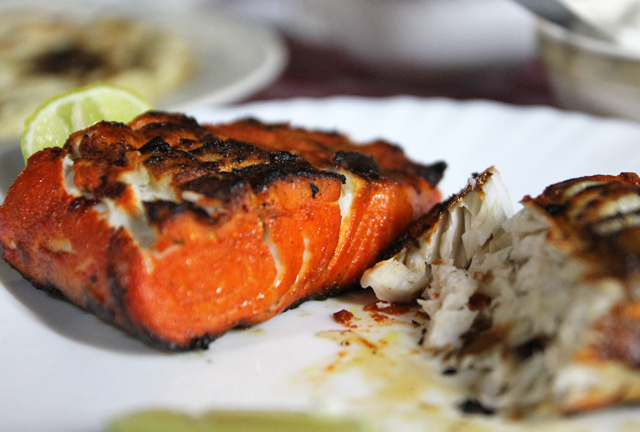 On my last meal at Barbecue House, I also decided to go for the fish barbecue.
It was a nice sized chunk of fish, I think red snapper. The fish was tender and flaky and marinated in the same red luscious sauce as the chicken. A squeeze of lime, and the fish barbecue was spectacular.
Price – 10,000 TZS ($6.10)
To go with the chicken and fish, there's basically a choice of chips (fries) or ajam, a thin bread that's somewhere between a naan, chapati, and a dosa. It's kind of like a naan that's cooked like a pancake and then grilled, so it's sort of soft and spongy. After fried, it's then grilled to give it a nice smoke flavored exterior.
When you're in Dar Es Salaam and looking for a great restaurant for dinner, Barbecue House consistently delivers satisfying local food. The sauces alone are worthy of being an entire meal, but add some grilled meat to the table, and things get even tastier!
Barbecue House, Dar Es Salaam, Tanzania
Open hours: From about 6 pm – 10 pm nightly
Prices: You'll spend about 10,000 TZS () per person, a little more eating fish
Address: Barbecue House is along the small Nkomo Street, just off the main Ali Hassan Mwinyi Road.

View Dar Es Salaam in a larger map
Get exclusive updates
Enter your email and I'll send you the best travel food content.