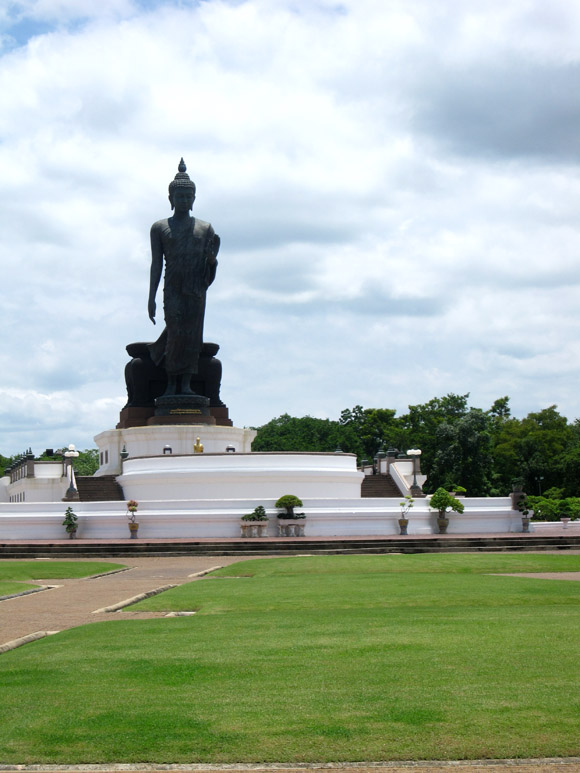 About 2 hours of roaring through Bangkok's highways, and I arrived at the massive environmental park and Buddhist shrine known as Buddhamonthon in Nakhon Pathom, Thailand on the outskirts of Bangkok.
Upon arrival, we initially made our way through a few lush gardens before arriving to the center stage.
The massive statue of Buddha towers into the sky and is surrounded by neatly manicured gardens filled with bushes hedged into animals and grass cut so evenly you could balance a level.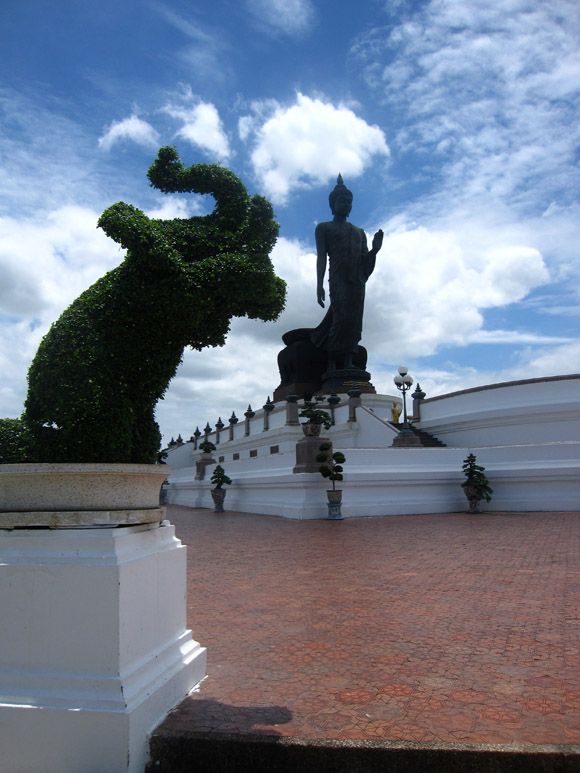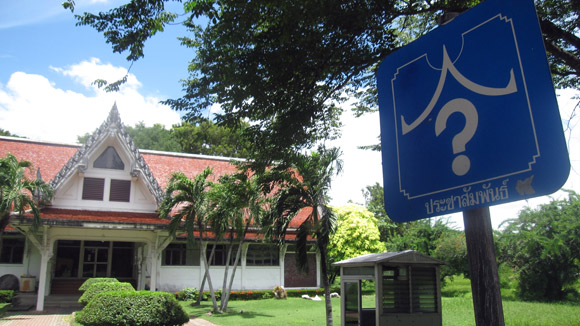 Apparently at Buddhamonthon, if you don't know the name of a temple or house, simply put up a sign with a little roof over a giant question mark!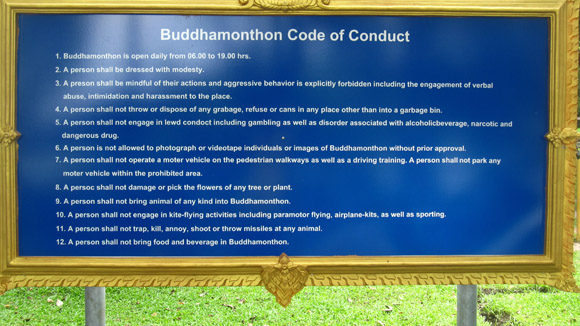 I came across the Code of Conduct for Buddhamonthon and here are the highlights:
Living in Asia, I've seen my share of misspelled words, however, misspelling is usually a consistent procedure.  On this official guide, person is spelled person, persoc, and preson…all on a single sign!  Was it written by 3 different people, without any sort of communication???
Get exclusive updates
Enter your email and I'll send you the best travel food content.
11. A person shall not trap, kill, annoy, shoot or throw missiles at any animal.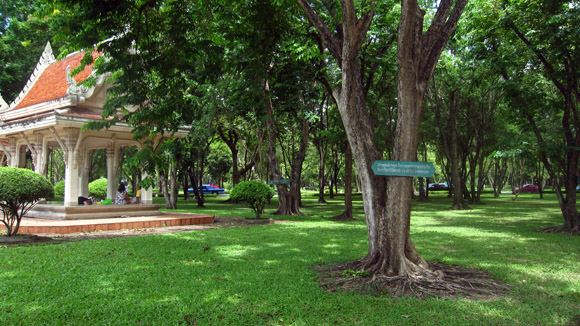 Surrounding the giant statue of Buddha, is a monstrous and well maintained park filled with beautiful ponds, canals, forest green trees, and huts for relaxing.  The entire area is set up conveniently to picnic and ease through an afternoon.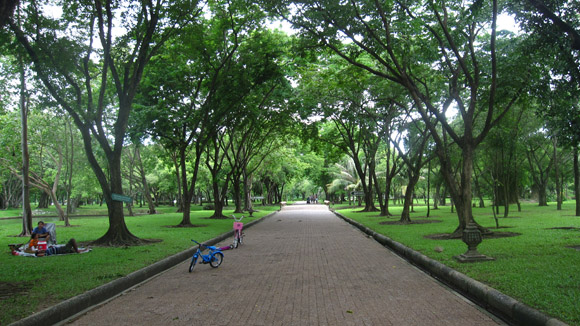 Around the park, families take time to spread a mat, let the children run around freely, and dose off under the shade with the aid of an afternoon breeze.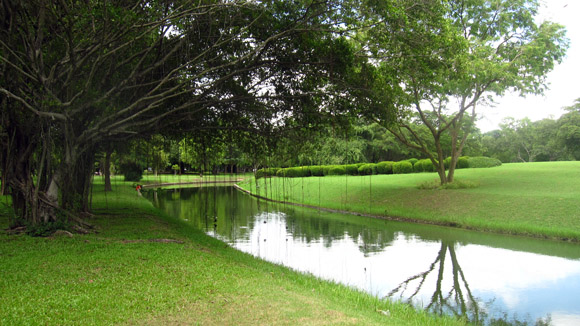 This lush green landscape mixed with all kinds of tropical greens was so quiet and so ideal that I saw 3 different wedding parties shattering the silence with ladyboy costume artists fussing about and being picky about the situation.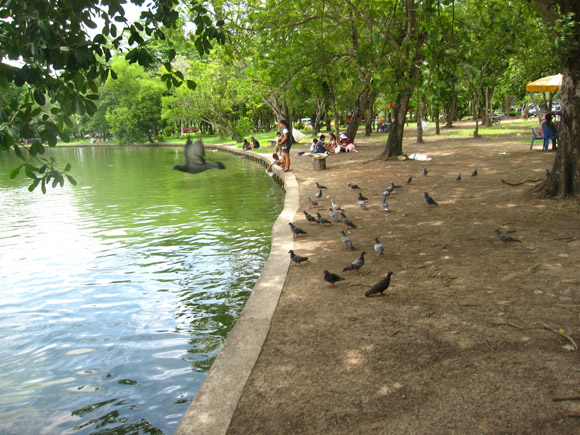 Buddhamonthon is really quite an ideal situation; adults recline in their folding chairs or mats dipping sticky rice balls into som tam juice, while children dig around in the dirt, chase pigeons, and feed the swarms of fish in the ponds.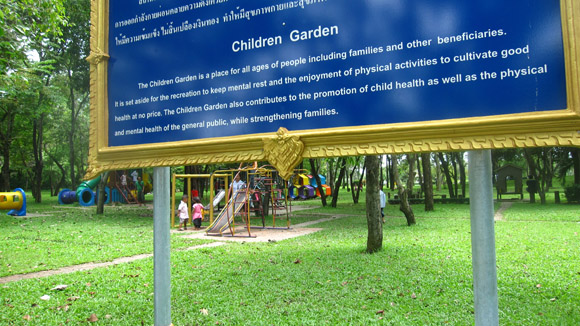 I've always been a fan of playgrounds and even in my older teenage years I resented the idea that I was too big to play in the swimming pool of balls or to climb in the jungle gym.
Let me introduce you to the Children Garden in Buddhamonthon Park where there is absolutely not a height or weight discrimination.  In fact, the entire family is sternly invited to play at will in an effort to "cultivate good health," and improve…well basically everything about a family.
This here playground just may be the ultimate cure-all for everything!
Sign Reads:
"The Children Garden is a place for all ages of people including families and other beneficiaries.  It is set aside for the recreation to keep mental rest and the enjoyment of physical activities to cultivate good health at no price.  The Children Garden also contributes to the promotion of child health as well as the physical and mental health of the general public while strengthening families." – Children Garden (Buddhamonthon Park, Thailand)
Next time you want to have a stroll, enjoy a picnic, get married, or play on a family healthy playground, head out to Nakhon Pathom for a lazy day at Buddhamonthon!
-Migration Mark
Get exclusive updates
Enter your email and I'll send you the best travel food content.