1. Es Pisang Ijo – Yogyakarta, Indonesia (originates from Sulawesi)



Es Pisang Ijo roughly translates to "green banana ice," and that is precisely what it is, along with some added goodies.  This mixed bowl of refreshing goodness can only be described as green bananas floating in an icy red syrup with a creamy pudding like substance coating all things and unable to dissolve into the liquid.  Es pisang ijo is a brilliant icy creation and a wonderful dessert in Indonesia.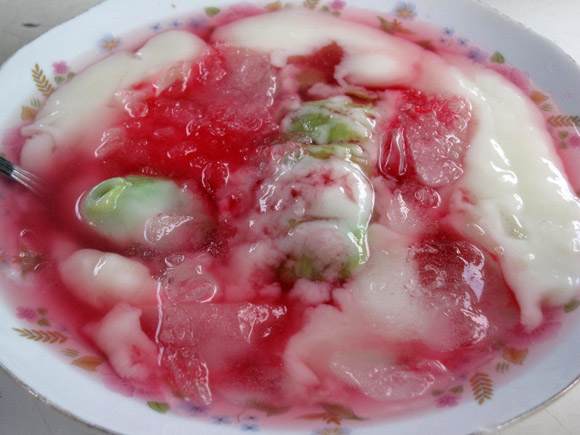 2. Gula Melaka Baba Cendol – Melaka, Malaysia
Melaka Malaysia's sweet and popular treat on a tropical heated afternoon is a gula Melaka baba cendol.  The queue sprawls out the door at Jonker 88 and waiters rapidly serve the glorified treat.  The glass bowl starts off with sweet beans, kernels of yellow corn, and green jelly cendol noodles.  Shaved ice is then formed on top and then a masterful combination of condensed milk, sweet coconut cream, and the famous Melaka palm sugar is sloshed over the ice.  The mango version also included candied mangoes and another ultra sweet fruity syrup.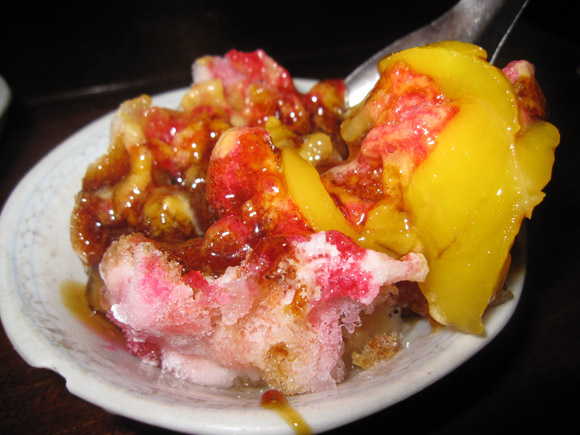 3. Nam Kang Sai – Bangkok, Thailand
Paralell to the extent and customization of the best Thai food specialities, there are also so many options to choose from when exploring nam kang sai or iced mixture dessert in Thailand.  A typical street stand is covered with glass bowls filled with all kinds of colorful and sometimes transparents morsels.  A mixture of chopped ingredients are added to the bottom of the bowl prior to larger chunks are added to the top.  The typical artificial syrup is doused on top generously.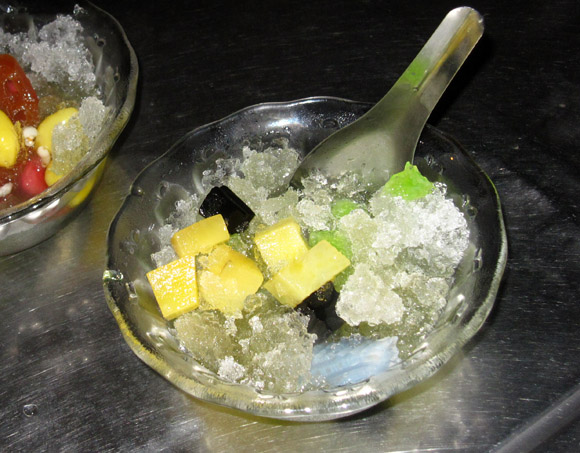 4. Shave Ice – Honolulu, Hawaii
There's nothing like a famous shave ice cone in the late afternoon after being scorched by the afternoon sun or thrashed around from waves in Hawaii.  Choose a cone or bowl with ice cream or sweet azuki beans, or nothing on the bottom.  Fine shaved ice is packed on top with a choice of flavored syrups poured on.  Some people like a squirt of condensed milk to cap it off.  One of my favorite places for shave ice is Waiola Shave Ice in Honolulu and Matsumoto Shave Ice in Haleiwa.
Get exclusive updates
Enter your email and I'll send you the best travel food content.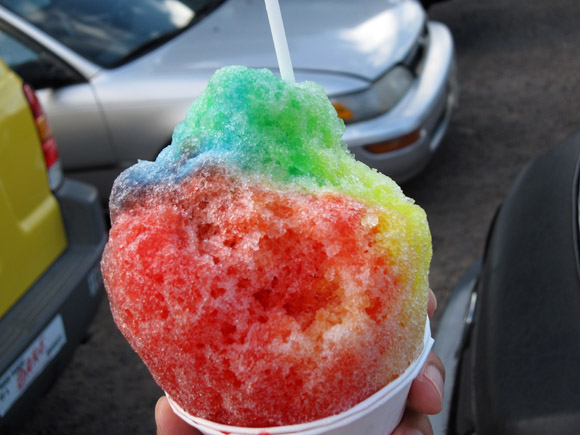 5. Halo Halo – Manila, Philippines
The local Filipino mixed ice desert usually consists of sweet palm fruit, jack fruit, coconut pulp, sweet mung beans, deep purple yams, and maybe some corn or tapioca pearls.  Shaved ice is then piled on top usually followed by a scoop of creamy ice cream or combination of ice creams.  Halo Halo melts together into a sweet creamy soup that refreshes on the hottest of Filipino days.  Chow King restaurant serves a pretty popular Halo-Halo!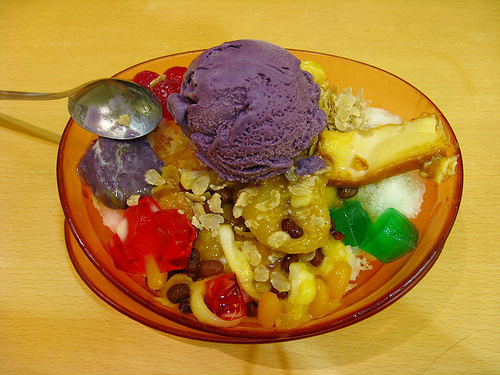 photo courtesy of cjess45

6. Kakigori – Kyoto, Japan
When Japan starts to heat up in the summer months like it's South East Asian counterparts, Kakigori shaved ice starts to become a necessity.  It's commonly served pretty simple, shaved ice in small chunks with a choice of syrups and condensed milk.  Some stores also offer ice cream or sweet bean paste.  Gourmet variations with creamy green tea or covered in Japanese black sugar and candied chestnuts are also available.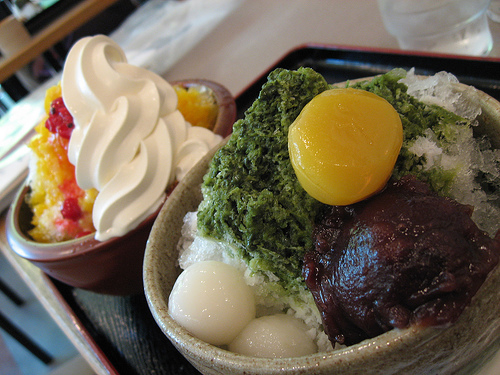 photo courtesy of Bibil
7. Patbingsoo – Seoul, South Korea
Korea much like Japan heats up in the summer months and nothing refreshes like a patbingsoo.  The Koreans have taken this iced treat to a complex and elegant level.  Along witht the typical shaved ice is a mixture of sweet azuki beans, rice cakes, daintily chopped fruits (like kiwi, banana, and berries), condensed milk, sweet syrups, and sometimes ice cream or frozen yoghurt and whipped cream.  Patbingsoo is a colorful refreshing meal of a dessert!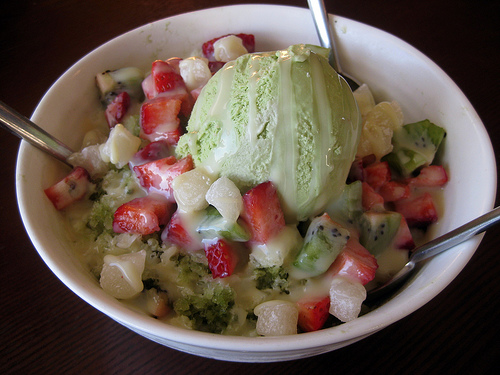 photo courtesy of Klara Kim
8. Eight Treasure Ice Baobing – Taipei, Taiwan
With a name like "Eight Treasure Ice," you know right away that this is one treat that should be respected in the hierarchy of icy desserts.  Beginning with a bed of shaved ice, the bowl of treasure is then piled with mounds of red mung beans, green mung beans, taro, yams, peanuts, starch balls, almonds, grass jelly, and other jellies, until reaching the fabulous 8.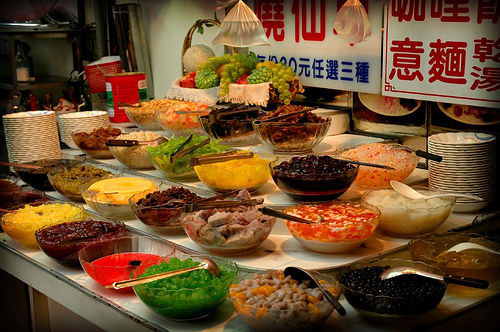 photo courtesy of xymox
What's your favorite iced out dessert on a warm day in South East Asia?
Get exclusive updates
Enter your email and I'll send you the best travel food content.