As a food lover, yet budget conscious traveler, visiting Tokyo was a challenge.
Yes, I did come with a mindset to spend more money than I would in Bangkok of course, but at the same time, I didn't want to make a mistake eating somewhere that wasn't very good, and wasting money.
In Bangkok that would mean I spent $1 – 5 on bad food, in Tokyo, it could easily be 5 – 10 times that.
The time came when I really had the urge to sample an authentic Japanese sukiyaki, and after some research, and having a few places in mind, I decided to check out a recommendation from Robbie Swinnerton in the Japan Times: Yoshihashi (よしはし).
(I didn't know at the time of eating there, but Yoshihashi (よしはし) actually has a Michelin star)
Out of my league?
Dinner could easily cost 20,000 JPY ($194) per person, if you could even manage to get in, but at lunch, at only the bar seating, the sukiyaki set went for just 2,100 JPY ($20).
2,100 JPY is a pretty average, if not bargain price for sukiyaki in Tokyo, and for the chance to dine at a Tokyo restaurant way out of my league, I was extremely excited.
With only two weeks of Tokyo dining experience under my belt, one thing I already knew was that we should arrive early, in an attempt to not only beat the crazy Tokyo lunch rush, but also be first in line – lines outside restaurants are the norm in Tokyo.
Tucked between high-rise buildings, but off the beaten sidewalk path, Yoshihashi (よしはし) sukiyaki restaurant stays pretty well hidden and away from mainstream dining.
From Asakasa Metro station, Yoshihashi sukiyaki restaurant was just a 5 minute walk, and we arrived a good thirty minutes before 11:30 am, the opening time for lunch.
We were first in line.
Get exclusive updates
Enter your email and I'll send you the best travel food content.
And in fact, Yoshihashi (よしはし) is such an exclusive restaurant, there wasn't even ever a line the day we went.
As soon as the clock struck 11:30 am, Ying and I were the first two to enter the restaurant for the day.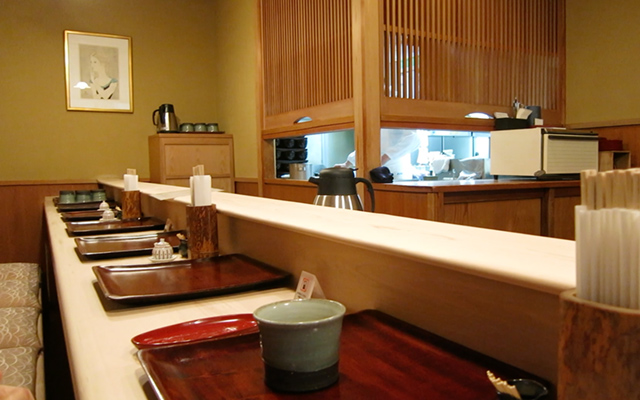 Entering Yoshihashi (よしはし)
After entering the reception area, which shared a door with a lounge club on the opposite side, you then veer to the right, and slip off your shoes before entering the dining room.
Yoshihashi (よしはし) had a very high class feel to it, luxury and exclusiveness.
The counter was bright light colored wood, similar to the experience at Tenmatsu tempura, and in front of each seat (there was space for about 10 or 12 in the room) was a mahogany colored tray.
The waitress, wearing a kimono, entered the room, poured us each a cup of tea, and without a hint of a smile (not in an unfriendly way, but more in a respectful high society way), she handed us the fully Japanese lunch menu.
I didn't need any thought about the menu though, I knew we wanted sukiyaki, just the classic normal version.
Soon a few other lunch diners trickled in, shown to their seats, and were immediately served a cup of tea from the waitress.
The atmosphere was quiet and respectful.
No one raised their voices too loud.
By the time we got our food, the 12 seats were full.
And since we were the first to order, we were the first to eat.
The sukiyaki came in scorching hot copper pots, with a side of pickled vegetables, a raw egg for dipping the meat in, and a bowl of rice.
I tried to take photos quickly and not make a big deal of it, because I knew that taking too many photos in an high class Tokyo restaurant like Yoshihashi (よしはし), it was only a matter of time before they told me not to.
The sukiyaki included a good amount of thin cut beef, a couple blocks of tofu, some slices of leek, onions, mushrooms, noodles, and a few stocks of chrysanthemum greens (my first time to try them).
Eating Japanese sukiyaki, you first whirl up the egg with your chopsticks, and proceed to grab bites of sukiyaki, dipping them into the raw egg as a sauce or glaze.
My first bite was of the beef; I grabbed a good sized chopstick bite, and dunked it into the raw egg.
The beef was almost too good to be true.
It was tremendously tender, and just so delicately flavored with accents of sweet soy sauce, sake and mirin, and the other light balanced seasonings included in the sukiyaki sauce.
I ate slowly, savoring each bite of my high-society Japanese sukiyaki.
Each bite included an incredible and delicate balance of flavors and combination of ingredients.
For the price of the lunch special at Yoshihashi (よしはし), it could definitely be one of the best sukiyaki dining experiences in Tokyo.
I can only imagine how incredible the dinner for $200 per person would be. But nevertheless, I was extremely satisfied with the lunch special, and it was a highly memorable dining experience.
Here's the video of our meal…
(If you can't see the video, watch it here: http://youtu.be/rg_HGGuCY2I)
Yoshihashi (よしはし) Sukiyaki, Tokyo, Japan
Address: 1-5-25 Moto-Akasaka, Minato-ku, Tokyo
How to get there: Take the Tokyo Metro (Ginza Line) to Asakasa-mitsuke station, take exit B, and walk straight out of the exit until you come to your first street. Make a right and walk down the road until you come to a Honda store. Turn left and walk almost to the end of the road, but just before that, on your left hand side you'll see a little side street (it almost looks like an alley). Turn left and you'll see Yoshihashi on your right hand side at the end of the alley.
Open hours: 11:30 am – 2 pm for lunch, Monday – Saturday
Price: 2,100 JPY ($20), a well spent $20 for a marvelous sukiyaki lunch and an elegant Japanese dining experience
Get exclusive updates
Enter your email and I'll send you the best travel food content.