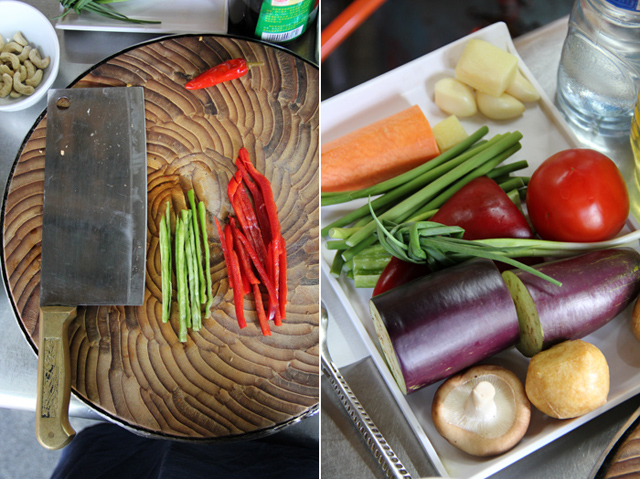 Chinese Food 
As much as I am devoted to Thai street food, when it's comfort I seek, Chinese food is all that will satisfy.
As a half Chinese American, my tongue for Chinese cooking developed throughout my growing up years while being fed from a Chinese mother and relatives who strived to always keep me stuffed (and succeeded).
I'm sure you've noticed my passion for eating street food from around the world (as seen in posts like Burmese cuisine, Hong Kong street food, and best Kenyan dishes), but when I was stable enough to be the proud renter of an apartment with a kitchen (a few years ago), I used to love to cook as well!
Cooking at the Yangshuo Cooking School
During a small family reunion in Yangshuo, China, we decided to try out the popular Yangshuo Chinese Cooking School.
The school has two locations and we chose the location about 10 minutes away from central Yangshuo town proper, the peaceful countryside branch.
Each participant was provided with their own personal cooking station that included necessary ingredients, a gas burner, a full chopping block and a heavy Chinese cleaver.
Chinese food would simply be incomplete without the heavy usage of garlic and ginger. As a cook, I like to go over the top when it comes to these two spectacular natural flavors.
After a bit of necessary prep work, we got straight into the first dish of the day: pork stuffed dumplings.
Get exclusive updates
Enter your email and I'll send you the best travel food content.
The Chinese cooking instructor, who spoke English very well, first demonstrated the dish and afterwards we were on our own to mix our ingredients and create something delicious.
On the left are my dumplings prior to being steamed and pictured on the right, they are ready to devour!
I consider eggplant to be one of the wonder vegetables of the world. From Egyptian street food to Indian food, eggplant is a vegetable that is created into tasty masterpieces.
In Guangxi Province of China, eggplant is stir fried up with garlic, ginger, green onions, tomatoes, oil, and a scoop of famous Guilin chili sauce.
The only thing I don't always like about eggplant at street restaurants (worldwide) is the way it's served in a layer of grease (partly due to the nature of cooking eggplant). When I cooked it myself at the Yangshuo Cooking School I limited the amount of oil, but increased the amount of chili sauce so it was just pure spongy eggplant that bursted with flavor.
Beer fish is one of the more famous things to eat in the Yangshuo region; It's a very popular dish with the Chinese tourists so it was nice to see it on the menu that we would be cooking!
After searing the fish on both side, I sautéed the vegetables and then tossed in a cup of beer to brew the rich sauce.
I'm not going to lie, the Yangshuo beer fish pictured above was the creation of my cousin (who is a professional chef and who was cooking next to me).
Her natural sense of culinary appeal outdid my (slightly sloppier) plates!
Cashew chicken is one of those Chinese dishes that is a lot more popular outside of China than it is inside of China; It's the kind of dish that was created to ease the comforts of Western Chinese food eaters and served at places like Panda Express (an American chain of fast Chinese food).
I'm not saying it's not good, but with things like Shuizhuyu, there's no excuse to eat something so generic as cashew chicken. Ok, I know the Yangshuo Cooking School caters to Western tourists, but I enjoyed the entire menu apart from the mediocre cashew chicken. Then again, that's just my opinion.
The Yangshuo Cooking School
Overall the school was a great place to learn a few local Yangshuo Chinese dishes and to get a feel for cooking Chinese cuisine over an open flame and a wok. Each individual cooking station was setup nicely and all ingredients were laid out in an organized fashion. We also had a great instructor!
I guess the only complaint I had was that I wasn't too much into the cashew chicken, but then again the school really caters to Western tourists.
The school also offers a number of other courses including a 2 day options and a 1 week coure.
Price: The morning 1/2 day course we took cost a reasonable 150 CNY ($18.77) per person, which included transportation pickup from hotel, all ingredients and lunch at the end!
For more information you can visit their website: http://www.yangshuocookingschool.com/
Get exclusive updates
Enter your email and I'll send you the best travel food content.