Sometimes you have no plans to eat… but it just feels right.
You're walking along, with little intention to eat anything, but then you see a stall that calls your name.
You might not even be sure why, but something having to do with the atmosphere, the fresh look of the food, the aroma that hits your nostrils – all your senses are aroused, and you have not choice but grab a seat and eat – immediately.
That's exactly what happened one day when I was walking around Yangon; I wasn't even very hungry at the time.
Evening traffic rush in Yangon
It was about 6 pm.
The population of the entire city of Yangon seemed to be out and about, scurrying from place to place.
People rushing along the side of the streets, dodging buses and oncoming vehicles, scurrying up staircases, and some relaxing on the roadside downing Yangon street food and chatting with friends.
The street scene in Yangon couldn't be more lively and enticing.
As I was navigating my way through flying buses, crowds of people pouring out of offices, makeshift tea stalls, and seas of street food vendors, there, squished in-between two parked cars, was a stall I saw, and I immediately had the feeling that I needed to eat there.
It was just one of those times where the food felt right, before I even sat down.
When I first sat down, the owners of the street restaurant were just setting up, and they had set up the food, and only a few plastic tables in-between two parked cars.
I saw the food, and I knew it was fresh.
Mohinga (
မုန့်ဟင်းခါး

) – National Dish

They were serving a dish known as mohinga, widely considered to be one of the most popular, and the national dish of Myanmar cuisine.
Get exclusive updates
Enter your email and I'll send you the best travel food content.
It's a combination of rice noodles or vermicelli, submerged in a curry gravy sauce with a base of fish combined with many flavorsome ingredients like ginger, garlic, onions, lemongrass, and a handful of dried spices as well.
Flavor-wise, to me, mohinga tastes exactly like a dish that falls directly in-between something you would find in Thailand and something you would find in India – and that's of course quite fitting, considering Myanmar is geographically sandwiched between Thailand and India.
A bowl of mohinga is perhaps most commonly associated with a breakfast in Myanmar, but nowadays it's available throughout the day, and this particular Yangon street food stall, sprouted up in the evening.
I popped a squat on one of the mini plastic tables, messily scattered somewhere in the backed parking lot of Yangon City Hall, with a view of Sule Pagoda.
There was really only one thing to order: mohinga.
But you could order either the thin rice vermicelli noodles, or the thicker wider rice noodles. I didn't know which one to order at the time, so by default I got the wider rice noodles – OK for me.
This entire street food pop-up stall was extremely rushed, and the servers and food owners were literally running around the chaotic parking lot, serving customers in a fury.
The street food atmosphere was beautiful, it's moments like this that I absolutely love when I travel and eat.
They wasted no time with my order, dishing out my noodles, and then drowning them in the giant cauldron of broth.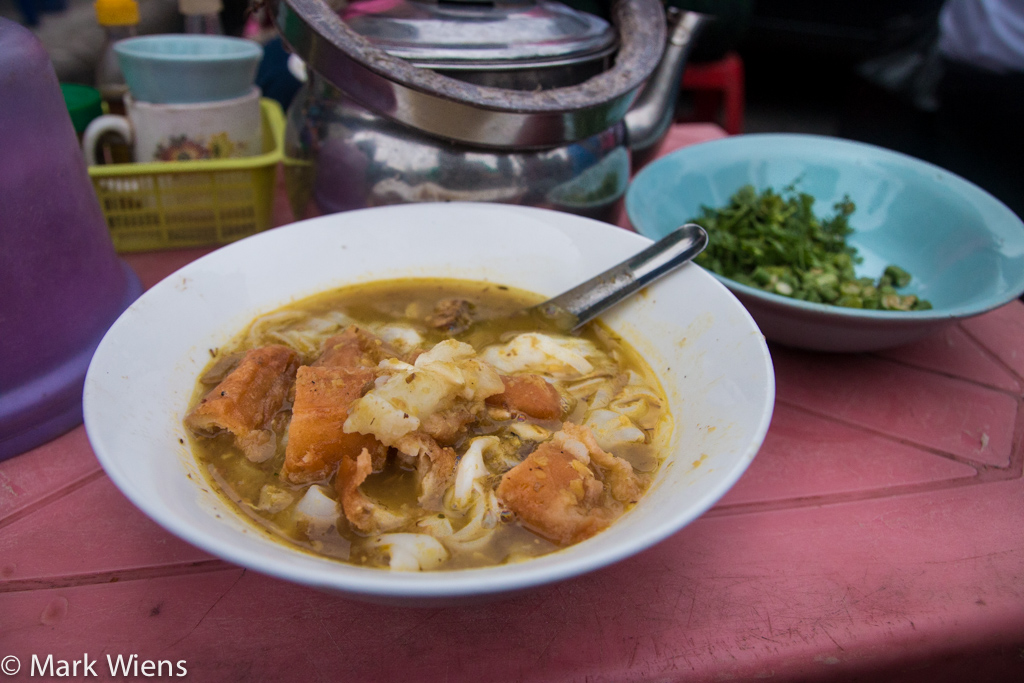 Another thing I could have ordered with my bowl was an egg, boiled in the same curry soup.
However, at the time of ordering, and myself not speaking any Burmese, I just ordered mohinga, and due to the extremely busy environment, I didn't get a chance to order an egg again. But that's alright.
Sometimes I have eaten bowls of mohinga with crispy chickpea fritters crunched on top, but this bowl was served with a Chinese donut, chopped up on top; Both are great additional complements to a bowl.
Condiments
Like with any soup, it's always best to taste test it first without any extra seasoning (granted of course, it's you first time to eat at the particular stall).
And after a first taste, you can then start to season appropriately.
One condiment I can't live without, no matter what cuisine we're talking about, is chili, in any way, shape, or form.
Mohinga is usually served with dried chili flakes, and it gives the broth a nice kick of heat.
It's also common to garnish mohinga with a few shavings of cilantro. A sprinkle of cilantro gave my whole bowl a lovely freshness.
After seasoning, I got busy devouring my bowl of Yangon street food.
It was marvelous.
The noodles were soft and slurpy, and the broth, more like a curry gravy sauce, that was slightly fishy, but with a fantastic undertone of lemongrass and onions, and nice chunks of mild ginger.
I'm not sure exactly what they used to thicken the curry gravy, but to me it sort of had a starchy, almost potato-y component to it. But I know they also often use chickpea flour or gram flour in the recipes.
Anyway, it was extremely tasty, and occasional bites of the crispy Chinese donut also added a nice touch.
While I was eating, the food stall kept expanding and expanding, more and more tables being set up as cars left the parking lot (people were finishing work and leaving).
Soon, other street food snack carts appeared as well, sort of forming a little mohinga oasis in the middle.
Watch the video of this delicious snack…
(If you can't see it watch it here: http://youtu.be/I8vE8mIIdPw)
Conclusion
Mohinga (မုန့်ဟင်းခါး) is one of the most popular Yangon street food dishes, and you'll find it scattered throughout the entire city and throughout Myanmar.
It's a really tasty dish of rice noodles in a fish based soup curry broth, and often includes a number of different toppings and seasonings. Mohinga makes a wonderful breakfast, snack, or light meal.
If you happen to be near Sule Pagoda in the evening at about 6 pm, and are craving a bowl of mohinga, check out this pop-up stall for a local winning bowl.
How to get there: This Yangon mohinga parking lot food stall opens up about 100 meters north of Sule Pagoda in downtown Yangon, just outside Yangon City Hall. I got there right about 6 pm, and I think they probably keep selling until they sell out. If you go, I would say, be there about 5:30 or 6 pm, and get it while it's fresh. I'm not totally sure if they are there everyday, but if you're in the area, you can stop by and check.
Open hours: I was there right about 6 pm and they were just setting up fully (not sure if they are open everyday)
Price: 500 Kyats ($0.50) per bowl (probably a bit more with an egg)
Do you love mohinga?
Get exclusive updates
Enter your email and I'll send you the best travel food content.