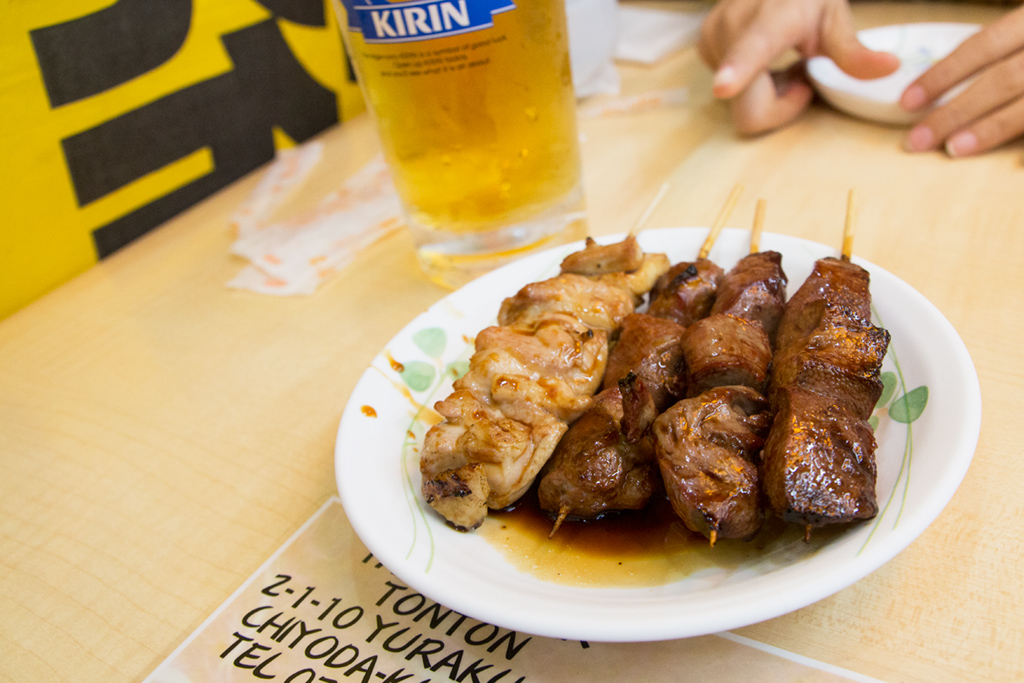 In between meals of insanely fresh and delicious sushi when I was in Tokyo, I was also excited to hang out and eat skewers of grilled succulent meat known as yakitori.
There are a near infinite quantity of small yakitori-ya restaurants in Tokyo, serving up tasty sticks of grilled meat paired with refreshing beverages.
One day, after walking around Ginza, I decided to head over to Yūrakuchō.
Yūrakuchō, Tokyo
Yūrakuchō is an area in Tokyo that's positioned right along the railroad track.
Though it's adjacent to the business high class district of Ginza, the neighborhood remains less modern, and more traditional; The lifestyle difference from Ginza to Yurakucho is quite noticeable.
Yūrakuchō is especially known for its izakayas and yakitori-ya restaurants scattered along and underneath the railroad. One of the most famous in the area is Andy's Shin Hinomoto, but there are countless others.
There are dozens of restaurants and bars ranging in size from just a few seats to being able to accommodate a large crowd.
Some of the restaurants are neatly decorated and fancy, others sprawl into the sidewalk and are sheltered by tents.
Despite the differences, people stop at these institution to do two things: Grab a drink and eat some food.
Walking around the Yūrakuchō area of Tokyo, I was lost.
There were so many choices and so many places, I honestly had no clue where to even begin.
Get exclusive updates
Enter your email and I'll send you the best travel food content.
But since I was there a bit early, arriving at 4:30 pm, one place stood out – not only because it was one of few that looked like it was fully open – but they were also already busy before the main rush of office employees came (good sign).
The place, Yakitori Tonton, a yakitori-ya I learned later, is a Tokyo classic.
Yakitori Tonton (登運とん)
The menu at Yakitori Tonton was simple and easy to follow, being written in both English and Japanese.
There was a small selection of beer, whiskey, and sake, and then a short, but highly sufficient, list of complementing tasty things to eat.
I decided to order what I saw many others at Yakitori Tonton drinking: Kirin draft beer.
It was served fresh and cold, and extremely refreshing.
Price – 540 Yen ($5.33)
The Meat Skewers
It took me a few minutes to scan the menu, but then I quickly just pointed to a few of the skewers. Here's what I got:
Yakitori (Roast Chicken Skewer) – The traditional meaning of yakitori normally refers to chicken, but it's nowadays commonly used for all sorts of meat on stick.
Kashira (Pork Skewer) – Pork is actually what Yakitori Tonton specializes in
Hatsu (Heart Skewer)
Leba (Liver skewer)
Honestly, I wanted to order one skewer of everything on the menu, but that would have been a little harsh on the budget, so I had to hold myself back.
Price – Each meat skewer was 160 Yen per piece ($1.18)
Nasu Eggplant
When I saw grilled eggplant on the menu at Yakitori Tonton, it sounded like the perfect complement to all the skewers of meat.
For some reason though, the price was much more expensive than any of the meat skewers, which I thought was odd, but I figured I would give it a shot as it might be something special.
The eggplant came, grilled up, and topped with a fantastic miso sauce.
It was very good, but I was a little puzzled as to why it would cost more than the meat. Nevertheless I did enjoy the eggplant and the deliciously salty and mild miso glaze on top.
Price – 420 Yen ($4.14)
Why was it so good?
I think I've already said this a number of times before, but when it comes to Japanese food, one of the top reasons it's so good, is not always because of the seasoning, but because of the good quality ingredients, and the expert cooking (or lack of it).
Nothing I ate in Japan was overcooked.
And that to me, is one of the many, but one of the main reasons why Japanese food is so delicious.
Eating is one of the top things to do in Tokyo (video), and yakitori is one of the many amazing things to try.
Mouth happy from the juicy skewers of yakitori, I continued on walking around Yūrakuchō.
The area is a fantastic place in Tokyo just to stroll around, people watch, and observe the interesting life and culture that takes place under the railroad tracks.
Conclusion
Yakitori Tonton (登運とん) is a small and friendly yakitori-ya in Tokyo where you can get a drink and eat some delicious skewers of grilled meat.
When I went, the service was friendly, the environment was local and authentic, and the skewers of grilled meat were succulent and juicy. I had a great time, and enjoyed everything.
As for ambiance, the Memory Lane yakitori stall was amazing too, but Yakitori Tonton had a little extra breathing room – both places were fantastic.
Yakitori Tonton (登運とん)
Address: 2-1-10, Yurakucho, Chiyoda-ku, Tokyo
Open hours: 11:30 am – 11 pm daily
Prices: About 800 – 2000 Yen per person
How to get there: Take the JR train line to Yurakucho station. Exit and keep walking south along the railroad track and you'll eventually find a footpath under the railroad, and you'll see Yakitori Tonton under the tracks. You might need to walk around a bit to find it, but that's part of the fun of eating and traveling.
Check out my Tokyo map for location of Yakitori Tonton and other places I ate (scroll down to find Yakitori Tonton):
If you're visiting Tokyo, make sure you check out all my Tokyo tips here.
Get exclusive updates
Enter your email and I'll send you the best travel food content.