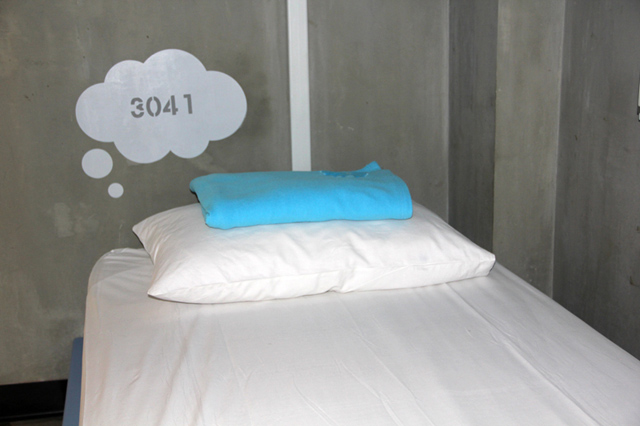 Bangkok has over 1,400 registered hotels and guest houses.
Now this may sound like a blessing, but in reality it's such a huge quantity that it can just be a pain to figure out which Bangkok hotel, guest house, or hostel is the right one.
Have you ever tried weeding through over 1,000 choices? It's tough.
One of the top questions I get asked frequently is where to stay in Bangkok? So I thought I'd go ahead and publish my top recommendations for accommodation when you're in Bangkok.
Where to Stay in Bangkok:
1. New Road Guest House (Budget)
New Road Guest House is a budget accommodation option, located in the Bangrak area of town, and surrounded by plenty of shopping and food choices. The guest house is near Saphan Taksin BTS station, not far from the river, and a short walk from Silom. Rooms are basic but clean and homey.
For Who: Budget accommodation – great for families, backpackers, flashpackers
Prices: Dorm – 200 – 300 THB, Private – 800 – 1,200 THB
2. Lub d Siam Square (Mid)
Modern, trendy, clean, and with one of the best showers I've ever experienced, Lub d Siam Square is a refreshing hostel (but really more like a chic hotel). Primely located across the street from MBK shopping center in the lively Siam district, you won't have any trouble getting around town, being entertained, or finding restaurants.
There's also a Lub d Silom, located in the Silom district if you are interested, but I prefer their Siam branch.
For Who: Medium priced hostel – great for flashpackers, backpackers, and couples
Prices: Dorm – 500 THB, Private – 1,400 – 2,000 THB
3. Saphai Pae (Mid)
Catering to both backpackers and families, Saphai Pae Hostel is a stylish hostel with lots of comfortable amenities. Rooms are super clean, beds are thick and comfortable, and the downstairs communal area is a great place to hang out, mingle and watch tv. Located in the Bangrak area, Saphai Pae has easy access to the Chao Phraya River and downtown Silom.
For Who: Medium priced hostel – great for flashpackers, backpackers, and couples
Prices: Dorm – 280 THB, Private – 1,200 – 1,500 THB
4. The Warehouse (Mid)
Brand new and spic-and-spic, The Warehouse is a fresh addition to the Bangkok accommodation scene. It's only a five minute walk from Khao San Road, Bangkok's notoriously rowdy backpacker street, yet it's a world of difference in local atmosphere. Surrounding the hostel are some of Bangkok's most renowned sites like The Grand Palace, Wat Pho and the National Museum.
For Who: Medium priced hostel – great for flashpackers, backpackers, and couples
Prices: Privates from 1,300 – 2,400 THB
5. Bangkok Loft Inn (Mid)
Of all the options for where to stay in Bangkok, Bangkok Loft Inn presents one of the best overall values for your money. It's a discount boutique hotel that has wonderful accommodation and is just an overall nice facility. Their contemporary designed rooms are fully furnished, self contained, and spacious. Located in Thonburi, which is across the Chao Phraya River from the main business district (Silom), there's quick access by BTS Skytrain and river boat to areas of interest around the city.
For Who: Medium priced hotel – great for families, couples
Prices: Private – 1,300 THB
6. Bangkok Tree House (Luxury)
Accessible only by foot, boat, or bike, Bangkok Tree House is an eco-friendly oasis in Southern Bangkok along the river. Inspired by Henry David Thoreau's Walden, the hotel's aim is to blend into nature while providing an extremely high level of service and relaxation, all just moments from Bangkok's hustle and bustle.
For Who: Top priced eco hotel – great for couples, families
Prices: Privates from 4,000 THB – 8,000 THB
Here are 6 of my personal suggestions for where to stay in Bangkok. Hope this helps your search for the right place that suits your interests.
7. Hansar Bangkok (Luxury)
If you're looking for luxury at its finest, Hansar Bangkok is where to stay in Bangkok. This prestigious hotel is located in the lush Ratchadamri district of town, just a minute from the BTS Skytrain. Comfort and satisfaction is taken to the next level in this 5-star gem of accommodation in Bangkok.
For Who: Families, couples, honeymooners
Prices: Studios and suites range from $150 – $400 per night.
8. Amari Watergate (Luxury)
Are you coming for the shopping markets in Bangkok and want to stay somewhere nice and extremely convenient? Amari Watergate Hotel is literally located above the bustling Pratunam Market and directly across the street from the mega Platinum fashion center.
Shop till you drop and then come back to Amari Watergate for luxurious 5-star accommodation and amazing service! The location could not be better.
For Who: Families, couples, businessmen
Prices: Deluxe to Grand Deluxe rooms range from $100 – $200
Also, if you are coming to Bangkok be sure to check out these safety tips, and also discover the amazing attractions Bangkok has to offer in my 101 thing to do in Bangkok guide.
Have a great trip to Bangkok!