Just down the street from my grandmother's home in Honolulu, Hawaii, is a little store known as Waiola.
Although they sell an assortment of local snacks like spam musubi and Hawaiian Sun, they are most famous for shave ice. In my opinion, they make the BEST shave ice in Hawaii.
I used to go to Waiola Shave Ice nearly everyday as a kid, and it's still as awesome as it was 20 years ago.
There are so many different combinations and sizes of shave ice to order at Waiola (or any other shave ice shop).
You can get a range of different fruity flavors, many different sizes, in a cone or a bowl or a cup, topped with condensed milk or sweet azuki beans – the list goes on.
But since I've already written about Waiola Shave Ice a few years ago, I thought I'd just show a few recent photos and share my all-time favorite order with you.
Alright enough chatter, here it is:
Order the Shave Ice Bowl:
vanilla ice cream on the bottom (only if you want, the bowl pictured is without)
1/2 lilikoi (pasion fruit)
1/2 haupia (like coconut cream)
condensed milk on top
lilikoi (passion fruit) syrup on top
There it is, an award winning shave ice order from Waiola that won't let you down.
I believe this combo cost me around $3, but it was purely worth every cent.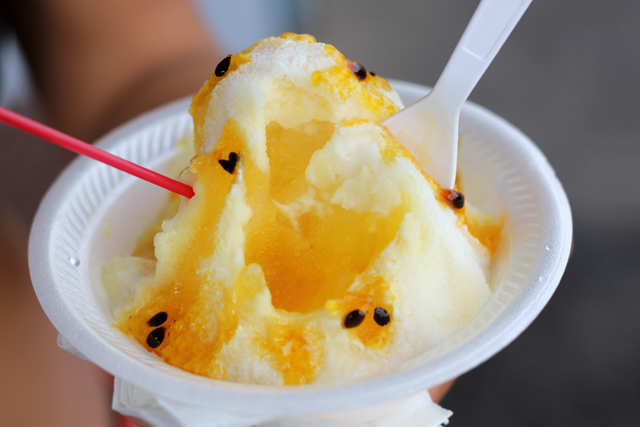 I've tried lots and lots of Asian icy desserts and Hawaiian shave ice combinations, but this is something special, something I could eat over and over and over.
Waiola Shave Ice
Address: 2135 Waiola St, Honolulu, HI 96826
Phone: (808) 949-2269
Hours: Monday to Saturday 7:30 am – 6:30 pm and Sunday 10 am – 6:30 pm

View Migrationology World Map in a larger map