When I was going to University in the United States, I owned a 1997 Volkswagen Jetta.
I loved that car.
But when I graduated from university and decided to travel indefinitely with no plans, I sold it, and have never owned a vehicle, other than a Thai street food cart, since.
Amazing Thailand road trip
The Tourism Authority of Thailand organized a road trip to Thong Pha Phum in Kanchanaburi and the plan was to take a fleet of retro Volkswagen vans, one of the ultimate classic vehicles the world has seen.
Road trip to Kanchanaburi in Volkswagen vans and Thai food along the way, sounded good to me.
At the TAT office, I met up with other Thailand based bloggers Richard Barrow, Jybby, and Mick Shipper.
Leaving Bangkok
This was my VW ride, a beauty of a van, # 6 in the fleet of 11 others, I think?
Luckily, to deal with the heat of Thailand and the speeds we'd be driving on the highways, there was a nice cold AC installed into our van.
Ying and I had the whole van to ourselves, so we had lots of space to stretch out on the bucket seats for the road trip.
The hardest part about going on a road trip out of Bangkok is actually getting out of Bangkok….
Traffic is always a hassle, but as soon as you get out of the central areas of Bangkok, the roads usually flow pretty fast – especially since we traveled as a retro VW caravan with a few motorcycle leads.
Kanchanaburi Town
It's about a 2.5 hour drive to Kanchanaburi Town (กาญจนบุรี) from Bangkok. Since it's relatively close to Bangkok, I had actually been to Kanchanaburi a number of times.
Right in the middle of town is the Kanchanaburi War Cemetery, where 6,982 POWs were buried during the construction of the Thailand Burma Railway.
Bridge Over River Kwai (สะพานข้ามแม่น้ำแคว)
One of the must visit places in Kanchanaburi is the bridge over the River Kwai.
I've visited the bridge a number of times now, and it's definitely worth it to see it if it's your first time. There are a couple of different restaurants along the river as well.
Keeree Tara Restaurant (ร้าน คีรีธารา)
If you go down the road to the right side of the bridge (when facing the bridge) you'll come to Keeree Tara restaurant.
We had a set meal already ordered for us, but there was a fried fish, tom yum goong, yam tua plu (winged bean salad), nam prik with vegetables, and my favorite dish of the meal, fried sweet pork.
The food at Keeree Tara was quite good, I can say MUCH better than the first couple of touristy restaurants closest to the bridge.
After lunch we got back on the road, this time, the road much more beautiful than the stretch between Bangkok and Kanchanaburi.
There were beautiful views of the mountains and rivers every so often.
Tham Kra Sae (ถ้ำกระแซ)
Another spot on the touristy trail in Kanchanaburi, but worth a visit, for both the historical importance and the natural beauty, is Tham Kra Sae (ถ้ำกระแซ).
There's a cave to the left hand side, and the railroad which hovers above the river, alongside the cliff edges. The scenic view was beautiful.
Get exclusive updates
Enter your email and I'll send you the best travel food content.
Vajiralongkorn Dam (เขื่อนวชิราลงกรณ์)
Our fleet of Volkswagen vans continued north towards Thong Pha Phum and we made another stop at the Vajiralongkorn Dam.
The dam is rock filled and has three 100 MW hydropower generators.
At the top of the dam there's a nice view of the lake on one side and the beautiful cliffs and surrounding lush greenery.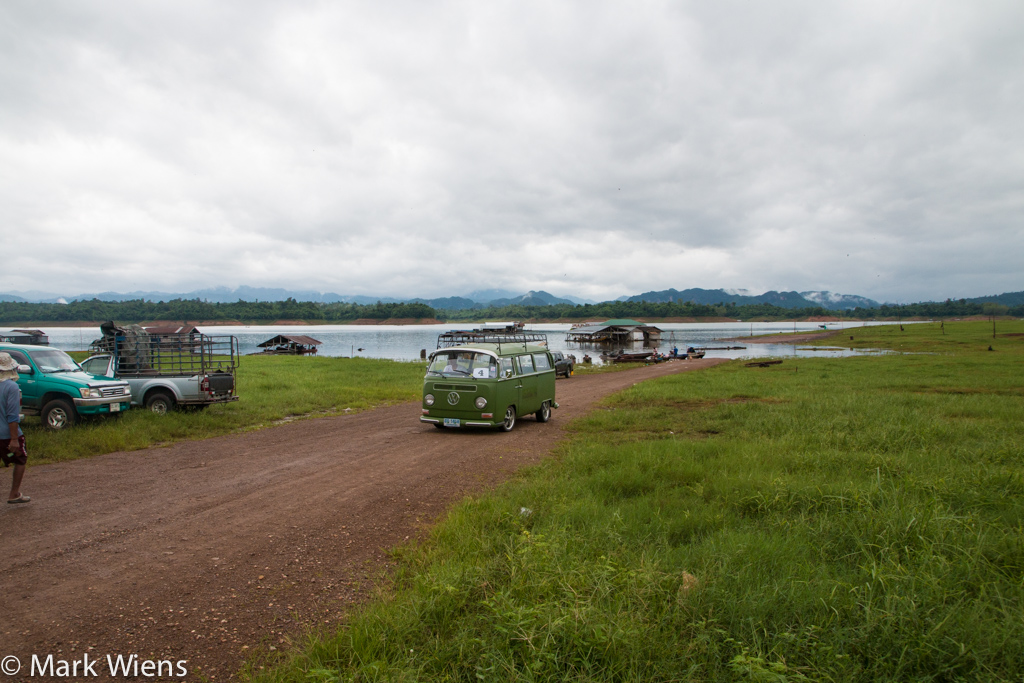 Phu Iyara Resert (ภูไอยรา รีสอร์ท)
After a long day of driving and site-seeing through Kanchanaburi, we arrived at our "camping style" resort, Phu Iyara.
The rooms were Thai style bamboo cabins, outfitted with en-suite bathrooms, AC's, and hot water – so it wasn't exactly camping, but the rooms were basic, but functional.
Dinner
Unfortunately, we arrived to our hotel just as the final rays of sunshine had gone down.
By the time we ate dinner, the light was hardly worth it for taking photos of the food. A few dim yellow light bulbs provided just a hint of orange light, so I wasn't able to get too many food photos.
Anyway, dinner was good, including lots of fresh vegetables, a fish grilled in foil, and an excellent gaeng hua pli (แกงหัวปลี banana flower curry).
Thong Pha Phum morning market (ตลาดทองผาภูมิ)
One of the greatest ways to experience Thailand is by going to an early morning market. In any city, town, or village throughout Thailand, I love to wake up and go to the morning market.
We left at 6 am, and arrived at Thong Pha Phum market just in time to see some of the morning Buddhist alms giving.
The market itself was actually quite small, and not very busy at all.
But the natural beauty of the surrounding mountain cliffs, and the addition of the morning fog, made the scenery impressive.
Snacking on a few pieces of patongo (Chinese donuts), kept me going as we walked around and took photos, before getting a chance to eat breakfast.
One thing I came across that I had never seen before, and that looked very tempting to me was called prik pan (พริกพาน).
It looked like some kind of a peppercorn or berry (and from the Thai word, that's what it would suggest).
Anybody seen this spice before?
I wanted to sample some right there.
Another thing I love is called fuk khao (ฟักข้าว gac fruit).
It's available in Bangkok, normally made into juice at places like floating markets, but I've rarely seen it at real mainstream fresh markets in Bangkok.
They look a bit like little miniature yellow and red durians, but the fruit sort of tastes in-between a a tomato and a papaya.
There were a couple fish vendors selling their locally caught catch, a number a different types of catfish.
These hunks of fish were huge, and looked like they were full of yellow fish fat, almost like whale blubber.
They reminded me a bit of the fish market in Tokyo, those massive cross sections of tuna. This fish, I don't think I'd want to eat as sashimi, but in a curry, I think it would be fantastic.
Wat Thakanun (วัดท่าขนุน)
Right across a river from the market and center of the village was the picturesque Wat Thakanun temple (วัดท่าขนุน), famous in Kanchanaburi.
We enjoyed a great morning view of the temple (which is actually on ground level hidden in the trees), and the chedi on the top of the cliff (I didn't have time to climb to the top, but would have loved to).
The temple was just a short walk from town, a route the dogs knew well.
Just like at all temples in Thailand, and scattered through all villages and towns, there were plenty of dogs.
This monk had a bit of extra rice and he was feeding them, to their delight.
The temple itself was very calm and pleasant, and we couldn't really go anywhere inside the temple, but just enjoyed the views from the outside.
River kayak adventure
After returning to the hotel and eating a quick breakfast, it was time to get started with the adventure activities.
The plan was to first kayak for about 30 minutes, then do some zip-lining through the trees, and finally cruise on ATV's, before starting the trip back to Bangkok.
Lifejacket and helmet strapped in, we were ready to hit the river.
The river was moving pretty quickly, especially due to it being rainy season, so it was fueled from the runoff in the mountains. It looked like a lot of fun.
There were about 8 boats of us that went kayaking.
We started paddling and made it through multiple, pretty decent rapids, along the way.
Kayaking was extremely fun…
We kept paddling and continuing down the river, and after 45 minutes or so, we started wondering where the end point was going to be – by this point we were in the thick of the jungle, rain was pouring down, but it was beautiful.
There were three boats of us, who got ahead of the rest of the group, so we thought we were altogether and kept enjoying the beauty of the river.
Where's the finish line?
About 30 minutes later, one of the kayaking guides caught up with us, and told us that we had missed the finish point long ago upstream, and that there was no choice but to continue down the river for another 3 – 4 hours.
The river became faster with more rapid areas, and despite our kayak flipping and us being tossed around in the water a few times, it was an extremely fun adventure and we had some of the most amazing views of the river and wilderness (if only I had some photos).
Our 1 hour kayak ride turned into 5 hours, but it was a lot of fun.
Lunch at Krua Pad Riew restaurant (ครัวแปดริ้ว)
Due to missing the exit from the river and taking much longer than expected, after getting back to the resort, we rushed to check out, and then headed straight to Krua Pad Riew restaurant (ครัวแปดริ้ว) for lunch.
The Volkswagen caravan actually had to take off before we returned, as most of the group didn't go kayaking, and needed to keep schedule.
The food at Krua Pad Riew (ครัวแปดริ้ว) was excellent.
I especially enjoyed both the moo pla makua pra (หมูพล่ามะเขือเปราะ similar to jungle curry) and I think it was pad ped moo pa (ผัดเผ็ดหมูป่า wild pig). The jungle pig was so flavorful yet not too chewy, and it was nicely spiced with chilies, green peppercorns, and kaffir lime leaves.
The fish (ปลานิลทอดน้ำปลา) was fried to an absolute golden crisp, to the point where the eyes popped out.
I'm not huge on the syrupy sauce restaurants occasionally pour over fried fish, but the actual fish was good, crispy, and flavorful.
The flaming pot of gaeng som cha om kai (แกงส้มชะอมไข่) was a little on the sweet side, but it was still delicious.
The soup base, different from southern Thai gaeng som, is more of a sweet and sour broth, filled with plenty of chilies, and slices of omelet made with cha om kai (omelet with climbing wattle).
Whenever you travel in Thailand, one things is for sure, you'll eat well.
We were incredibly hungry after paddling the kayak for 5 hours, so we were ready to chow down on some serious food.
After eating round one, we ordered a few more dishes to regain our strength.
Their kai jeow (ไข่เจียว) was excellent, fluffy, and crispy at the same time.
Conclusion
Amazing Thailand (Tourism Authority of Thailand) organized a retro Volkswagen road trip to Thong Pha Phum in the Kanchanaburi province of Thailand.
I had been to Kanchanaburi before, but this was my first time to visit the Thong Pha Phum district.
Highlights for myself on the quick trip were kayaking down the river, visiting the morning market and temple, and the best meal of the trip, having lunch at Krua Pad Riew.
Disclaimer: This trip was organized by the Tourism Authority of Thailand, and I was happy to join.
Get exclusive updates
Enter your email and I'll send you the best travel food content.