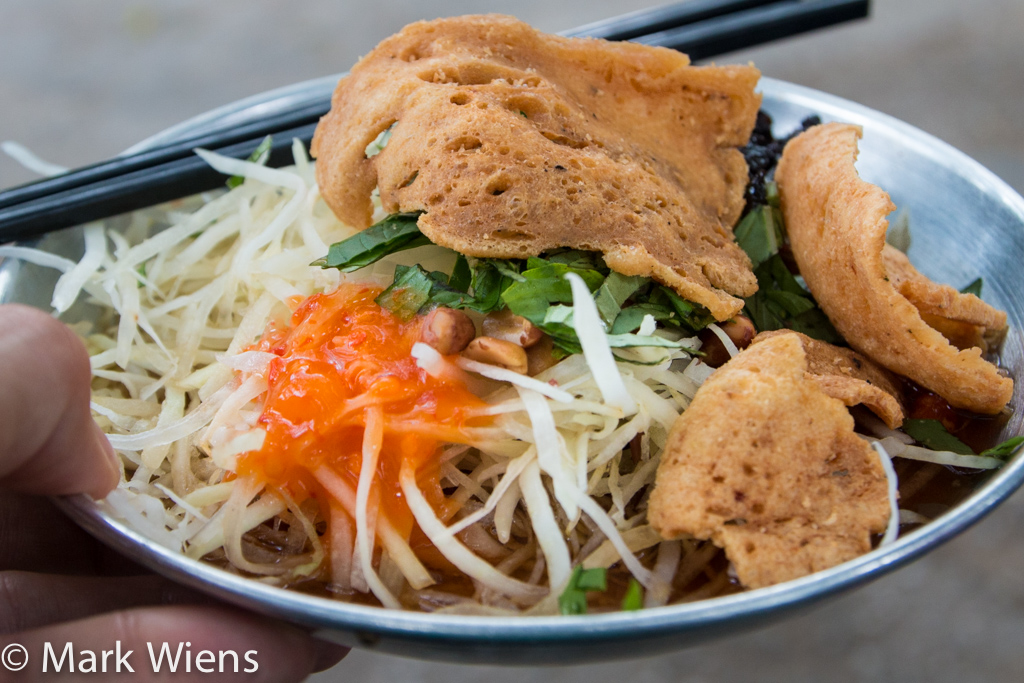 Does fresh, crisp slivers of green papaya, Vietnamese herbs, beef jerky, and a sweet and salty dressing, sound delicious to you?
Le Van Tam Park is one of the major, centrally located parks in Saigon, Vietnam, and while many people go there to exercise and jog, many others stop at the park not to exercise at all, but instead to eat a refreshing afternoon treat.
Beginning in the afternoon, on the western corner of the outside of the park, there's a small stall, actually it's more just like a little popup table and an umbrella, surrounded by a few ladies (normally in pajamas) that serve an excellent version of Vietnamese green papaya salad, known as gỏi đu đủ (goi du du).
They actually assemble the little metal plates of green papaya salad across the busy street, and then carry the salads over to the park by the platter.
While sitting in the middle of a busy market eating street food is a lot of fun, sitting on a tree planter at a lush shaded park is equally wonderful.
One day, after having just visited the famous Emperor Jade Pagoda, Ying and I walked over to Le Van Tam park.
When we entered the park on the southeastern corner, there was no sign of any papaya salad action.
But we kept walking, and eventually we made our way across the park, and behold, I eventually noticed a crowd of people gathered around a tree planter, and knew we were in the right place.
I came pretty early in the afternoon, right about 3 pm, so I'm sure it wasn't nearly as busy as it gets a little later on when more people are finished with work.
Get exclusive updates
Enter your email and I'll send you the best travel food content.
However, even at 3 pm, there were still quite a few people hanging around, slurping down metal plates of Vietnamese goi du du.
To order, I simply went over to the front of the stall, and held up a finger with a smile and asked for "goi du du."
She quickly grabbed a plate, already assembled with green papaya and toppings (but not yet with dressing), scooped on the dressing, and then asked if I'd like some additional chili sauce, to which I most definitely nodded.
They assemble the plates of salad, but don't add the dressing until it's ordered, that way, the vegetables remain fresh and crisp until you order. They have a seriously successful strategy.
After getting my plate of Vietnamese green papaya salad, I chose a seat on one of the tree planters, where they had already set out stacks of little pieces of canvas to sit on.
How was  the gỏi đu đủ?
The plate of papaya salad included long strands of thinly cut green papaya, roasted peanuts, some type of what I think was beef jerky (the black stuff on the left side of my plate), a wonderful addition of sliced Vietnamese coriander, and finally a handful of extra crispy fritters, kind of like fried crackers, on the very top.
The dressing was sweet and sour fish sauce based, and the chili sauce, wasn't really spicy, but tasted more like the ketchup-py variety of chili sauce, maybe the same sauce used to dress up hu tieu.
The flavor of the dressing tasted similar to the Thai version of som tam Thai green papaya salad, the tangy sweet and sour version.
It was simple, just a few fresh vegetables included, and I think what really made it good to me was the addition of Vietnamese coriander, flavoring the entire plate of salad with that extra boost of green flavor.
It was a little on the sweet side for me, but I very much enjoyed it, and I thought it was extremely refreshing.
I also couldn't have been happier with the lovely park atmosphere and sitting on a tree planter wall.
If you have a few minutes, be sure to watch the video below. You'll get a better sense of the atmosphere of this place, and the delicious salad as well:
(If you can't see the video, watch it here)
Conclusion
Saigon is one of the great street food cities in the world, and not only is there world class street food, there's also park food!
Le Van Tam Park is a central park, located in the heart of Saigon, and while you could engage in some exercise while there, I chose to engage in one of the more well known places in Saigon for green papaya salad.
The Vietnamese green papaya salad, goi du du, was fresh and light, and was delicious in the hot afternoon heat and humidity of the city.
Address: Le Van Tam Park is located at Võ Thị Sáu, Đa Kao, Quận 1, Hồ Chí Minh City
Open hours: I think about 2 pm – 6 pm or so, best to go sometime in the mid-afternoon
Prices: my single plate of green papaya salad cost 18,000 VND ($0.83)
How to get there: I walked to Le Van Tam Park a number of times from the Independence Palace area, and it took only about 15 – 20 minutes. But you could easily get there by taxi, motorbike, or public bus.
For the map of Vietnamese food, scroll down on the left hand side, until you see "Vietnamese Papaya Salad." Click on that, and it will highlight the location on the map.
Would you like a plate of refreshing Vietnamese papaya salad?
Get exclusive updates
Enter your email and I'll send you the best travel food content.