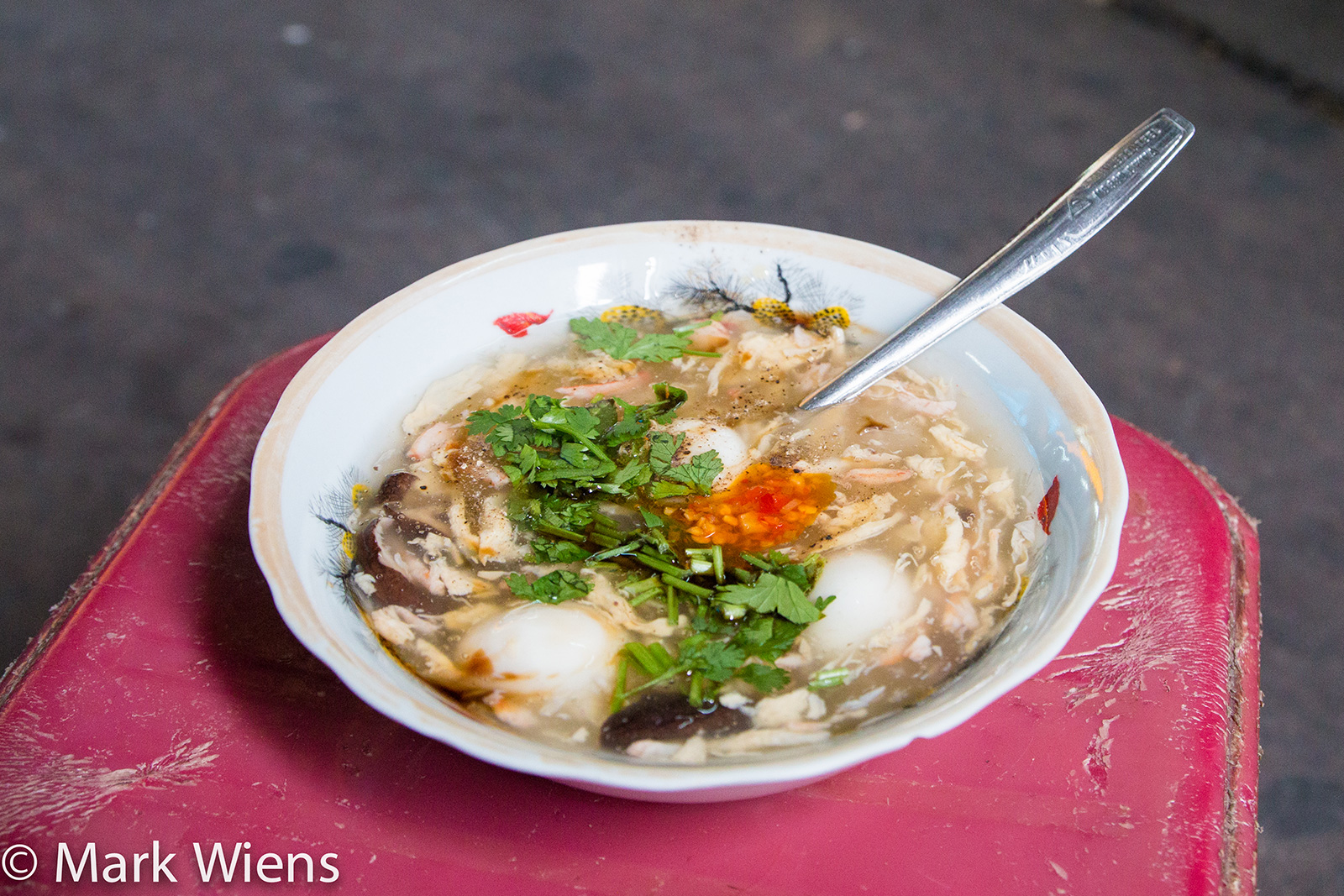 One of the greatest things about Saigon are the never ending mazes of back-lanes and alleys.
Why?
Not just because they are alleys, and alleys are nice.
But because alleys in Saigon, Vietnam, are always filled with life, local markets, and of course, some of the most fantastic things to eat.
In fact, I loved the back alleys of Saigon so much that I could probably spend days without ever emerging onto a real street or open space.
So that brings us to a lady, within a market lane next to the hotel I was staying at, who sold Vietnamese crab soup (known as súp cua) everyday.
Since I had already eaten some Vietnamese seafood, I knew the word cua meant crab, and then putting soup together with cua, it wasn't too challenging to figure out it was some sort of crab soup she served.
For the first few days I passed her and smiled, intrigued at what she had in her pot, but I didn't stop to try it.
Get exclusive updates
Enter your email and I'll send you the best travel food content.
I saw many people from the area – other food vendors, market vendors, store owners – all stopping by on foot or drive through (on their motorbikes) to order a bowl to eat there, or for takeaway in a flimsy plastic cup.
She appeared to just patiently wait, sitting on a stool, leaning her back against a gold store, and when she would receive an order, she would swiftly scoop out some of the sticky looking soup, and garnish it with a few seasonings like cilantro, pepper, and an optional scoop of crushed chili.
Her double basket bamboo cart was so efficient, soup pot on one side, and all the seasonings plus the dishes and silverware on the other side.
It wasn't until a number of days of wandering passed her and being interested in trying her crab soup that I finally could not handle continuing to imagine what her crab soup tasted like, and I had to sit down for a bowl.
There were a couple of Vietnamese mini red stools scattered next to her street food basket, and so I pulled up a chair, and ordered two bowls of sup cua.
Just as swiftly as I had seen her while walking passed, she scooped out some of the soup, which I could tell was thick and pretty sticky, then dashed on some pepper, cilantro, and finally a squirt of sweet chili sauce.
She handed me my bowl – my first bowl of Vietnamese crab soup.
Price – 15,000 VND ($0.68)
The soup was kind of the consistency of gravy, but a bit thicker, almost to the point of pudding.
It was also very sticky, so I think, if it was made like Helen's recipe, it was thickened with tapioca or corn starch. The thickness also added to the heartiness, and made it more filling than just a regular bowl of soup.
Within the soup base were bits of boneless crab, slices of shitake mushroom, whole quail eggs, and I think what was either thin slivers of egg (like in egg drop soup) or tofu.
While the sup cua wasn't the most flavorful thing I ate in Vietnam, it couldn't compare to these glorious crab noodles, but for the price ($0.68), it was pretty decent.
And along with enjoying a great afternoon snack, the vendor was very nice, and the atmosphere of sitting in the alley was spectacular.
Conclusion
Súp cua is Vietnamese crab soup, a popular street food snack in Saigon, Vietnam.
During my stay in Saigon I wandered through many alleys and markets, and within the Vuon Chuoi Market, one day I stopped for a bowl of crab soup.
It was sticky and thick, and flavored with bits of crab, mushrooms, and quail eggs. I thought it made a tasty and very affordable snack in Saigon.
You'll find portable súp cua vendors selling crab soup just like this throughout Saigon, especially down alleys and tucked away into neighborhoods.
Would you like a bowl of crab soup for snack?
Get exclusive updates
Enter your email and I'll send you the best travel food content.