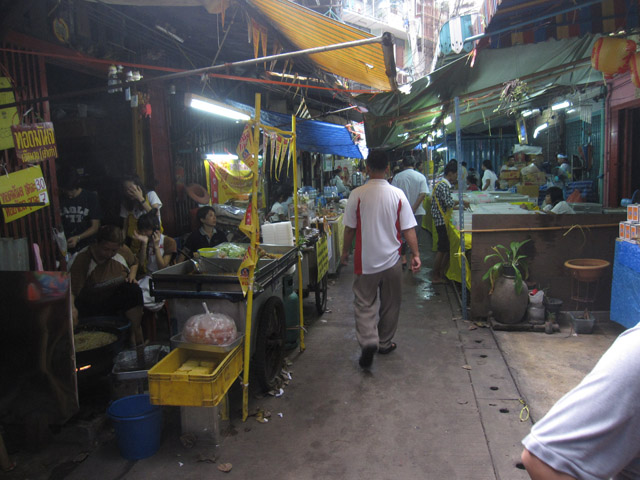 I cringed at the thought of having to tell people I went to a "vegetarian festival in Bangkok" especially after letting everyone know I get dirty in seafood Dampa and I consider myself skilled at indulging in nyama choma (East African grilled goat).
Don't get me wrong, I'm not one to deny vegetation, in fact, I love a healthy dosage of veg on the daily.  There's just something about a vegetarian festival that I was slightly embarrassed testifying to, but that was soon to change.
I arrived in Bangkok's Chinatown to meet some friends.
From Hua Lamphong train station, my motorcycle taxi revved through the tiny alley ways that were crammed with steaming food stalls, carts of things for sale, and odds and ends.
All empty space was filled with a motorized vehicle or pieces of humanity.  As we whizzed through waves of flesh, my nostrils began to widen as they were introduced to the wondrous smells hovering in the atmosphere.
The motorcycle dropped me off and I was now on foot, mingling with the sea of humanity while smelling out the best available edible options and observing the interesting traditions.
Get exclusive updates
Enter your email and I'll send you the best travel food content.
The Bangkok vegetarian festival also known as Kin Jay, is held in Bangkok's Chinatown for the first nine days of the ninth Chinese lunar month annually.  It usually falls sometime in late September or early October.  The festival is purposefully for the purification of the mind and soul and well being of the body.
This is enacted by abstaining from eating meat or animal products as well as pungent vegetables like onions, garlic, and some spices.
Legend says that a group of Chinese people were visiting Thailand when they became very ill.  The sick group decided to go on a vegetarian diet for nine days to cleanse themselves while praying to the Nine Emperor gods.
Along with vegetarian food comes a festival where people perform activities and feats similar to those in Malaysia at the Batu Caves.
Some people pierce their cheeks with hooks while others take part in Chinese drama and opera.  I was amazed to see by far the most massive incense poles I have ever seen in my life that were burning clouds of fragrant smoke.  Blocks of ash would fall to the ground with fiery thumps.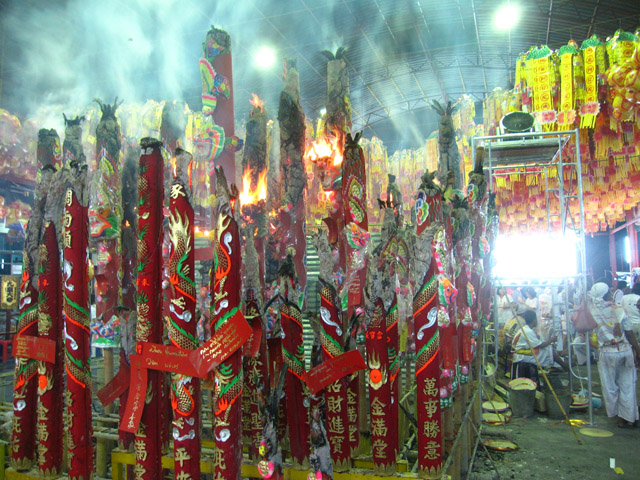 While walking around I took the liberty to chomp on a number of vegetarian specialties including fried wild carrots and rice noodles, glass noodle spring rolls, all sorts of dumplings, and various types of fried noodles.
A random assortment of sweets including the spectacular version of a Thai butterfinger were also added to my body.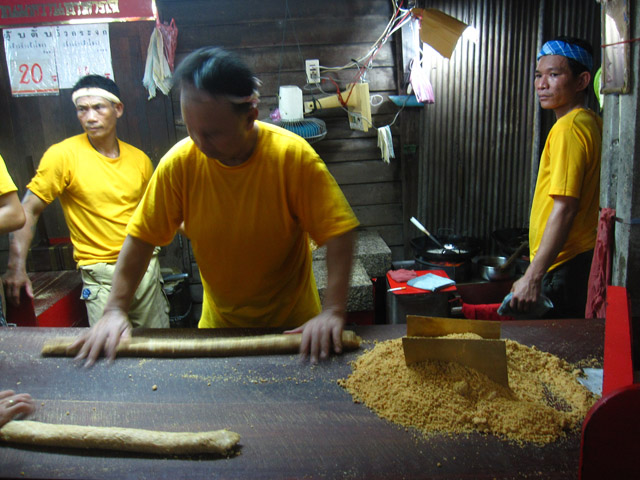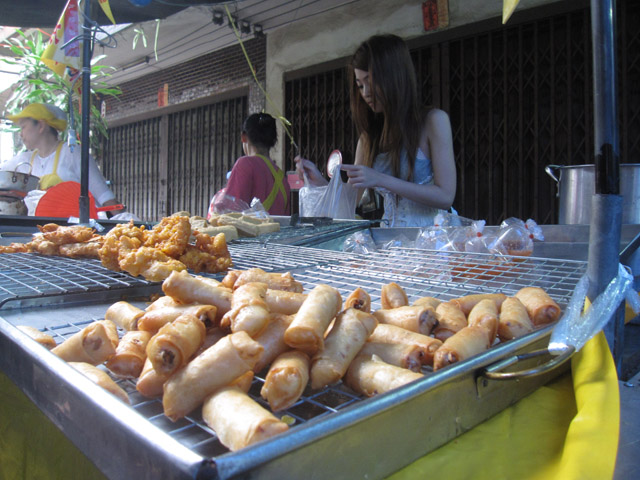 Most of the deliciousness was indeed deep fried to our splendor and the deserts were highly sugared, catering to the sweetest of all teeth.
I think somewhere between when the festival began and now, the rules of a "cleanse" were slightly loosened.  Let me be one to tell you that although it was a vegetarian festival, I think a full on meat festival might have been a healthier option.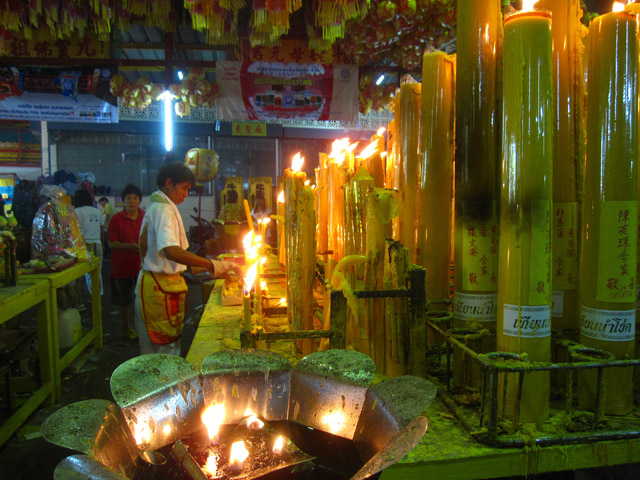 There was no soup number 5 like in the World's first Chinatown, or Nyama Choma chunks of meat anywhere to be found.
I wouldn't call it a vegetarian cleanse, but the food was quite wonderful. Never again will I be embarrassed to say I attended a vegetarian festival.
Get exclusive updates
Enter your email and I'll send you the best travel food content.