It's revered in marketplaces, dangled up for display or promoted at the front of the stall, and if you're a restaurant that serves it, there's no doubt you'll hang it near the doorway, luring in the seduced guests.
You'll immediately know there's something special about the stink bean.
Stink bean, also known as parkia speciosa, sataw (สะตอ), petai, peteh, bitter bean, smelly bean or twisted cluster bean is widely consumed in southern southeast Asia.
The beans grow hanging from a tree, wrapped in a tough outer skin of twisted pods that grow in clusters.
With a high concentration of amino acids, the nutrition packed bean has an aroma that some say could pass as methane gas – but in a scrumptious sort of way!
The smell doesn't end at the meal, the scent of stink beans will follow you in a similar way that asparagus makes its comeback: well represented in your urine.
Get exclusive updates
Enter your email and I'll send you the best travel food content.
I know, that description is probably not selling you, but let me reassure you that I think it's probably one of favorite things to eat on the planet.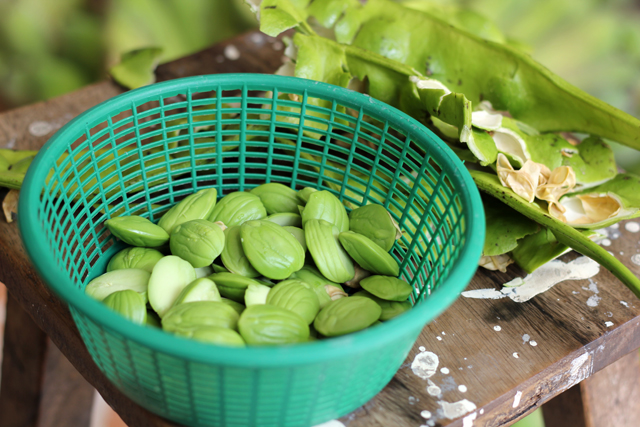 Peeling the pods takes a knife to slice open the shell and remove the inner stink beans. The larger the beans are, as I've noticed, tend to be packed with a little extra boost of pungency.
While Indonesia, Malaysia and Thailand each have their own slightly unique ways to cook stink beans, they are commonly stir fried in curry paste and paired with other robust ingredients like garlic, chillies, and shrimp paste.
Pad sataw (ผัดสะตอ) is a Thai dish frequently cooked with either pork or shrimp and flavored with a masterful curry paste blend that includes garlic, chillies and turmeric.
It's a dish I just can't seem to get enough of, a combination I wouldn't hesitate to travel to the ends of the world just to eat.
No southern Thai meal would be complete without stir fried stink beans.
They are not only prepared stir fried, but also roasted in their shell and served along with nam prik, a variation of spicy Thai chili sauce.
I've also enjoyed stink beans pickled in sour brine.
The beans don't lose their awesome flavor but take on a little more of a rubbery texture similar to pickled carrots or radish. It's like popping skittles in your mouth, only much tastier!
Health Benefits of the Stink Bean
Stink beans are not only heaven to the taste buds, but are also a powerhouse of healthy nutrients. They have been proven to aid in everything from lowering blood pressure to relieving stress and warding off heartburn.
Studies have even revealed that the bean is loaded with natural energy boosting sugars. Pour out your Red Bull and start popping stink beans!
I enjoy eating a large variety of things, but more than almost anything else I include in my diet, there's truly something magical about stink beans.
The complexity of the flavor, the spices it's commonly cooked with, and the gaseous sensation that erupts into your mouth with each bite (and comes out in your urine for days of remembrance), makes the stink bean one of the most remarkable plants to eat on the planet.
Oh parkia speciosa, you may be a little stinky, but I dearly love you.
Get exclusive updates
Enter your email and I'll send you the best travel food content.