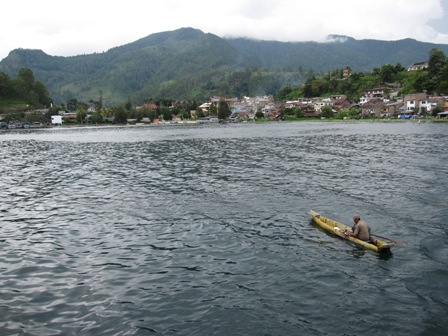 Off a 5 hour chaotic bus from Medan, Indonesia, I arrived at Parapat on the shores of Lake Danau Toba.  This North Sumatran, Indonesian lake is the largest volcanic lake in the world.  The ferry from the mainland to the small town of Tuktuk on the peninsula of Samosir (have a look at the maps), in the lake, took half an hour.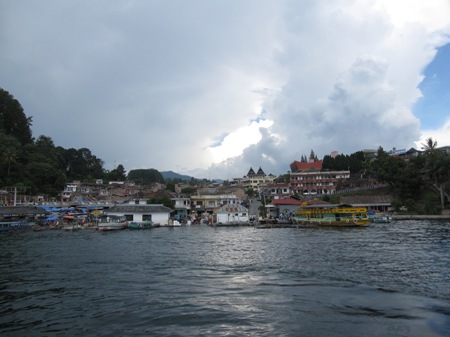 Immediately as we floated our way through the calm, deep water of Toba on the ferry, I could sense calmness and relaxation in our midst.  From a previous recommendation, I decided to stay at Reggae Guest House, proving to be a wonderful budget accommodation.  For 3 days, a friend and I payed just US $3 together for a bungalow overlooking the lake.  This was the view from the door…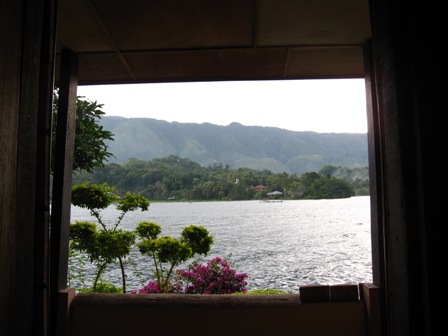 Tuktuk is an extremely pleasant little town.  People are relaxed, the food is good, and basically all the wonderful things in Sumatra are evident.  We had the honor of eating some scrumptious nasi campur, rice served with various meats, vegetables, and of course chilies.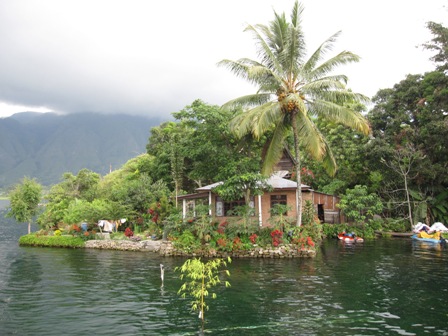 There are a number of activities to explore near and around Lake Toba.  North Sumatra is home to the Batak people who have a super interesting culture, history, and architectural style.  Cultural sites can be observed right around Samosir Island.  Hot springs, small ponds, and expedition hikes are also great activities in the Toba region.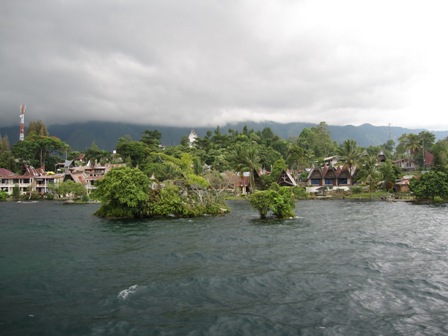 Despite the various options of things to do, ultra-relaxation should be first on the list when visiting Lake Toba.  I have been to few places as peaceful, quiet, and tranquil as Lake Toba.
Bring a book, a swim suit, and not much else.
– Migration Mark