Ying Charoen Market (ยิ่งเจริญ)
Day 4, our first stop on the agenda was Ying Charoen Market (ยิ่งเจริญ), a famous market in the Saphan Mai (สะพานใหม่) area of Bangkok.
It was my first time to visit the market, which sort of reminded me of Or Tor Kor market (video) due to its wide and clean aisles.
We shot a couple of stock shot scenes just walking through the aisles of the market, and then I did an introduction to the beauty and wonderful selection of Thai fruit, all while poking my head into a beautiful fruit stall at the market.
There were a couple awesome fruit stalls at the market, stacked with a serious bounty of marvelous Thai fruits.
I've always been a lover of fruit, especially when it's fresh from the farm, and I've always thought Thailand (and all of southeast Asia) are blessed by fruit, so it's never hard for me to express how delicious fruit is.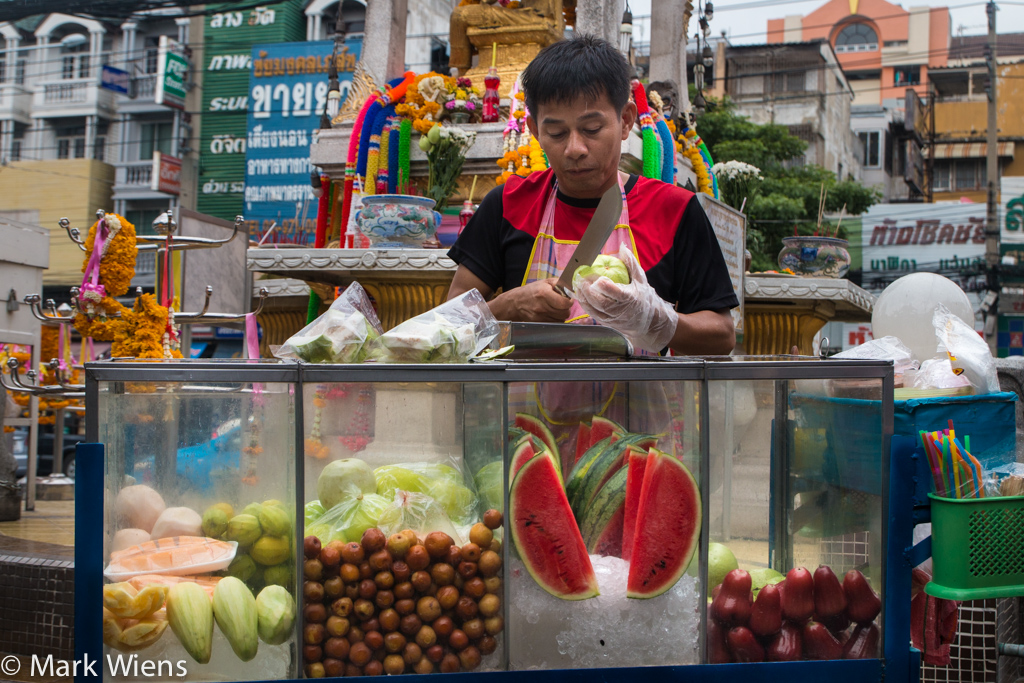 Fruit cart vendor (รถเข็นผลไม้)
The next scene was hanging out with a fruit cart vendor (รถเข็นผลไม้), called a rot ken polamai.
I walked up to him, ordered a selection of different fruits, and then sampled them all first, and then proceeded to dip them into his variety of condiments, known as prik gleua (พริกเกลือ) – which is salt and chili.
Get exclusive updates
Enter your email and I'll send you the best travel food content.
He had five different fruit dips, which are actually more like dry rub seasonings than actual dips. Mamuang nam pla wan (video) is an actual dip, but these are dry and not pasty.
One was a mixture of salt with regular chilies, then salt with roasted crushed chilies, then two others were mixed with sugar, and finally one with Chinese salted plum and sugar.
My favorite of all the fruit seasoning has always been just salt with roasted chili flakes in it – I don't always like anything extra on my fruit, but it does occasionally taste pretty good on especially sour and crisp fruit.
To order fruit at a Thai fruit cart vendor (รถเข็นผลไม้), all you have to do is point to the different fruits you want, the vendor will bag them up, and then you can just choose whichever variety of seasoning dips you'd like.
After hanging out at the market, and eating quite my fill of fruit for the day (I basically ate a fruit buffet during the filming of the scene), we moved on.
Tuk tuk ride
The van took our crew to central Bangkok, right in the heart of the city, to the Grand Palace and Wat Phra Kaew.
We didn't do any filming in the temples, but the director, wanted to get some footage riding around in a tuk tuk, doing guess what?… eating – that's something I can do!
I rolled around in a tuk yuk for about 30 minutes or so, munching on fruit and other snacks, while getting all the clips we needed.
Why do Thais love salads so much?
Final scene for the day, was an ending short speech where I talked about the variety of different Thai salads, and explained why salads are so popular in Thai cuisine, and why I like Thai salads so much.
The reason: Many salads are a wonderful balance or harmony of tastes, including spicy, sweet, sour, and salty. They also often make use of vegetables, which are fresh and healthy, and prepared raw (or lightly cooked), without the use of oil. Overall, many Thais love salads because of their exciting and fresh flavors.
We walked around Tha Tien pier for a few minutes, took the boat across the Chao Phraya River to Wat Arun, drank a coconut juice for refreshment, and then headed back to the van.
That was the end of Day 4. It was a shorter day, than the other days.
Note: If you're new to this series, I'll be traveling around Thailand filming a Thai food tv documentary for the next 2 months. I'll be posting frequent updates about the things we do and eat right here. Stay tuned.
Get exclusive updates
Enter your email and I'll send you the best travel food content.