Tha Pom Khlong Song Nam is an amazing place to observe nature at it's finest due to it's diverse environment. The park is located on the edge of the Andaman sea tide line and waters rotate from brackish to fresh and transform from slightly murky to emerald-green clarity.
As the water miraculously turns crystal clear, tree roots, mangroves, neon green plants, and a host of never before seen vegetation are revealed.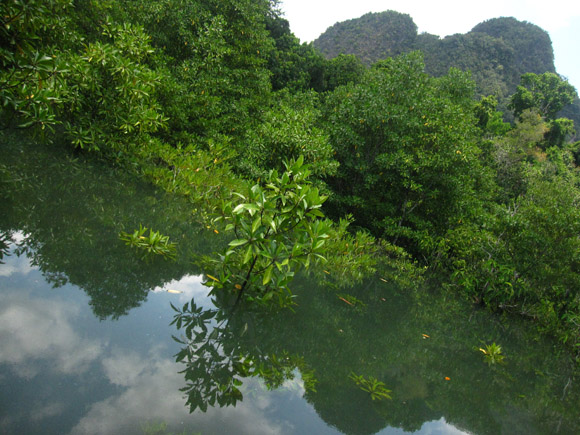 The tangle and array of vegetation, the sparkling water, and the limestone cliffs and mountains in the background, make Tha Pom Khlong Song Nam a special and undiscovered place to visit.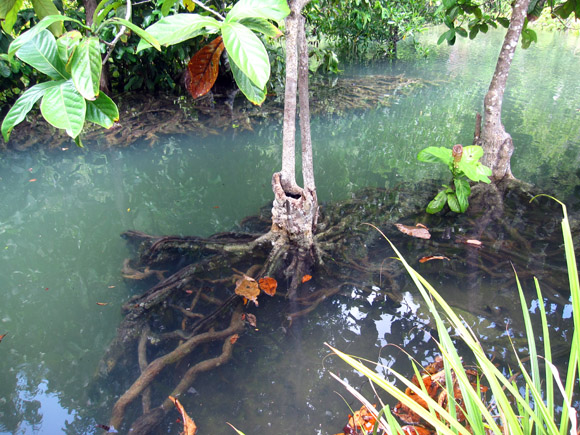 Imagine a forest where the dirt becomes transparent and everything below the ground line is clearly exposed.  Being able to see the root structures of huge trees, bushes, and plants submerged in sheets of glass, was fascinating.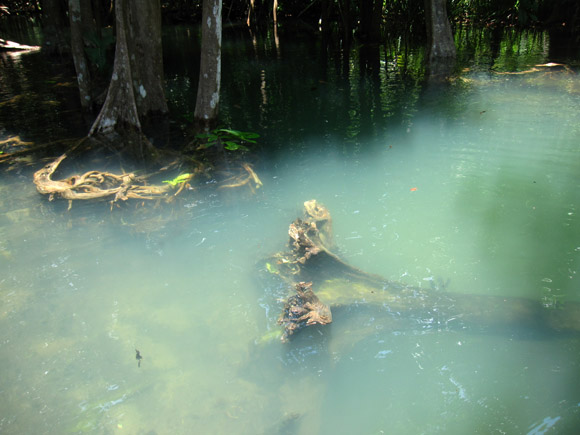 Get exclusive updates
Enter your email and I'll send you the best travel food content.
In order to conveniently discover the serene landscapes, the park has built an elevated wooden walkway.  I think the tourism authority did a remarkable job of building the walkway so as to not take away from the natural scenery.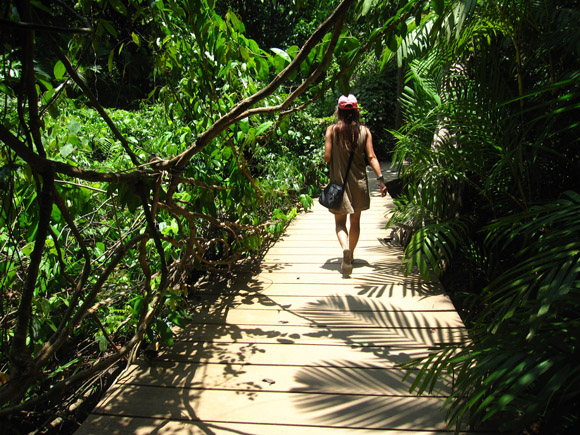 Another option for exploration (not sure if it is still available) is renting a kayak and patrolling the area.  Authorities are aiming to really preserve the ecology and are making various conservation efforts.  Contact the tourism authority (below) to inquire.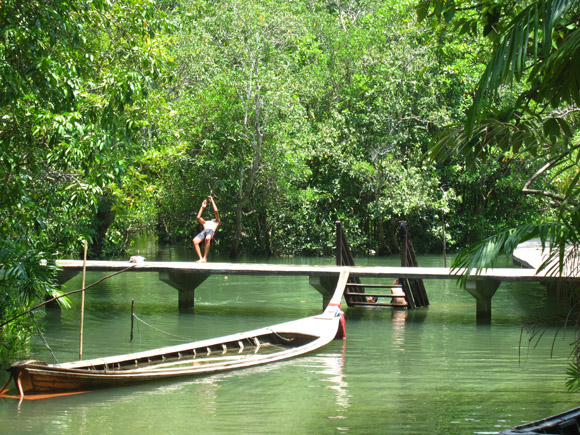 Note: The clarity of the water depends on the tide.  The local authorities at the park told us that around 3 to 4 pm is the prime viewing time.
How To Get To Tha Pom Khlong Song Nam:
The Ecological park is located about 34 kilometers from Krabi town.  Take Highway No. 4 (road from Krabi to Ao Luek) till you reach Km 126.
Make a left on the small road and proceed for another 5 km following the signs.
I rented a motorcycle and cruised on the beautiful road past cliffs and through the dense vegetation, having no trouble finding the park.
Information:
50 THB per person
For details you can get in touch with the Khao Khram Su-district Administration Organization: Tel. 0 7569 4165, 0 7569 4198
Get exclusive updates
Enter your email and I'll send you the best travel food content.