I only had a few hours.
My flight from Bangkok landed at Incheon in the morning, and my next flight was on its way to Honolulu in the afternoon.
I could have stayed in the airport (a very nice airport at that) and used the wifi, but I love food too much, and I was determined to have a bowl of one of Korea's, and perhaps even the world's, most comforting comfort foods: sundubu jiggae.
When I visited Seoul (video) a few years back, I was more focused on grilled meats and addicted to kimchi jiggae, another stellar Korean stew, but somehow I only had sundubu jiggae once or twice.
But since then, I had eaten it on more occasions outside of South Korea, so when I had a short layover, I had to get some.
I searched out Jaedong Sundubu (재동순두부) on Seoul Eats, and after getting out of the plane, that's where I headed.
It was a little confusing to get there, not the subway or anything, but after taking the exit, all signage was in Korean (I've written good directions at the bottom if you're interested in going).
Get exclusive updates
Enter your email and I'll send you the best travel food content.
Luckily it didn't take more than a few minutes to locate a small alley, and after asking a few random pedestrians, I found the restaurant.
Arriving to Jaedong Sundubu (재동순두부) right at noon, the restaurant was packed, and I had to wait in line for about 10 minutes before we were seated.
As soon as we sat down, we were immediately delivered our colorful assortment of classic banchan side dishes.
A couple kinds of kimchi, seasoned seaweed, slices of egg omelet, and tiny candied fish.
One thing I immediately noticed while seated at Jaedong Sundubu (재동순두부) is that the side dishes were self service, meaning you could fill them up as many times as you liked. This is dangerous for me, a lover of all things kimchi!
The menu was fully in Korean, so I had little choice but to point to what someone at the next table, had on their table and order two of the same.
I ordered, or course, sundubu jjigae (순두부찌개), a spicy Korean stew made with un-curdled tofu, bits of seafood, onions, chili flakes, oil, and finally a raw egg plopped in the middle of the boiling goodness.
It came with a metal container of rice and the side dishes.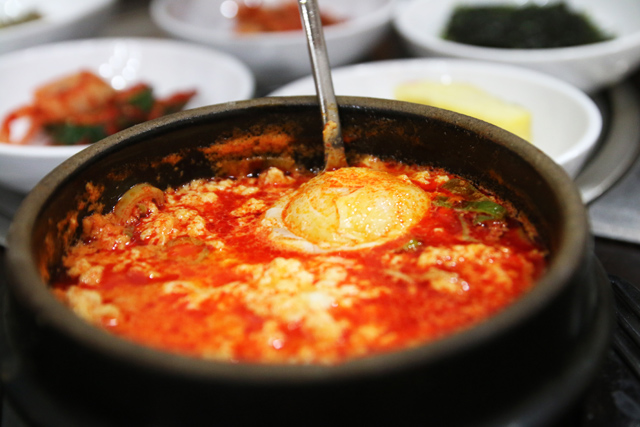 Sundubu jjigae (순두부찌개) comes to your table like a bubbling volcano of lava, the chili oil cuddling the tofu egg into a red mess of magma – and it's served just about as hot as something cooked in a volcano too.
So why is sundubu jjigae (순두부찌개) the most comforting comfort food?
I attempt to eat as many comfort foods as possible in my travels, and Sundubu jjigae (순두부찌개) is pretty high up on the list mainly for two reasons.
The entire contents of the dish is so soft, you really could almost skip chewing for entire meal, and just let the chili saturated tofu and egg slide down your throat. It's like spicy baby food.
The dish literally remains piping hot until your last bite.
Along with these two main reasons, there are so many more, like that it just tastes amazing.
Don't hate on the tofu here!
This tofu almost tastes like silky scrambled eggs, and covered in red chili oil, coated in egg yolk, and eaten over rice with alternating bites of kimchi, I could hardly contain my joy.
One thing for me is certain, sundubu jjigae (순두부찌개) is one of the great South Korean food comfort dishes.
Jaedong Sundubu (재동순두부)
Ok so here are the details so you can go enjoy this sundubu jjigae (순두부찌개).
Take the subway to Anguk station and Exit #2. Walk outside and go straight less than 100 meters until you see the blue sign for Bukchon-ro 2-gil. Make a right on the small alley (pictured), and go down for about 20 meters until you see the white signs for the restaurant (look for the pictures, no English).
Get exclusive updates
Enter your email and I'll send you the best travel food content.