Just about every hotel has a buffet.
But the Spiral Buffet at Sofitel in Manila, is a buffet that takes the meaning of a buffet to the next level.
When I was in Manila, staying at Sofitel, my wife Ying and I were invited to eat at the Sunday brunch buffet at their Spiral Restaurant.
I haven't even come close to eating at all the buffets in Asia, but so far, this is the grandest buffet, in all senses of the word grand, that I've tried so far.
Here's what we ate…
The grandness of Spiral Buffet
Spiral Buffet is an international buffet with a heavy French influence, largely due to the fact that Sofitel is a French hotel brand, but there's also an extensive Asian food presence as well.
To get a sense of the grandness of the buffet, they have it organized into 21 different dining ateliers – which in French are artistic workshop stations – and at the buffet they translate into different food sections.
At the front of the dining area, there was a mirror listing all the different ateliers, from the Filipino food station, to the Peking duck station, to the cheese room.
There's literally something for everyone, and something to satisfy your craving no matter what you're hungry for.
I spent a good 15 minutes walking around the buffet, just absolutely amazed at how much food was available, both the variety and the selection.
As soon as we arrived to Spiral Buffet on Sunday for lunch, they seated us at our table, which even though it was for just Ying and I, we were seated at a full sofa table for 6 – so we dined in some serious comfort.
Spiral Buffet prices
There are a number of different prices, and the price can fluctuate based on holidays and promotions, but here are the typical prices for the Sunday lunch buffet:
4,092 PHP per person with all you can drink alcohol
3,378 PHP per person with no alcohol
It's not a cheap buffet, but the quality and selection makes it worth it.
Another one of the highlights of eating at the buffet is the free flow of drinks (you can get the option with drinks or without if you go).
So as soon as we sat down, they poured us a glass of champagne to get started.
If you're ready to drink wine and champagne, it's well worth paying the higher price for an all-you-can-drink pass at the buffet.
Before we made our first trip to the buffet, our host came over with a house basket of bread, which she said was the Spiral signature bread made with olive oil.
Even the bread was delicious, perfectly crusty on the edges, and fluffy and warm on the inside. I just had a taste of the bread, knowing I was about to go deep into the buffet.
Alright, let's get started with the buffet…
Cold Japanese station
The buffet was so big and so extensive that I really had no idea where to start.
So I did the only sensible thing, I started with the atelier that was the closest to our table – the Japanese cold station.
Positioned behind the Japanese cold station were a pair of sushi chefs, continuously making sushi and slicing sashimi.
Get exclusive updates
Enter your email and I'll send you the best travel food content.
There was also an entire tuna, sliced and on display, and ready to be consumed one slice of sashimi at a time.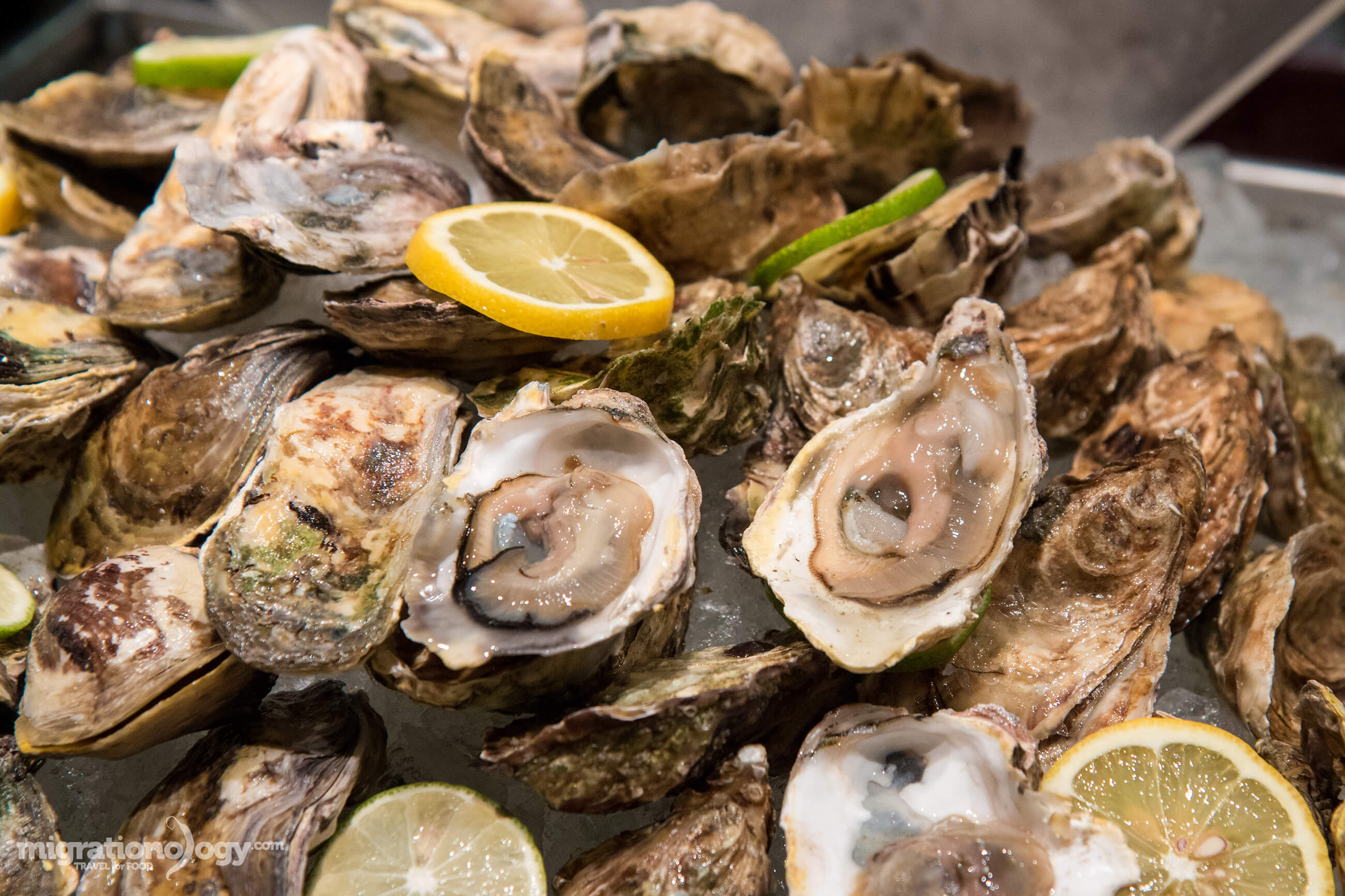 Just to the side of the Japanese cold station, there was a European cold station that included oysters flown fresh from France, plus a selection of different colored caviar.
Somehow I completely missed the foie gras, perhaps I was mesmerized at the food I did see, and glanced over it, but foie gras (from what Anton showed) is available as well – all you can eat of it.
So I started off with a selection of sushi and sashimi and some oysters and crab as well. The sushi was all pretty good, and the sashimi was fresh.
But the real winner of the plate were the fresh oysters. They were pretty big size, very fresh, and just melted like a lump of jelly in my mouth.
The crab, which I think was some type of deep sea water crab, was also really good. It was meaty and fresh.
Moving onto the caviar station.
To be honest I don't really know what I'm doing when it comes to eating caviar and the right method of eating it – all I know is that I like it.
I took a combination of both green and black caviar, both of which came from a lumpfish.
Since I didn't take any of the side toppings and garnishes on the buffet line, I ate it along with a piece of the crusty signature olive bread.
It was excellent, nice and salty, like little beads of fish juice and oil.
Filipino food station
While Spiral Buffet is an international buffet, I'm always interested to eat as much local food in a country as I can when I travel.
So I was pretty happy to see the nice selection of Filipino food. They didn't just have your typical pork adobo, but they had an interesting line-up of dish to try.
There were a couple Filipino dishes that really caught my attention, one of them was the crocodile adobo, and the other was a dish of shredded stingray cooked in coconut milk.
They also had a steaming basket of balut, fertilized eggs, as well.
I took a nice selection of Filipino dishes, and despite how bad I wanted a plate of rice to go with it and how well it would have tasted, I had to sacrifice the rice for the sake of being able to eat more.
I've had crocodile quite a few times, and all part of it taste a bit different, and oftentimes it's a bit rubbery.
This crocodile here was extremely soft and tender, like a cross between pork and fish, and really fragrant with the adobo seasoning.
The stingray was also extremely good, soft like shredded chicken, and within a rich coconut milk gravy.
You don't need to feel obligated to eat balut when you eat at Spiral Buffet, but if you're interested in giving it a try, they do have it available.
When I was in the Philippines a few years back I enjoyed eating balut occasionally as an afternoon snack, so I was happy to have it again, this time at a fancy hotel buffet.
If you have a few minutes, you can watch the full video to see me devour it!
You know how hard boiled eggs have a more eggy flavor than an omelet or fried egg?
If you take that egg flavor, and multiply it a few times, and then add some extra textures, you have a balut. It's pretty good.
Indian food course
I'm a huge lover of Indian food, and there was no way I was going to miss the Indian station.
At Spiral Buffet they had a selection of different Indian curries, plus a full tandoor section where the chefs were making things like tandoori prawns and fresh naan.
Overall, the Indian food was pretty good, and I'm especially a lover of dal makhani.
Along with my Indian food plate, I added a couple slices of prime rib onto my plate for good measure.
French station
While walking around taking a tour of the buffet with the manager at the beginning, he explained to me that a French kitchen often includes the kitchen, then a hot metal counter, which is typically where the waiter or waitress picks up the order and then delivers the food to the customers.
The concept at Spiral Buffet was to eliminate, as best as possible, the step between waiter and customer, and just serve the food from the chef to the customers.
In my opinion the French section had one of the most impressive displays of the buffet because of its giant metal cooking station. Again, like throughout the buffet, the food was cooked fresh in small portions, then left to rest on the heated metal counter.
The entire French section felt like you were stepping into the kitchen of a French restaurant, and just grabbing the food for yourself.
Along with a couple slices of pizza, I got a scoop of mashed potatoes, asparagus and carrots, white button mushrooms sautéed in butter, and the highlight of the plate, mussels simmered in cream and maybe some cheese and white wine.
The mushrooms and the mussels, both of which were heavy on the butter, were awesome.
The pizza was also pretty good. I just threw those slices on my plate since it had been a while since I'd had pizza.
Since I had also eaten at Spiral buffet for breakfast the day before and had enjoyed a plate of cheese from the Spiral cheese room, I didn't have any this time at the buffet. But if you're in the mood for some good quality cheese, you could eat enough cheese to knock yourself out at this buffet.
I have to admit, by this time I was wishing I was back in my early 20's when I seemed to be able to eat non-stop and never get fully full.
But unfortunately, in my later 20's I've started to slow down and can no longer eat nearly as much as I used to be able to.
Luckily, since I had an entire sofa to myself, I laid back and relaxed for a few minutes before moving onto the next plate.
Japanese hot station
I headed over to the Japanese hot station, and I got a bowl of sukiyaki.
I then walked around the buffet looking a little lost and full for a few minutes, before deciding to grab a few more pieces of sashimi, some kimchi, and a final oyster to top things off.
Desserts
Perhaps one of the other grandest part of the Sofitel buffet is the desserts selection, something you'd expect from a French company.
There was an entire chocolate production, including fountains of chocolate, and a dessert selection to satisfy the most hardcore sweet tooth's.
There were cakes, candies, eclairs, macarons, chocolates, and even a selection of kids candies like gummy worms.
You might be disappointed when I say I skipped dessert… but I did.
I'm not really into sweets – even the ice cream pictured above was my wife's, which I did have a taste of and it was really good.
But if you enjoy sweets, I don't think there's anyway you'll be disappointed with the desserts at the Spiral brunch buffet.
Ying and I, both full to the brim and satisfied, decided to call it a day at the buffet.
The Sunday buffet opened at 12 pm noon and closed at 3 pm, and we arrived just after opening and left just before they closed.
It was a well spent 3 hours of life.
What I liked about Spiral Buffet
Spiral Buffet has a lot going for it, and after feasting there, here are a few of the things I really liked and think they did really well at:
Cooking in small portions – One of the main reasons a buffet can be bad is because food is often prepared in large batches, and then just sits until it runs out. At Spiral Buffet however, I noticed that the food was prepared in small batches, so it would sit for less time before being finished to make a fresh batch.
Selection and assortment – Like I've already said before a couple times, I don't think I've ever been to a buffet with so much of a selection of food, ever. The food was mainly French European, and variety of Asian.
Service – The service was excellent, and from reading other reviews about the buffet, it seems others had just as good of service as I did. There are plenty of waiting staff, yet they are not pushy and they were all helpful.
Conclusion
Located at the popular Sofitel Philippine Plaza in Manila* along the bay, the Spiral Buffet is one of the grandest buffets I've ever been to in Asia.
When we were in Manila, Ying and I were staying at Sofitel for a few nights, and they invited us to eat at the Sunday brunch buffet, including a free flow of champagne and wine, and all the food we could ever want in a single meal.
What I loved most is that, unlike many other buffets that cook in big portions and let the food sit until finished, at Spiral Buffet they cooked in small portion so food remained fresh and the flavors were preserved. Also the selection and variety was unbelievable.
I'm just glad Ying and I had a room at Sofitel, because after eating at the buffet there's no way I could have moved to go anywhere.
If you're in Manila and looking for one of the most extensive and high quality buffets in Asia, Spiral Buffet for lunch on Sunday is a real treat.
Spiral Buffet, Sofitel Philippine Plaza, Manila
Address: CCP Complex Roxas Boulevard, Pasay City, Manila, 1300, Philippines
Phone number and contact: (+632) 551-5555 and [email protected] (reservations on a Sunday for lunch are recommended)
Website: http://www.sofitelmanila.com/en/spiral.html and http://spiralmanila.com/
Prices: 4,092 PHP per person with alcohol, 3,378 PHP per person with no alcohol
How to get there: Sofitel Philippine Plaza is located on the bay in Manila, not far from the Mall of Asia. Probably the easiest way to get there is to jump in a city taxi or an Uber.
Disclosure: Ying and I were invited to eat at Sofitel's Spiral Buffet, so we didn't pay for our meal, and I just showed up to eat! However, all photos, videos, and words are my own.
Get exclusive updates
Enter your email and I'll send you the best travel food content.