It's often in circumstances when you're not searching, that you find exactly what you're looking for.
Same goes for good restaurants.
After a 4 hour zigzagging mountain jeep ride from New Jalpaigur to Darjeeling, we were hungry. And so hungry in fact, that even though I wanted to find somewhere good, I was willing to eat just about anything.
And that's when we stumbled right into a restaurant that was just like Vishalatchi Food and Catering in Kuala Lumpur (not by the genre of food they served, but by the deliciousness) – a restaurant so good I'd have to return to eat multiple meals in a row.
Singalila Restaurant is very simple.
Open the curtain, walk down 2 steps, and you're in the little dining section where there are about 3 long tables paired with benches. The kitchen is just to the left hand side and during lunchtime hours the restaurant is always filled with jeep drivers satisfying themselves with delicious food.
It's a family restaurant, mainly operated by another incredible motherly cook and her daughters.
The toughest thing about eating at Singalila Restaurant were the near freezing temperatures outside and inside… but once that food arrived, I nearly forgot about the outside temperature.
Get exclusive updates
Enter your email and I'll send you the best travel food content.
There's no menu at Singalila Restaurant, and you get whatever is available that particular day.
The food is mostly native dishes from the area, a mixture of Sikkimese and Tibetan flavors accompanied by a bit of Indian influence.
You always start off with a plate of rice, a couple of mixed vegetable curries of the day, and a side of dal.
From there, you can order a meat addition. The first day I had the beef curry and pork curry (pictured above), a powerfully flavorful concoction of chunks of meat that were ridiculously tender, warm, and so flavorful.
The next day I had the chicken curry, an equally delightful curry.
And one of my personal favorite things about Singalila Restaurant was the communal plate of garnishes and hot sauce.
The little ball chillies were about the size of marbles, but they were indeed fiery, and warmed me right up. The green sauce, which I still haven't been able to fully identify what it all included, was one of the top sauces I've ever had.
Just like pol sambol, I had dreams about the green sauce.
Though I ate the rice meal at Singalila Restaurant nearly everyday I was in Darjeeling, India, I hadn't tried their Tibetan style thukpa noodle soup.
So on my last day in Darjeeling, in addition to a plate of marvelous rice and curry, I had a bowl of the motherly beef noodles. It was served quite plain, but after adding a few squeezes of lime, those insane chillies, and some onions to the mix, it was quite a beefy delightful bowl of noodles. Still, I preferred the rice.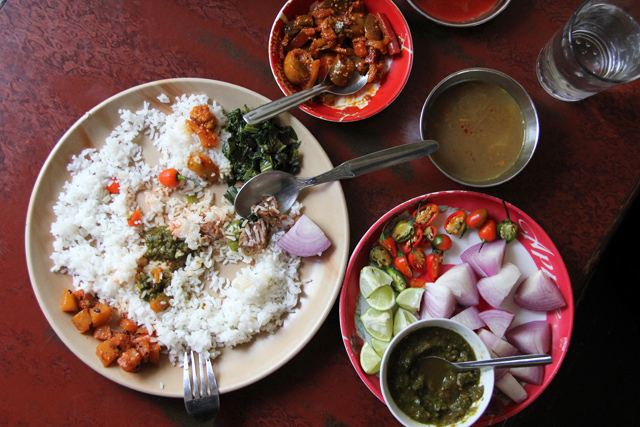 There are few things more rewarding than finding and eating motherly meals when you travel!
Singalila Restaurant – Darjeeling, India
Hours: Opens around 12 pm or so, best to eat here for lunch
How to get there: The restaurant is located in a jeep driver hangout parking lot, across the street from Hotel Capital and across the intersection from Keventer's (a famous restaurant). It's just down the main road from Chowrasta Square at the 4 way intersection.
If you're on your way to Darjeeling, be sure to check out my Darjeeling travel guide.
Get exclusive updates
Enter your email and I'll send you the best travel food content.