It's incredible to think about how many shopping markets in Bangkok are available for you to explore!
You can be shopping for days!
I've been based in Bangkok since early 2009, and I'm still stumbling into markets I've never been to before.
In this blog post I'm going to share with you 6 of Bangkok's busiest central markets and shopping paradises that should cover a variety of all your shopping needs and desires.
1. Sampeng Market (Yaowarat)
Yaowarat, or Bangkok's Chinatown, is one of the most exciting and busiest parts of the city. Along with a fantastic array of Thai street food everywhere you looks, one of the most famous things about Chinatown are the shopping markets.
The most famous of them all is Sampeng Market, a seemingly everlasting sprawl of random trinkets, latest inventions, jewelry, fabric and everything else you can imagine. The market is often jam packed with shoppers, street food carts and transport dollies all scurrying through the narrow aisles.
Although you can buy individual products, Sampeng Market is also a place where many store owners or market stall vendors from other parts of Bangkok come to buy wholesale deals and then re-sell elsewhere. So you can expect to find some good deals at Sampeng, and if you'd like, you can buy things in bulk.
How to Get There: The easiest way to get to Sampeng Market is to take the Chao Phraya River Express boat to Ratchawong Pier, walk up road for a few minutes from the pier, and make a right into the busy alley. You'll be right in the heart of the market and keep following the alley for shop till you drop action.
Open Hours: 9 am – 6 pm daily
Get exclusive updates
Enter your email and I'll send you the best travel food content.
2. Chatuchak Weekend Market (ซื้อของที่ตลาดนัดจตุจักร)
Easily the most world famous shopping market in Bangkok is the weekend Chatuchak Market (also known for short as JJ Market). This is a truly massive jumble of both makeshift stalls and permanent stores for the extreme shoppers.
Everything is available at Chatuchak Market… that is if you know where to look.
I've spent hours wandering around, looking for something I had seen on a previous visit at Chatuchak Market, and had no idea where to ever find it again, it's that BIG (Hint: if you see a stall you really like, take note of its stall number location so you can come back if you want, otherwise it can be hard to re-find what you saw).
How to Get There: Take the BTS to Mo Chit station or MRT to Chatuchak Park
Open Hours: It's a weekend market, so it's open from 6 pm – Midnight on Fridays (but not everything is open, so it's better to go on Saturday or Sunday), and from 9 am – 6 pm on Saturday and Sunday.
3. Saphan Phut (สะพานพุทธ)
As a very local style Bangkok night market, Saphan Phut doesn't get too much attention form visiting tourists. However, if you're interested in seeing the latest local trends or observing the modern youth culture of Thailand, Saphan Phut is a great place to see.
While a lot of the clothing and accessories caters towards youth, there's still a lot of random stalls (and always changing stalls) to be discovered. You may stumble into a vintage rock band t-shirt collection or an army fatigue clothing stand. Be sure to sample the fried squid eggs, particularly famous at Saphan Phut!
Like any of the shopping markets in Bangkok, you never know exactly what you might find!
Getting There: Take boat to Memorial Bridge, Saphan Phut pier
Hours: Night, 7 pm – 2 am
4. Pratunam Market (ประตูน้ำ)
Conveniently located in one of Bangkok's most happening districts, Pratunam market is among the most thriving shopping markets in Bangkok. The market deals mostly clothing but there's also a mishmash of other things like Thai souvenirs.
As a wholesale market, it's not uncommon to see many foreigners from around the world buying in bulk to bring things back to sell in their home countries. Pratunam makes a great home-base when you're visiting Bangkok if you're into shopping. There are plenty of accommodation choices in Pratunam, and even some hotels like a Novotel directly above Platinum.
If you've had enough winding through the alleys you can always step into the craziness of Platinum Shopping Center, purchase electronics at Pantip Plaza, or even make the short walk to the modern CentralWorld mall.
Getting There: About a 10 minute walk from BTS Chit Lom station
Hours: 9 am – 8 pm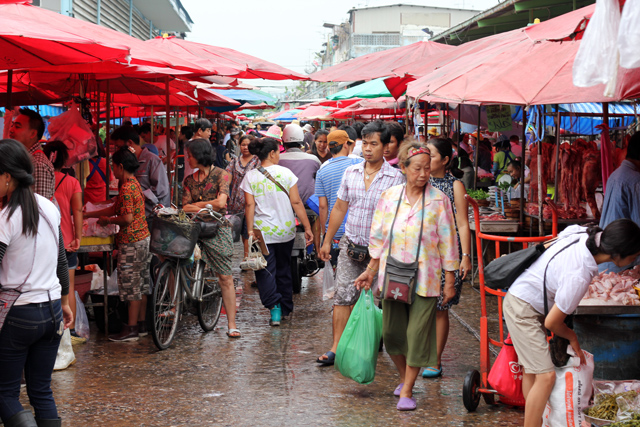 5. Khlong Toey Fresh Market (ตลาดคลองเตย)
One of Bangkok's biggest and busiest fresh food markets is Khlong Toey. No matter if you're looking to buy some fresh fruit or supply an entire restaurant with all necessary ingredients, you can purchase everything at this sprawling market. Amidst the backdrop of modern flashy buildings and sky-rises, butchers slice fresh cuts of meat and vegetables are sold by the bushel.
The market is one of the food distribution hubs of Bangkok, so there's always plenty of energy and lots to observe. Walking around Khlong Toey is a very interesting and insightful experience in Bangkok.
Getting There: Take the MRT to Khlong Toey station
Hours: 24 hours a day, midday is fine for a visit
Click here to watch my Khlong Toey Market video.
6. Wang Lang Market (ตลาดวังหลัง)
Located across the Chao Phraya River from Bangkok's Grand Palace and adjacent to Siriraj Hospital, eating and browsing through Wang Lang is one of my favorite things to do in Bangkok.
There's always an oustanding selection of tantalizing pre-cooked snacks for people on the go as well as a handful of cheap sit down restaurants. Don't forget to try the deep fried pork and the sweet waffle coconut pancakes (khanom tungtag) – check out this video of Wang Lang here!
Along with the abundance of food, Wang Lang market is a popular place to go shopping for trendy clothes or other little locally made gadgets. Catering to lots of students, the prices are pretty decent!
Getting There: River boat to Wang Lang Pier, can get there from Tha Chang Pier
Hours: Great to go midday, anywhere from 10 am – 5 pm
Conclusion
Along with delicious Thai food, browsing and buying things at shopping markets in Bangkok is one reason the city attracts so many visitors. There's a market of everything.
There are many things to do when you're in Bangkok, and if you love shopping, these six markets will be a great place for you to start.
Without the vast amount of entertaining markets, Bangkok wouldn't be the same!
Get exclusive updates
Enter your email and I'll send you the best travel food content.