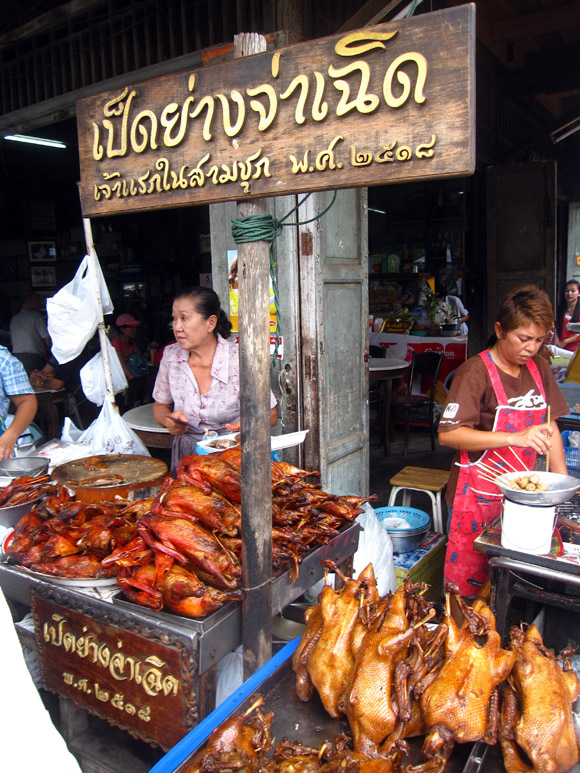 Sam Chuk Market located in Suphan Buri, Thailand, is a 100 year old traditional market that has remained an antique community while being surrounded by an evolution of modern culture.
A tranquil Thai-Chinese  community of homes constructed of wooden planks on the edges of the Tha Chin River sets the lovely scene.  The houses and storefronts seem to be in mint condition and maintained with care.
It's a market where families open the doors to their personal homes in the morning, prepare the items they've been selling through generations, and wait for customers to arrive.  Grannies emerge from their abodes still in pajamas and ready to please you with family recipes that haven't been modified for years.
On the weekends, the old-fashioned market fills with hungry Thai tourists from Bangkok, hunting for softball sized pork balls, or trying to test out their flashy new DSLR cameras.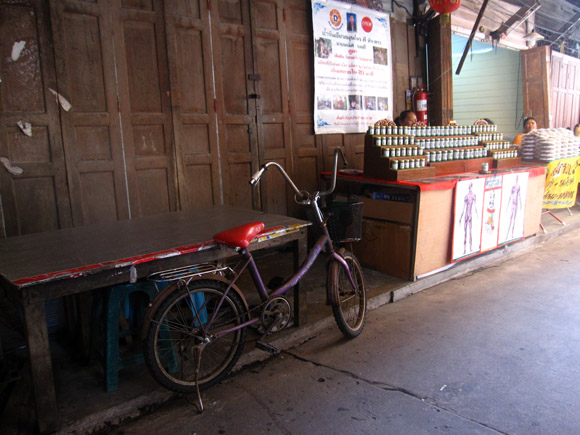 As families and youth roam around Sam Chuk, the setting somehow manages to remain calm, collected, and still antique.
The neighbors choosing to take the day off or not participate in the festivities, simply don't open their doors for the day.  It's easy to get down a side street where nothing is happening apart from a few kids playing games and some unattended bicycles.
Get exclusive updates
Enter your email and I'll send you the best travel food content.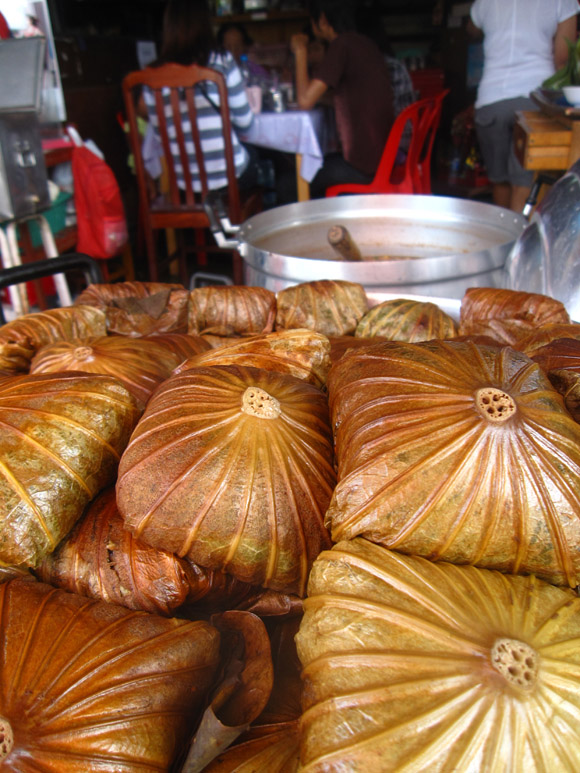 One of the most interesting stores I came across was plastered with antique photographs on every inch of the wall and photos overflowed into the pathway.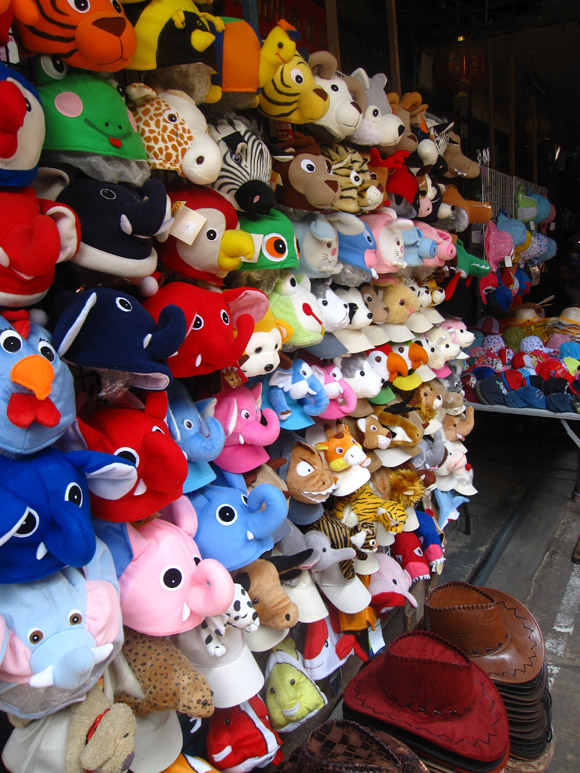 While many vendors sell their traditional dishes and home remedies, others have modified their products to sell modern souvenirs, clothes, latest treats, or even teddy bears.
A mix of traditional products and modern toys like stuffed animals and cowboy hats, keep Sam Chuk interesting and full of surprises.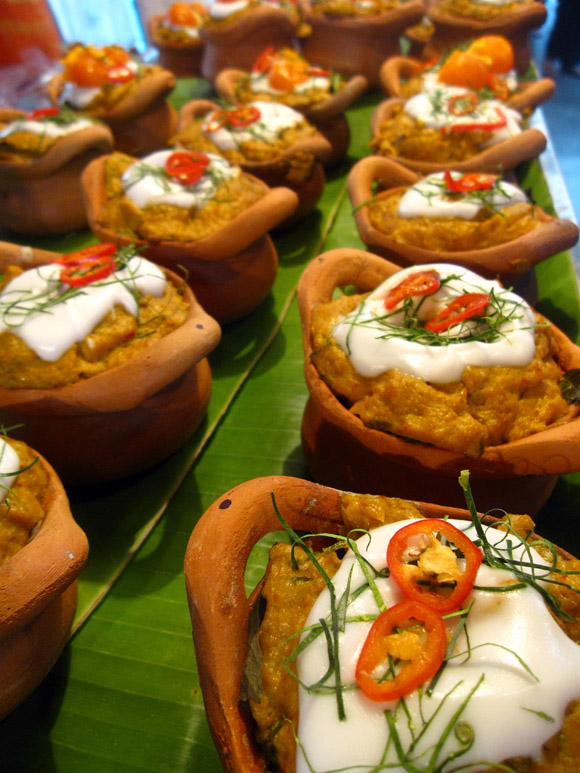 Hor Mok is what you would call a Thai fish meat loaf.  Ground fish is mixed with a series of spices and chili pastes before being steamed into a fabulous tasting loaf.
At Sam Chuk, a few vendors have artfully crafted their hor mok in ceramic containers for a  snack that includes a souvenir.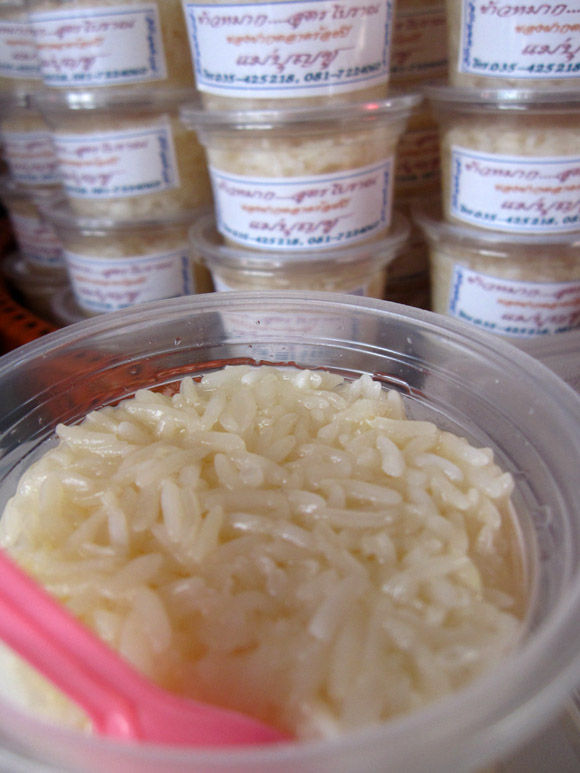 One of my favorite samples was the traditional Khao Maak.  This dessert is made from sweetened rice which is fermented before being packed into little pudding like portions.
The rice is soft from soaking in alcoholic rice wine and is one of those treats that melts in your mouth yet explodes with a cringing unique flavor!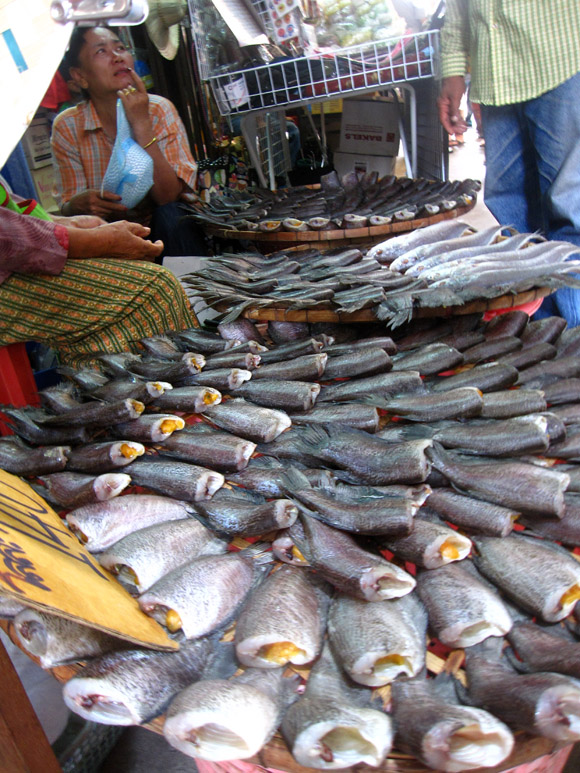 An attraction that draws it's share of attention are the giant sized pork balls that are famously constructed at Sam Chuk Market.  These 4-5 inch diameter balls of pureed pork and fat are massive and to be honest, a little nerve racking.
Depicted below is a little boy eating a giant ball like an ice cream cone!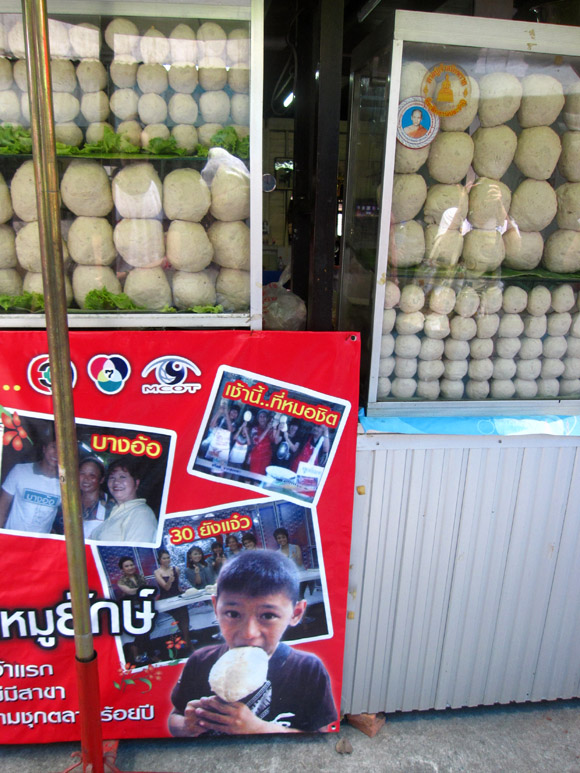 Sam Chuk Market in Suphan Buri is an enjoyable way to spend a day with friends and family amidst a lazy atmosphere and a friendly crowd.
Oh…and don't forget to eat your pork ball like and ice cream cone.
Here's a short food eating video from Sam Chuk Market.
Get exclusive updates
Enter your email and I'll send you the best travel food content.