Name: La Salsita Restaurant
Location: Phoenix, Arizona
3827 N. 43rd Ave, Phoenix, AZ 85031, Tel. (602) 455-4638
Cost: $1 per taco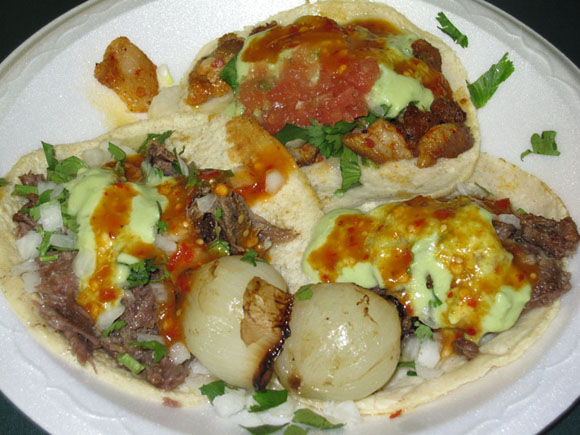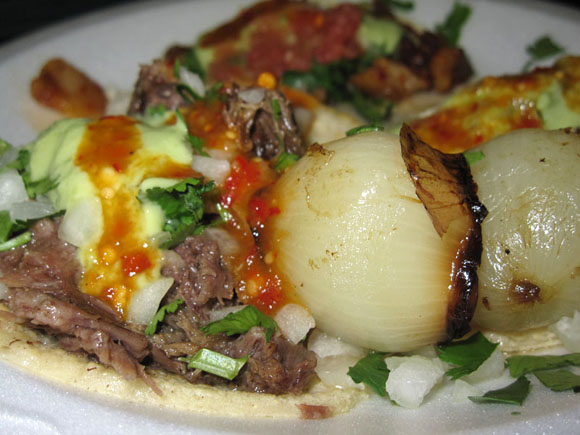 At 2 am the line coming out of the small tri-colored shack in Phoenix is filled with gangstaz, banderas, families, rebellious youth, and wedding parties.
Some are inebriated and unbalanced while others are swaying from bass blasting from a parked SUV's.
Everyone is waiting for the famous Salsitas tacos.
For me, the tacos de cabeza or tacos made with the fatty meat from the head of the cow takes the creme de la creme of all taco choices, hands down.  Corn tortillas are filled with sloppy and ultra tender dripping meat and then doused with sweet grilled onions, generous amounts of cilantro, liquefied avocado, tangy salsa, and a fresh squeeze of lime.
It's without doubt that Mexican's have developed a food that elevates itself to an ultra scrumptious late night treat.
-Migration Mark