I was in Macau when I had the privilege to sink my teeth into my very first bite of a Portuguese inspired sweet, an egg tart. I still vividly recall the flaky crisp pastry filled with warm creamy custard, a treat that can be described as nothing less than heavenly.
Zara Quiroga, who runs the exciting new Backpack ME travel blog, wrote this awesome article about her home country's most beloved Portuguese desserts – one for each day of the week!
If there is one thing you should know about Portuguese people it's that, if we're not eating, we're probably talking about food!
For such a small country, Portugal has a rather diversified cuisine, distinct in the different regions: we care about meat, we pray to the gods of seafood, we eat our vegetables as it should be and, most of all… we live for desserts!
If you've ever traveled anywhere in Portugal, you would have probably noticed that every street  has at least one "pastelaria" (pastry shop) and they're not usually empty.
Furthermore, your plates will never be cleared out of the table in a Portuguese restaurant without the accompanying words "what would you like for dessert?"
We need our daily serving of coffee and sweets and, what can I say, I am here to keep that tradition alive!
It wasn't until I started researching for this post that I realized that we have way more traditional sweets, pastries and desserts than I could ever fit in this time. But if you had only one week in Portugal, this is a best of list to get you acquainted with the sweet taste of my country.
Warning: if you are on an eggless diet, please abstain!
Monday: Toucinho do Céu
Its name translates into "Heaven's Bacon" but the only thing in common between this sweet and actual bacon is probably the amount of calories involved!
Get exclusive updates
Enter your email and I'll send you the best travel food content.
It was originally made with pork lard by nuns secluded in convents that sure knew combining an almost ridiculous amount of sugar and egg yellows can make you feel like you're rising up to the skies!
You can find Toucinho do Ceu anywhere around the country, but for a traditionally acclaimed version of it, head North to the region of Tras-os-Montes or the city of Guimaraes.
Tuesday: Aletria
The main ingredient for this dessert that is particularly in demand around Christmas time is a very thin kind of noodle that was brought into Portugal when the Moors settled in.
It was later that Portuguese people, with their unconditional love for desserts, turned these noodles into a sweet treat, by boiling them in milk and adding butter, egg yellows, lemon zest and a sprinkle of cinnamon on top!
Any Christmas table that claims to be Portuguese, should display a generous tray of Aletria, which is usually more consistent in the coastal regions of the country and creamier up North.
No matter where you go, it's always delicious!
Wednesday: Mousse de Chocolate
This has got to be the perfect treat for mid-week depression!
Chocolate mousse might not be originally Portuguese, but there is no chocolate mousse like the one in Portugal. Not even in France.
As a staple dessert in most Portuguese restaurants, from small eateries that make a living selling set menus to higher end restaurants, chocolate mousse has been one of my favorite deserts since I was a kid.
What makes the Portuguese version different from abroad? Ours is not what I would call creamy or spongy (what would normally be a good thing!), but instead has a caramel like texture that will make you lick your spoon until it shines again!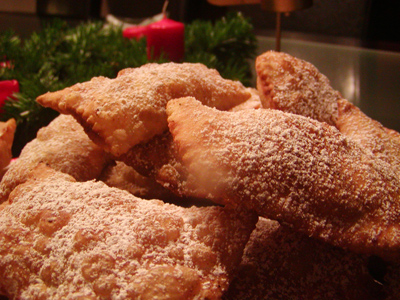 Thursday: Azevias de Mertola
Mertola is the town in the South of Portugal where these beloved sweet turnovers are from. 
This is another example of a Portuguese dessert having an origin inside religious institutions where nuns devoted themselves to God and to making treats.
What a sweet life!
These pockets are made of fried dough and hide inside an unexpectedly smooth and sweet paste made of mashed chickpeas. But don't be fooled, this is no falafel! Azevias are super sweet and comforting, perfect for a winter snack after a stroll observing the beautiful landscapes of the region they were born at.
Friday: Ovos Moles
After skipping the egg mania on Thursday, we come back again to Portugal's favorite sweet combination: sugar + eggs galore!
Ovos moles means "soft eggs" and that is pretty much what this is. Synonymous with the coastal city of Aveiro, Ovos Moles were firstly created by nuns too! Nuns used egg whites to iron their garments and ended up creating this recipe not to waste the remaining egg yellows.
Ovos moles are now-a-days presented in different shapes: in rolled cakes, inside traditional clay pots or, more famously, inside light wheat dough in the shape of items that symbolize Aveiro and its river.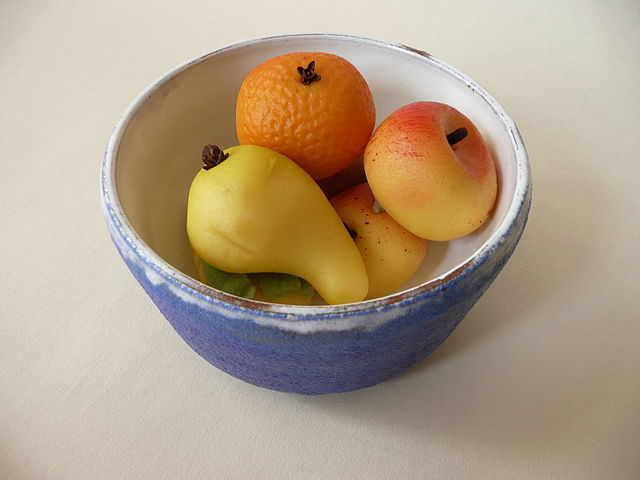 Saturday: Bolinhos de Amendoa
Welcome to Portugal's beach side paradise: the Algarve!
Apart from sun, white sands, surfing and hot people soaking up the sun, Algarve is famous for the creative use of almonds. 
What could be a simple marzipan is taken to a whole new level by Algarvian sweet makers, filling the almond paste with an egg and sugar concoction that we call "fios de ovos", that is, egg threads.
You have guessed it by now: we love eggs!
Bolinhos de Amendoa from Algarve is very probably the cutest desert in the entire country, being most popularly presented in fruity shapes. Sometimes they look so good you almost feel sorry to eat them. Who am I kidding?… Not really!
Sunday: Pastel de Belem
These custard cakes are the most popular Portuguese sweet amongst tourists. Although originally from the area of Belem in Lisbon, Pastel de Belem can be found all over Portugal under the name "Pastel de Nata." But this is not a touristic thing only. I am yet to find one person in the entire country that doesn't like this pastry. It would almost be anti-patriotic!
So much that pastel de Belem has been elected one of the "7 Wonders of Portuguese Gastronomy". And I didn't just make this up, it's an official rank!
If you visit Lisbon, prepare to queue up in Belem to taste this cake where it was originally created, served warm straight out of the oven, with a sprinkle of cinnamon on top!
This makes for a great end of day in Lisbon, letting the custard sweeten up your senses as you look to the Tagus river and day dream of new voyages and discoveries.
Have you had any Portuguese sweet before? What was your favorite one and why?
About the Author: Zara Quiroga is a Portuguese traveler currently exploring South America with her Indian boyfriend, Ashray. She loves getting to know new cultures and her relationship is proof that she enjoys mixing up too! Zara and Ashray run the travel website Backpack ME, where they share tips and inspirational stories in the shape of posts, photos and videos. With their different cultural backgrounds, they want to inspire anyone to travel, no matter where they come from.
Get exclusive updates
Enter your email and I'll send you the best travel food content.