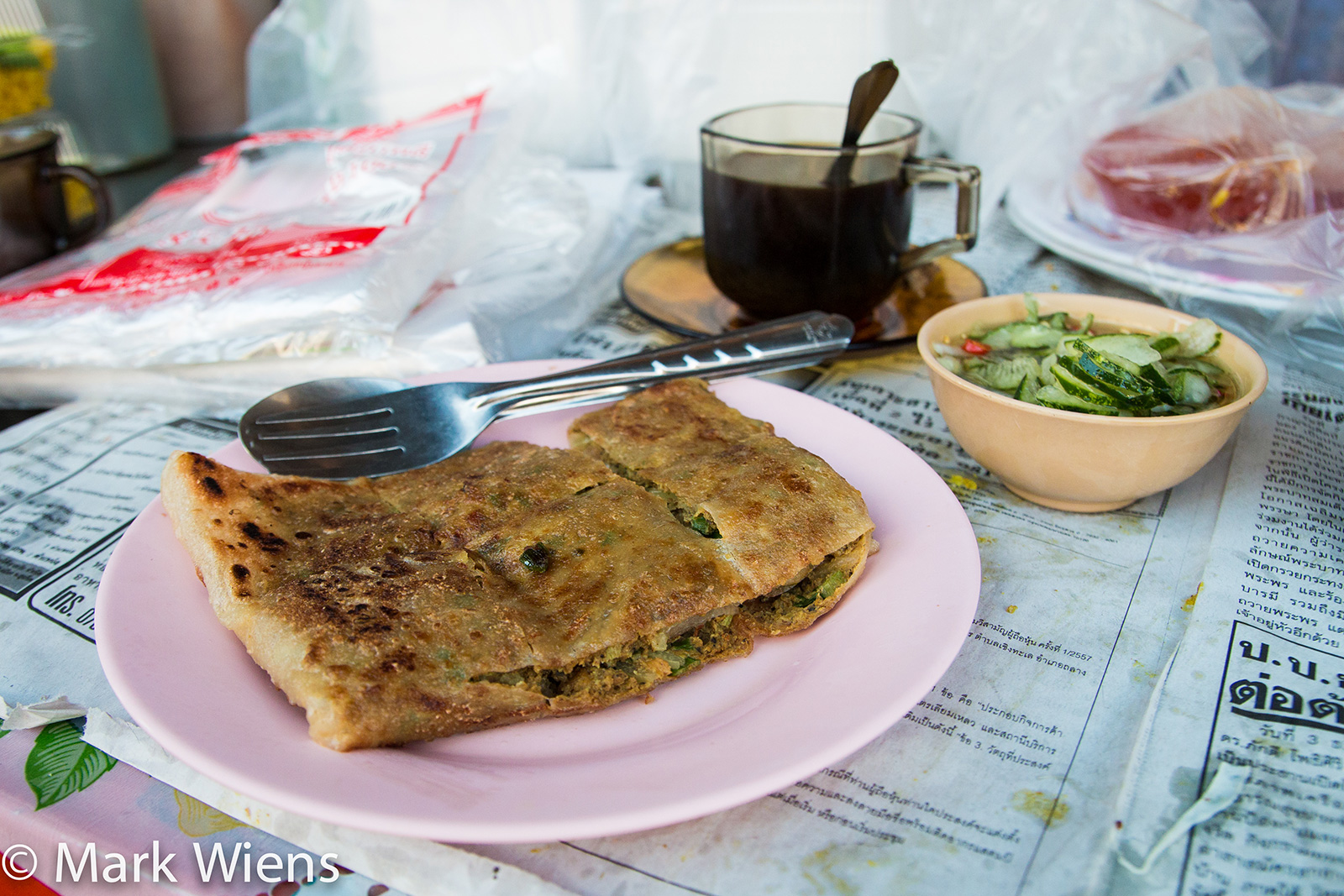 There's one thing I never get tired of doing in Thailand:
Visiting markets.
And along with beautiful beaches, one of the things I love doing most when I'm in Phuket is going to the local fresh wet market.
Talad Kaset (ตลาดเกษตร ภูเก็ต), located in Phuket Town, is a huge fresh wet market, packed with ingredients of all kinds, pre-made foods, and restaurant stalls, that's always packed with action in the mornings.
If you love markets and want to experience a side of local Phuket culture, don't miss visiting Kaset Market in Phuket Town.
In this post you'll find photos of the delicious food I ate one morning when I went to Phuket's marvelous Kaset morning market (ตลาดเกษตร).
On the streets surrounding the market there are many vendors mostly selling fresh fruits and vegetables.
You'll find the fruits of the season in abundance, plus a variety of popular southern Thai ingredients like chilies, fresh turmeric, melinjo leaves (one of my favorite vegetables to eat in southern Thailand, known in Thai as pak liang ผักเหลียง), all sorts of herbs, and strands of beautiful stink beans on display.
If you go to Kaset Market (ตลาดเกษตร), it's a good idea to arrive about 7 am or around that time. Phuket Town is cool, nice and quiet, and it's the perfect time to start your day of exploration.
About 6 or 7 am is when the market is at its busiest, and when you'll find the best selection of produce, meat, and prepared food available as well.
Since living in Thailand, I have been to many markets throughout the country.
But the reason I still love going to local fresh markets anywhere in Thailand is because you will always find different local ingredients and snacks available.
In Thailand even if you go to a small village or town like Chumpuang, a market is the reflection of what will be on your table.
Bambara groundnut (ถั่วหรั่ง)
Right at the entrance of the Phuket morning market, my wife and I came across a lady selling a number of different boiled snacks like sweet potatoes, and something I don't think I had ever seen before in my life.
After I asked her what they were, she said they were called tua farang (ถั่วฝรั่ง), which would literally translate to foreign nuts or beans.
I didn't know this at the time of eating them (so in the video I had no clue what they were), but after getting back to the hotel and doing some research about the nuts, I discovered they are actually normally just called tua rang(ถั่วหรั่ง) in Thai.
In English they are called bambara groundnuts, most likely originally from West Africa.
Price – 20 THB ($0.62)
They looked almost like garbanzo beans from the outside shell, but inside they looked like peanuts, just a bit bigger.
But unlike peanuts, they were for the most part just single peas per pod, some with two, but not with 3 – 4 like peanuts can be.
You have to first take off the shell, which easily cracked open, then take out and eat the bean inside.
To me they tasted very similar to a peanut, but with a little more of a mushy texture, kind of like a bean – it was like a cross between a peanut and a pinto bean.
Get exclusive updates
Enter your email and I'll send you the best travel food content.
If you love boiled peanuts, you're going to love bambara groundnuts.
Seafood
As you would expect, Phuket being an island, seafood is a major part of the morning market.
While it's not the biggest seafood market or trade on the island by any means, there's always a good selection of seafood you can browse through.
From blue swimmer crabs to king mackerel and horseshoe crabs, you'll see a selection of the previous night's catch.
There's also a selection of pre-cooked seafood, like fried fish, and a variety of curries you can try as well.
After devouring some bambara groundnuts, we continued on exploring this awesome Phuket market, and ventured inside the main area of the market.
Inside the market were plenty of delicious Phuket style breakfast options – both sit down street food market stalls, and takeaway stalls.
On the outer edge of the inner section of the market were about a dozen or more stalls that had all sorts of southern Thai and even local Phuket desserts and snacks, all wrapped and ready to go.
You'll find dishes like khao kluk kapi (ข้าวคลุกกะปิ), shrimp paste fried rice with toppings, and khao yam (ข้าวยำ), southern Thai rice salad with herbs, one of my favorite things to eat in the morning in Thailand.
I'm not a huge sweets fan, mostly because I prefer to fill up, or save more room, for salty dishes, but my wife loves Thai sweets, and so I usually have an opportunity to taste them without eating the full sweet myself.
Khao neow na kanun (ข้าวเหนียวขนุน)
One of the desserts that's not too common to find in other parts of Thailand, but was available at the Phuket market was khao neow na kanun (ข้าวเหนียวขนุน), sticky rice with jackfruit.
In other parts of Thailand sitcky rice with mango and sticky rice with durian are common, but not jackfruit.
So we decided to try a portion, which came wrapped in a banana leaf.
The purple sticky rice was cooked with buttery coconut cream, giving it a nice richness, that was just slightly sweetened and slightly salty. The jackfruit on top tasted like honey mixed with bananas.
Since it wasn't too sweet, I though the khao neow na kanun (ข้าวเหนียวขนุน) at the Phuket market was very good.
Keep an eye out for it when you go.
Price – 15 THB ($0.46)
Khao tom mad (ข้าวต้มมัด)
Another popular sweet in southern Thailand and something you'll find widely available at markets in Phuket is khao tom mad (ข้าวต้มมัด).
A ripe slice of banana and a handful of black beans are sprinkled with sticky rice and coconut milk, then wrapped into a banana leaf packet, and steamed.
When the sticky rice steams within the banana leaf, it begins to almost turn creamy and custardy, surrounding the banana.
What I also love about khao tom mad (ข้าวต้มมัด) is that it mostly relies on the natural sweetness of the ripe banana and the coconut milk, and there's usually little to no sugar added.
This khao tom mad (ข้าวต้มมัด) from a stall at the market was also very good.
Price – 5 THB ($0.15)
Still wandering around, I was trying hard to contemplate what should be our next course of action: if we should stop for a bowl of rice congee, eat a full rice and curry meal, or have Phuket style dim sum?
But then I smelled it:
Roti!
There was quite a crowd around the small stall located on the edge of the market, most people were just getting breakfast for takeaway – both sweet and salty styles of roti were available.
There were still a couple seats left, so Ying and I squeezed onto some stools, and used an ice chest topped with newspaper for our table.
The atmosphere could not have been better.
The stall was run by a couple of friendly ladies, who I'm guessing were all sisters, and I could tell just from looking at the way they were cooking the roti's, that they were masters.
Roti kai kub kaeng neua (โรตีไข่ กับ แกงเนื้อ)
The first thing we ordered was roti kai kub kaeng neua (โรตีไข่ กับ แกงเนื้อ), a roti filled with an egg, and served with beef curry on the side.
The roti was nice and thin, filled with a beat-up raw egg, wrapped into a square shape, then fried in mostly oil and probably a bit of margarine.
Similar to a Malaysian roti canai, it was served with a bowl of curry sauce on the side.
Price – 40 THB ($1.23)
This was almost the perfect Thai roti for me, the dough was nice and thin, filled with egg, and fried so it was crunchy on the outside edges.
Along with the roti, to make the roti kai kub kaeng neua (โรตีไข่ กับ แกงเนื้อ) complete, a spectacular curry dipping sauce came with it.
The curry was creamy and rich, flavored with a perfect amount of curry powder.
Roti mataba (โรตีมะตะบะ)
One of my favorite versions of roti throughout Southeast Asia is roti mataba (also called murtabak in the Middle East and in other part of SE Asia).
It's very commonly available at Thai Muslim restaurants throughout Thailand, and always something I enjoy eating.
I can't even remember what was in this one, but I think I ordered the beef version.
Price – 40 THB ($1.23)
This was one of the best roti mataba (โรตีมะตะบะ) I've had in Thailand.
The same thin roti dough was filled with a mixture of beaten egg, onions, minced beef, and a spice seasoning mixture of curry powder and maybe some extra cumin.
It was folded up into a square and fried on the griddle until it turned golden crispy all around.
One of the unique parts of roti mataba (โรตีมะตะบะ) in Thailand, is that they are typically served with a side of pickled cucumbers.
The pickles here were nice and fresh, crisp cucumbers, with a few shallots and diced Thai bird's eye chilies mixed in. It was mostly sour, with a hint of sweetness.
Some of the salty crispy roti, chased by a bite of the pickles was delicious.
The curry, although served to go with the egg roti, also went incredibly well with the roti mataba (โรตีมะตะบะ), elevating the flavor to even higher levels of marvelous.
Although the curry was supposed to be beef, I caught a piece of chicken in mine, not that I'm complaining.
After enjoying some of the tastiest roti's I've had in Thailand, and chitchatting with some friendly people, Ying and I continued to walk around and explore the market.
Along with all the wonderful fresh ingredients available, and the delicious food to choose from for breakfast, another thing I really loved about this morning Phuket market is that most of the vendors were extremely friendly, as were the fellow shoppers and eaters.
Even though Kaset Market (ตลาดเกษตร) is located right in Phuket Town, it seems that not too many tourists wake up to explore.
For a better glimpse into the life of this market, press play to watch the video below:
(If you can't see the video, watch it here)
Conclusion
Phuket Town is a fantastic place to spend some time when you're in Phuket. One of my favorite things to do in the town is to eat at at the local morning market.
There are a number of local fresh wet markets in Phuket Town, but Talad Kaset Market (ตลาดเกษตร ภูเก็ต) is one of the best for its pleasant mixture of fresh ingredients and prepared food and snacks.
When you visit Kaset Market (ตลาดเกษตร) you'll not only have a chance to see all the vegetables, herbs, and spices used in southern Thai cooking, but you'll also be able to eat local Phuket desserts and snacks, roti, curry, dim sum, and many other delicious foods.
Talad Kaset (ตลาดเกษตร ภูเก็ต) – Phuket Town
Address: Thanon Ong Sim Phai, Mueang Phuket, Phuket, Thailand
Open hours: 2 am – 10 pm daily (the best hours to go are in the morning from about 6 am – 8 am, and come hungry)
Note: The market is mostly a morning market, but it's also open as a night market where a number of street food stalls set-up and serve cooked food. But in my opinion, the morning market is much better.
ที่อยู่ ถนน อ๋องซิมผ่าย อำเภอเมือง จังหวัดภูเก็ต
เปิด 2.00 – 10.00 น.
How to get there: If you're staying in Phuket Town*, somewhere around Old Town, it's just a 5 – 10 minute walk to get to Kaset Market. It's located right behind the Robinson Department Store in between Thavonwongwong Alley and Thanon Ong Sim Phai. Here's my Phuket map.
Get exclusive updates
Enter your email and I'll send you the best travel food content.