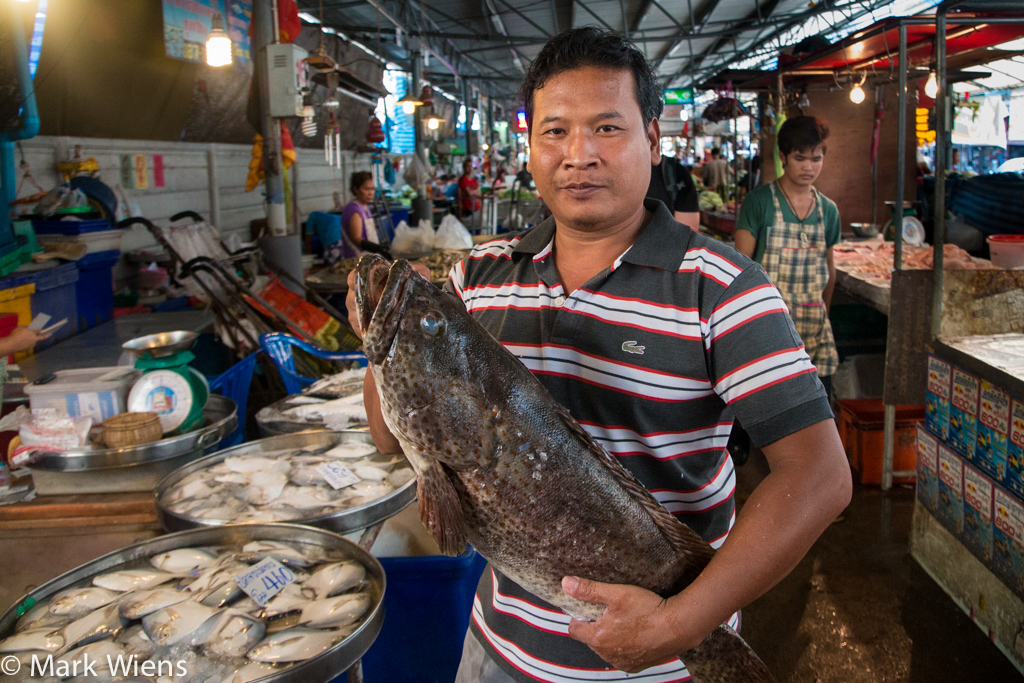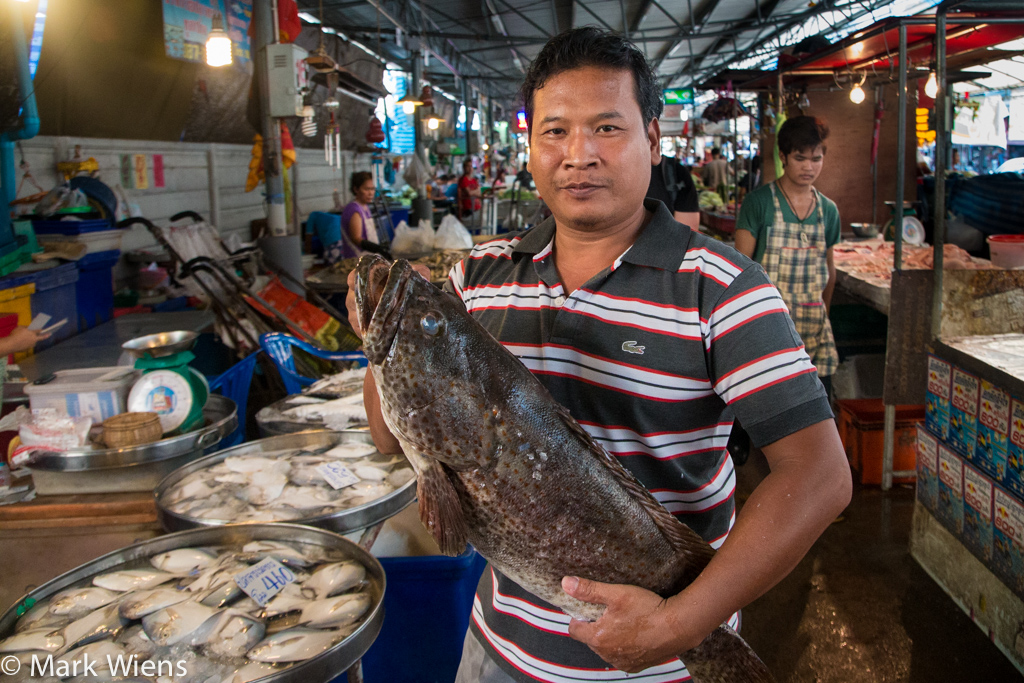 Contrary to what some movies portray, Bangkok is not directly on the sea.
But just 29 kilometers south of Bangkok (though you never leave city to get there) is Samut Prakan (สมุทรปราการ), also known as Pak Nam (ปากน้ำ) in Thai, which translates to the front of the water, or the mouth of the ocean.
My friend, Dirk from Gourmet & Travel Blog from Germany and I, decided to take a day trip to Samut Prakan to walk around the seafood market, take some photos, and then eat (everything we do revolves around food).
Samut Prakan is both a province and town that sits adjacent to Bangkok to the south.
The province is home to Bang Nam Pheung floating market (very close to Bangkok), the triple elephant head Erawan Museum, and a number of other worthwhile attractions. Richard Barrow has a great list of other things to do.
But we came to mostly visit the seafood market known as Talad Pak Nam (ตลาดปากน้ำ).
Samut Prakan (สมุทรปราการ), though you never really leave city to get there from Bangkok, has a totally different and smaller town feel to it than Bangkok.
We arrived to the market at around 7 am, the sun was still low, yet the air was already hot and heavy with humidity.
When you enter Talad Pak Nam (ตลาดปากน้ำ) you might see this friendly lady selling squid while chewing on areca nut, in Thai known as maak (หมาก).
She was the first friendly lady we met at the market, and she was extremely friendly and funny, and wanted to chat up a storm with us.
Just like at all markets in Thailand, surrounding the market on the outskirts, there was an overflow of extra vendors sitting here and there, selling things in baskets.
Pla oh (ปลาโอ), is a meaty fish, a type of tuna, and it's especially good for making southern Thai dishes like gaeng tai pla แกงไตปลา
From outside, we stepped into the main aisle of Talad Pak Nam (ตลาดปากน้ำ) and entered a paradise of seafood – an entire sea of sprawling seafood.
Some of the tables were wide and long, and just covered in kilos and kilos of fish and other seafood.
Get exclusive updates
Enter your email and I'll send you the best travel food content.
If you love squid and octopus, there was an absolute abundance of both at Talad Pak Nam (ตลาดปากน้ำ), and it was pretty cheap too.
However, since we weren't heading directly home afterwards, I decided it wasn't worth it to buy any fresh seafood to take home (though I would have loved to).
Friendly vendors
Talad Pak Nam (ตลาดปากน้ำ) in Samut Prakan is one of the friendliest markets in Thailand that I've been to in a long time.
To me, it seems like it's getting rarer and rarer, especially at markets in central Bangkok, to experience genuine friendly vendors.
But at this market in Samut Praka, there were many people who not only smiled and talked to us as we walked around the market, but also posed and asked for their photo to be taken.
Thailand has always been known as the Land of Smiles, but honestly, at many big Bangkok markets there are few smiles these days – especially if you're walking around taking photos.
So it was quite a great Thai market experience when vendors were so happy and actually asked me to take their photo.
Horseshoe crabs
Horseshoe crabs have to be some of most awesome looking creatures on earth.
I'm quite certain the first army tank designs were modeled after them.
In Thai cuisine, they are normally in a salad, usually made with shreds of green mango, and the eggs of the horseshoe crab are mixed in (so you don't actually eat the shell).
I've eaten horseshoe crabs a few times in the south of Thailand, but they are very rare to come across in Bangkok.
There was also a lady selling small horseshoe crabs, which I believe were steamed already, and she had cut open the back of them to show their eggs, which is the edible part.
I don't see parrotfish too often in Bangkok, but at Talad Pak Nam (ตลาดปากน้ำ) market, a vendor had a number of them, and they looked pretty fresh.
Crab has always been one of my favorite things to eat in the entire world, and at Samut Prakan seafood market there was a good selection of them, all tied up with twine the Thai way.
They were still expensive, but they looked pretty good.
Although seafood is the main focus at Talad Pak Nam (ตลาดปากน้ำ) market, there was not only seafood; You'll also find just about everything else you can imagine, from meat to vegetables to Thai curry pastes.
This lady was just getting ready to start serving a number of different southern Thai dishes.
That huge pan of gaeng tai pla looked amazing, but I will have to wait for next time to get some of her takeaway.
You'll find a sea of seafood at this market in Samut Prakan, as well as a sea of other shops and ancient stores.
You think they could stock a few more items at their shop?
Phra Samut Chedi Temple (
พระสมุทรเจดีย์

)

When you've had enough market browsing, you can take a boat for just 4 THB, across the river to Phra Samut Chedi.
Just head to the back of the market, look for the sign and gate pictured above, and you can board a ferry to go across the river.
The boat ride took about 10 minutes and once we reached the other side, it was just a 5 – 10 minute walk to get to the temple (which you'll see when you take the boat).
Phra Samut Chedi (พระสมุทรเจดีย์) was not the most impressive temple in Thailand that I've seen, but it made a nice stop on day trip to Samut Prakan.
The temple was clean and white, and I think what I enjoyed about it most was that there was no one else there except for us, which can make all the difference.
After taking the ferry back to the market from our brief visit to the temple, we were hungry, and wanted seafood.
We walked around Samut Prakan town for a few minutes, but many people told us at that at that time we could only find noodle stalls and kuay jab, which didn't sound all that great to me, considering we had just feasted our eyes on a bounty of seafood.
Sompong Seafood Restaurant (ร้านสมพงศ์)
Since there wasn't much by way of seafood restaurants right in Samut Prakan town at 10 am, we decided to jump in a taxi and head to Sompong Seafood Restaurant (ร้านสมพงศ์), about a 5 minute ride away.
Sompong Seafood Restaurant is a big style Thai seafood restaurant that's well known, especially for Bangkok visitors coming to Samut Prakan.
We could not resist having a giant oyster (หอยนางรมสด ตัวละ), served up Thai style.
Price – 65 THB ($1.98) a piece, and so worth it
We also ordered a spread of other seafood dishes, including a delicious pla kapong neung manao (ปลากระพงนึ่งมะนาว), a baramundi steamed in lime and chili sauce.
How to get to Samut Prakan from Bangkok
Samut Prakan is located south of Bangkok, just straight down Sukhumvit Road. To get to there from central Bangkok, you pretty much have two choices:
Taxi – The easiest and most direct way is to just jump in a taxi from wherever you are.
BTS to Bus – Alternatively, you can take the BTS skytrain to Bearing Station, and then get a number of buses that will say Pak Nam (ปากน้ำ) like 511, which will take you directly into central Samut Prakan town. For more bus options, check out this guide.
Open hours: If you want to see the best seafood, it's best to go to the market in the morning, from 6 am – 8 am.
If you're looking for an off the beaten path activity near Bangkok, Samut Prakan and Talad Pak Nam (ตลาดปากน้ำ) makes a pretty good day trip.
Get exclusive updates
Enter your email and I'll send you the best travel food content.