Ari (อารีย์) Morning
Ari, located in between Victory Monument and Chatuchak, is just one of the many areas of Bangkok.
It's not as busy as an area like Silom or Sathorn, but it does have a nice mixture of businesses, office buildings, condos, and neighborhoods.
It's kind of a trendy area in Bangkok, home to numerous cafes, restaurants, and art galleries.
Around Ari, there's also plenty of street food available.
Our first stop on Day 11, filming the Thai food tv show, was at Ari BTS Station
Breakfast in Bangkok
One of the most popular things to eat, for an on-the-go Thai breakfast is moo ping (หมูปิ้ง), or grilled pork skewers, usually eaten with sticky rice.
Right next to Ari BTS station, we filmed a quick scene about moo ping before moving on to a khao gaeng (ข้าวแกง) stall, which is rice and curry, just off Ari, on Phahon Yothin Soi 6.
Along with moo ping, and many other small Thai breakfast snacks, many Thais also love to eat a full plate of rice and curry in the morning.
For the TV show, I explained how rice and curry (khao gaeng ข้าวแกง) is one of the most common meals in Thailand and how it's easy and quick because all the curries are normally prepared and waiting to be ordered.
Curry is always eaten with a plate of rice, and many Thais choose to order one or two curries and pair it with something less spicy or something different like a fried egg (kai dao ไข่ดาว) or something like tod man (fried fish cake ทอดมัน).
After explaining on camera a little bit about the culture of eating rice and curry in Thailand, the production crew and I all sat down for breakfast at the same location.
All the curries were a little on the sweet side for my preference, but I did really like the yam pla too (mackerel salad).
Nittaya Thai Curry Paste and Nam Prik
One of the most famous and well known Thai curry paste and nam prik (Thai chili sauce) shops in Thailand, and nearly all Thais know it as Nam Pirk Nittaya น้ำพริกนิตยา (though on the outside window it says Nittaya Thai Curry Paste).
Nam Pirk Nittaya (น้ำพริกนิตยา) is so famous, that the production team of our TV show was doubtful that we'd even be permitted to film there – but they agreed, and the owner, Khun Nittaya turned out to be extremely kind and gracious.
It's kind of like the equivalent of a Thai delicatessen, lots of little goodies and high quality speciality items for sale.
Nittaya Thai Curry Paste is located just two blocks down from Khao San Road (the main backpacker hostel street in Bangkok).
Get exclusive updates
Enter your email and I'll send you the best travel food content.
There are a few different sections of things sold at Nittaya.
Walk inside, and immediately upon entrance is a sea of pre-wrapped plastic bags filled with all sorts of fresh food, from curries to salads, to a near infinite amount of chili sauces (น้ำพริก) tied with complementing bags of vegetables to be eaten with them.
At the back of the shop you'll find fresh curry pastes and nam priks (น้ำพริก), and then surrounding everywhere else you'll find packaged Thai snacks, most of them high quality and from famous labels throughout Thailand.
If you start to read some of the labels, you'll find some pretty interesting and traditional nam prik and lons หล่น (a lon is a Thai chili dip that's made with coconut milk).
Pictured above is nam pirk man goong (น้ำพริกมันกุ้ง), a chili dip made with the oil from the head of the prawns – sounded pretty interesting to me – but I didn't get to try it this time!
Along with the freshly bagged curries and things to eat, Nam Pirk Nittaya (น้ำพริกนิตยา) is most famous for their curry pastes and their nam prik (chili sauce).
They use the freshest ingredients, and one thing I also like about them is that they don't use any unnatural preservatives or chemicals in their pastes.
Pastes are the foundation of all Thai curries, and such an integral component of Thai cuisine, and Nittaya aims to preserve the traditional pastes and chili sauces.
At Nittaya, they have everything from green and red curry paste to more dry style nam prik chili dips (usually eaten with vegetables and rice) like nam prik king kai kem moo krob (น้ำพริกขิงไข่เค็มหมูกรอบ), a combination of minced pork, salted egg, and ginger all dried with chilies and probably some sugar.
Meeting and talking to Khun Nittaya, the owner of Nittaya Curry Paste, was a real honor.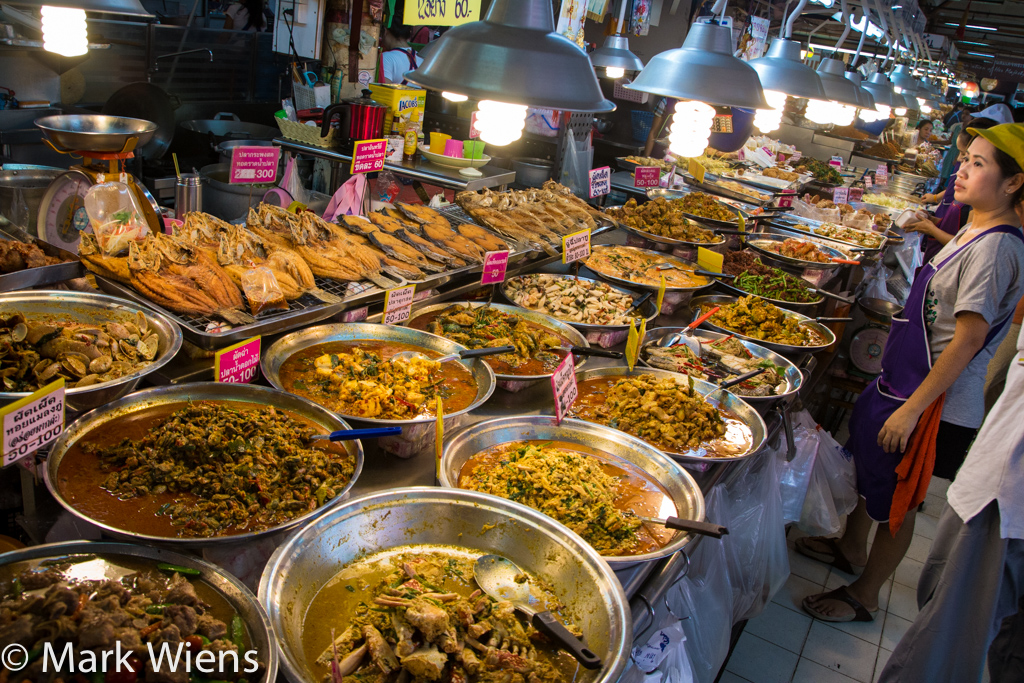 Or Tor Kor Market (ตลาด อ.ต.ก.)
One of my personal favorite markets in all of Bangkok is the prestigious Or Tor Kor Market (video).
Or Tor Kor Market is unlike any other market in Bangkok, it's the most high quality and most prestigious market in the city, catering mainly to the upper class, with prices to match.
The food court is not too expensive (compared to some of the fresh fruit and seafood), and if you have a chance to eat lunch at the Or Tor Kor food court, you should.
Lunch at Or Tor Kor
There are so many amazing things to eat at the Or Tor Kor market food court for lunch, from egg noodles to stir fry dishes to green papaya salad.
But for reason, nothing more than my love for spicy curries, I often tend to gravitate towards the khao gaeng (rice and curry) stalls when I eat at food courts in Thailand (even though I already ate rice and curry for breakfast).
Some of the stalls at Or Tor Kor even serve brown rice, which I'm all for.
I ordered pad sataw (ผัดสะตอ), stink beans stir fried with pork, and a huge pla too (mackerel ปลาทูฉู่ฉี่) made in chuchee curry.
Chokchai 4 – Street Food Market (ตลาดโชคชัย 4)
After a delicious lunch at Or Tor Kor Market, and doing some filming while walking around the market, we got back into the van, and headed to Chokchai 4 (ตลาดโชคชัย 4).
Chokchai 4(ตลาดโชคชัย 4) is an incredible evening street food market located in the Lat Phrao area of Bangkok, and one that I had never been to before.
Ying kept on telling me I needed to go there, but we just hadn't had the time yet – so I was pretty excited to go for the first time.
We arrived at about 3:30 pm, and most of the vendors were still setting up, so we ended up just walking around and relaxing for about an hour before the vendors opened.
I'd say most of the street food stalls at Chokchai 4 didn't open until around 4 – 5 pm.
By the time all the street food vendors are open and operating at Chokchai 4 (ตลาดโชคชัย 4), there's an almost ridiculous amount of food available – nearly every type of Thai street food you can imagine is available.
I have to go back again and explore it more ASAP!
Nam Prik Dam Song (น้ำพริกตามสั่ง)
We were scheduled to film at a nam prik stall within the market, known as Nam Prik Dam Song (น้ำพริกตามสั่ง) – this is not the name of the stall, but the style of the dish – meaning it's "made to order."
As opposed to serving pre-made nam prik, like the street food stall we went to in Maeklong,Nam Prik Dam Song (น้ำพริกตามสั่ง) refers to stalls where you can order whatever you want.
So when someone makes an order, they put all the ingredients into a mortar and pestle, and pound them right then and there.
This allows the customer to pick and choose whatever ingredients they like, and to make it according to their preference – sour, salty, sweet etc.
P'Oui, the owner and chef at this Nam Prik Dam Song (น้ำพริกตามสั่ง) stall, was still setting up when we got there, but it was interesting to see her laying out all her ingredients and components on her cart for display.
I'm a huge fan of pla too (mackerel ปลาทู), and I love how they are displayed in Thailand.
Their most popular version of nam prik, as P'Oui explained to me, is nam prik maeng da pla too (น้ำพริกแมงดาปลาทู), a chili sauce made with boneless pieces of mackerel, pounded with the special ingredient, a maeng day (giant water bug).
The highlight of my day was learning to make nam prik with P'Oui and her mother.
They were both so good and so fast at making nam prik, I bet they could have done it with their eyes closed.
Many of the ingredients are either roasted, like the shallots, mushrooms, green and red chilies, fried like mackerel, or pounded just raw.
The basic recipe includes mackerel fish, roasted red Thai chilies, roasted green banana chilies, roasted shallots, roasted mushrooms, and water beetles.
From there, there are many different dressing sauces like pla ra (fermented fish sauce), normal fish sauce, lime juice, and water, used to tone things down and make the chili dip a little less thick.
Learning to makeNam Prik Dam Song (น้ำพริกตามสั่ง) along with P'Oui at her food stall at Chokchai 4 was a wonderful experience, something I thoroughly enjoyed.
If you ever visit the Chokchai 4 street food market, you can order nam prik maeng da pla too (น้ำพริกแมงดาปลาทู) from P'Oui!
Day 11 in Bangkok was another fantastic day, full of delicious food and Thai experiences.
(NOTE: If you're just joining me now, I was hired to be the host of a Thai food TV show documentary. The show is 10 episodes long and covers some of the must eat dishes throughout Thailand. I'll be doing my best to blog about everything we do (and eat). Click here to see my other posts.)
Get exclusive updates
Enter your email and I'll send you the best travel food content.