Bangkok is a huge city with an everlasting supply of exciting attractions, superbly interesting sites and more delicious street food than you could ever imagine (until it's in your mouth).
After living in Bangkok on and off for a few years now, I decided to share a few things that I would recommend to do if you just have one day in Bangkok!
Note: Khlong Lat Mayom floating market and Chatuchak market are only open on the weekends. The rest of the activities featured on this list are open daily.
One Day Tour of Bangkok
1. Khlong Lat Mayom Floating Market
Located on the outskirts of Bangkok in a lush area of town is the relaxing Khlong Lat Mayom Floating Market. Every weekend, vendors dock their boats under the shade and serve delicious Thai food.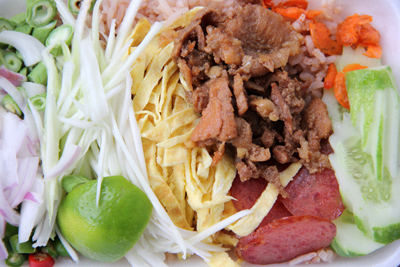 You can choose to have a seat next to the boat restaurants and choose a few items to eat, or you can browse around the dry section of the market which is filled with little trinkets and an endless supply of more food.
If you're interested, you can even hire a boat to slowly drift down the calm canal as you sit back and enjoy the scenery.
Khlong Lat Mayom Floating Market (ตลาดน้ำคลองลัดมะยม) is more low-key than Damnoen Saduak or Amphawa (more famous floating markets), but it is very close to Bangkok and I personally prefer it over any other floating markets due to its quiet nature oriented atmosphere.
The market opens at 9:30 on Saturdays and Sundays.
Getting There: Take the BTS Skytrain to Wang Wian Yai station. From there it's easiest to jump in a taxi, ask the driver to take you to "Talad Nam Khlong Lat Mayom." Should cost right around 100 THB for the ride. To make it easier, print off these directions.
2. Wat Arun
Wat Arun is the temple of dawn, and it's probably my favorite historical temple in Bangkok.
If you just have one day in Bangkok, you've got to climb to the top of the temple on the narrow staircase and peer over Bangkok's Chao Phraya River.
The entrance fee is 20 THB and the hours are from 7:30 – 17:30.
Get exclusive updates
Enter your email and I'll send you the best travel food content.
Getting There: Since Khlong Lat Mayom floating market is a little bit on the outskirts of Bangkok, again it's easiest to take a taxi. Tell the driver to take you to Wat Arun (วัดอรุณ).
3. Grand Palace / Wat Phra Kaew
Though they are the most crowded tourist attractions in all of Thailand, Wat Phra Kaew (วัดพระแก้ว) and the Royal Grand Palace (พระบรมมหาราชวัง) really are the most respected and admired iconic symbols of Thailand and should be visited once during any visit to Bangkok.
The palace was once the home of the King of Thailand and Wat Phra Kaew is the temple that houses the emerald Buddha.
Getting There: From Wat Arun, board the quick ferry to cross the river and you'll be right at the Grand Palace grounds.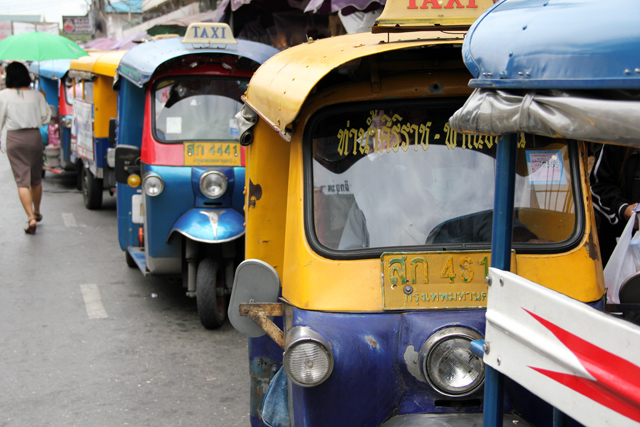 4. Wang Lang Market
Just opposite the Chao Phraya River from the Grand Palace is Bangkok's most important hospital known as Siriraj. Surrounding the hospital is a fabulous market packed with local style shopping and lots of street food!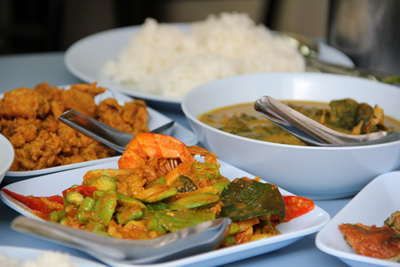 Walk around Wang Lang and be sure to sample whatever calls your name. You can sit down at a number of indoor restaurants or if you're up for sampling southern Thai food (lots of curries, chillies and coconut milk) take the short walk over to Lan Luam Dtai.
Getting There: From Tha Chang Pier take the boat across the river and get off at Wang Lang Pier.
5. Khlong Toey Market or Chatuchak Weekend Market
A great experience and one of the most interesting things to do in Bangkok is walk around a large local market. Wherever you travel, markets offer a great introduction to the culture and it's a free opportunity to see daily life while spending one day in Bangkok.
Khlong Toey Market (ตลาดคลองเตย) is one of Bangkok's biggest and busiest markets and there's always something action packed to observe. After a delicious lunch at Wang Lang, it's time to make the trek to a whole different type of market and discover meat, veggies and all thai ingredients in bulk.
If you prefer, you can also head to Chatuchak Weekend Market (ซื้อของที่ตลาดนัดจตุจักร), a shopping mecca.
Khlong Toey is open nearly 24 hours a day and Chatuchak is open from 6 am to 6 pm on Saturdays and Sundays.
Getting There: At Wang Lang Pier, take the river boat south to Sathon Pier / Saphan Taksin central station. Get on the BTS at Saphan Taksin and purchase a ticket to Silom Station. Then transfer to the MRT underground train and get a ticket to Khlong Toei station. From there, the market is just a short walk away.
To get to Chatuchak Weekend Market, take the BTS all the way to Mo Chit station and shop until you drop.
6. Benjakiti Park
My favorite park in all of Bangkok is Benjakiti Park located on Ratchada Road, near Khlong Toey.
Beautiful flora, fauna and a huge lake make the park extremely scenic. This is a great place to walk around and enjoy some relaxation (you'll need some relaxation even for just one day in Bangkok) – especially when the sun fades behind the sky-rise building for some much needed shade.
Getting There: From Khlong Toey, jump in a tuk tuk or taxi for a short ride over to the park. The ride should cost around 40 THB – 50 THB.
7. Victory Monument
Victory Monument is a famous landmark in Bangkok and one of the central transportation hubs.
With so much action, you can bet there's countless vendors selling cheap Thai street food dishes, as well as everything else you can imagine. Walk around and find something interesting or sit down for a cool beverage at the Victory Point bars.
Getting There: From Benjakiti Park, you can either walk, or take a short taxi ride to Asoke BTS station. Then take the BTS to Victory Monument station.
Bonus Snack: Boat Noodles
If you're starting to get hungry again, a few bowls of boat noodles from boat noodle alley are what you need. Boat noodles (VIDEO) are little bowls of famously tasty noodles covered in rich porky broth.
One day in Bangkok should definitely include boat noodles.
Getting There:  Located on the northeast corner of Victory Monument roundabout
8. Dinner at Kuang Seafoods
Interested in delicious seafood? Kuang Seafoods is a restaurant located on the end of Rangnam Road that serves a fantastic selection of Thai seafood favorites at relatively decent prices. It's one of my favorite Thai seafood restaurants in all of Bangkok!
Don't miss the Boo Pad Pongali (crab yellow curry ปูผัดผงกะหรี่), Or Suan (sizzling oyster omelet ออส่วน), or the Pla Kahpung Neung See Ew (steamed fish in soy sauce ปลากะพงนึ่งซีอิ๊ว). For the comprehensive Thai food guide,be sure to check out the Eating Thai Food Guide.
Getting There: Walk from Victory Monument to Thanon Rangnam. Walk all the way down the street until you almost reach the intersection with Ratchaprarop and Kuang Seafoods is on the left side of the street, opposite the petrol station.
9. Yaowarat Night Walk / Silom Nightlife
If you aren't totally out of energy, Bangkok is still full of options for night activities.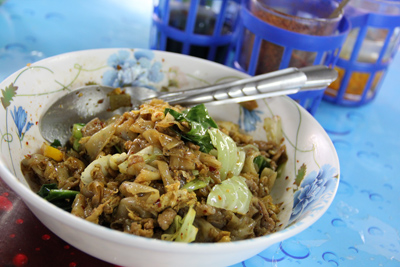 One of my favorite things to do in Bangkok is to head to Yaowarat  (Bangkok's Chinatown) for some outstanding nighttime street food in a bustling atmosphere.
Getting There: Take the BTS to Silom station, transfer to the MRT and get off at Hua Lamphong, now you can either walk or take a tuk tuk to Yaowarat Road.
If you're looking for more Bangkok nightlife, you may want to take the BTS to Silom station for some more street shopping and a chance to stop into a bar for a few drinks.
So there it is, a long one day in Bangkok – but you'll come away with some incredible memories and hopefully a nice full stomach. Have fun!
Are you looking for accommodation in Bangkok? Click here to see a few of my personal suggestions for where to stay.
Get exclusive updates
Enter your email and I'll send you the best travel food content.