Just about everyone who goes to Tokyo visits the famous Tsukiji fish market in the morning.
And either after, or before walking around the market, you should eat breakfast.
There's nothing quite like seeing an entire ocean of fresh fish, and then sitting down at a restaurant just a few steps away, to eat them.
Sushi Dai and Sushi Diawa are the two most famous restaurants located right in Tsukiji market, and due to their well known fame, the lines can often stretch far down the sidewalk.
I'm sure their sushi is incredible, as everyone has said, but on the day I visited the market, since I had a schedule to film a Tokyo travel guide video, I just didn't have the time to wait 4 hours…
So instead of eating sushi, I decided to check out another famous (but less famous) restaurant for a kaisen-don, or basically a sashimi rice bowl.
Nakaya (仲家) is located just one street down from Sushi Dai, and there was also a small line at the entrance, but just a handful of people waiting to get in.
I decided we would give it a shot, and we were soon in line.
(By the way, none of the signs are written in English, so you'll know it's Nakaya (仲家) by the food board with the dishes written on a pink background – see photo)
The wait didn't take longer than 15 minutes – most sushi restaurants like this tend to rush customers in and out as fast as possible.
Also, a man had come outside the restaurant and taken our order a few minutes prior to us entering – this way, as soon as we sat down, our order was pretty much ready and handed to us.
I ordered the creamy colored otoro tuna for 1,800 Yen, wanting to make sure I got some fatty tuna belly – one of the best things ever.
We took our seats on the bar seating, and the chef quickly, without the slightest smile, handed us each our tray.
Get exclusive updates
Enter your email and I'll send you the best travel food content.
One thing I didn't like about Nakaya (仲家) is that the owner and people running the restaurant wern't all that friendly.
No smiles, and when I took a photo of the restaurant inside, the sushi chef yelled at me.
Also, the lady eating next to us couldn't finish what she ordered, and asked for takeaway, and they said a stern "NO" and that was it. No smiles or anything. Not the nicest staff.
But anyways, I continued taking photos of my own food, which they seemed alright with.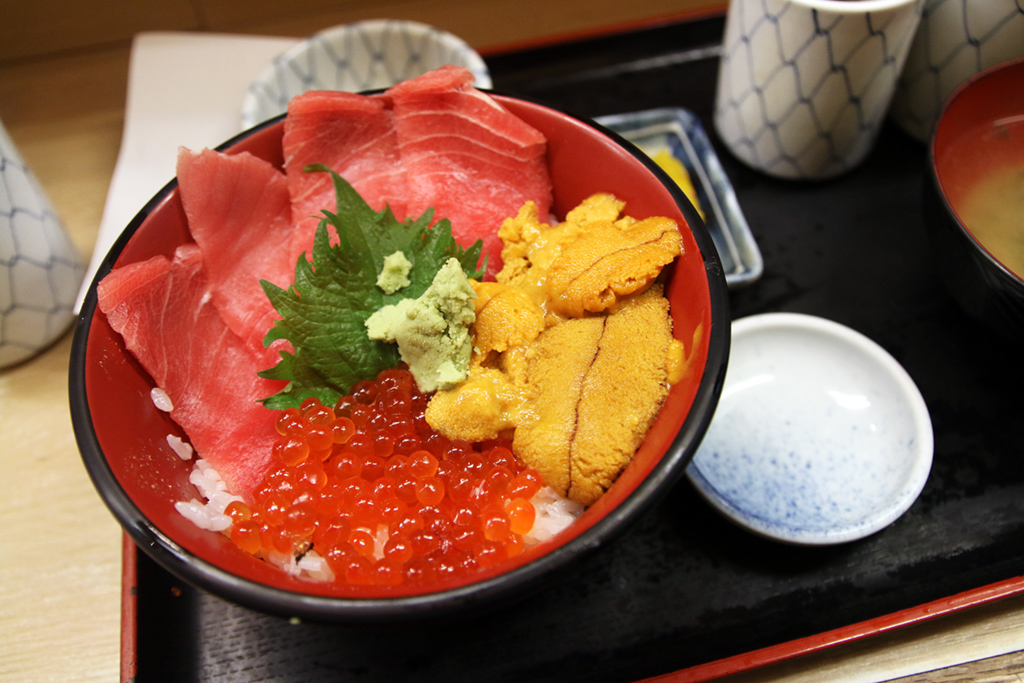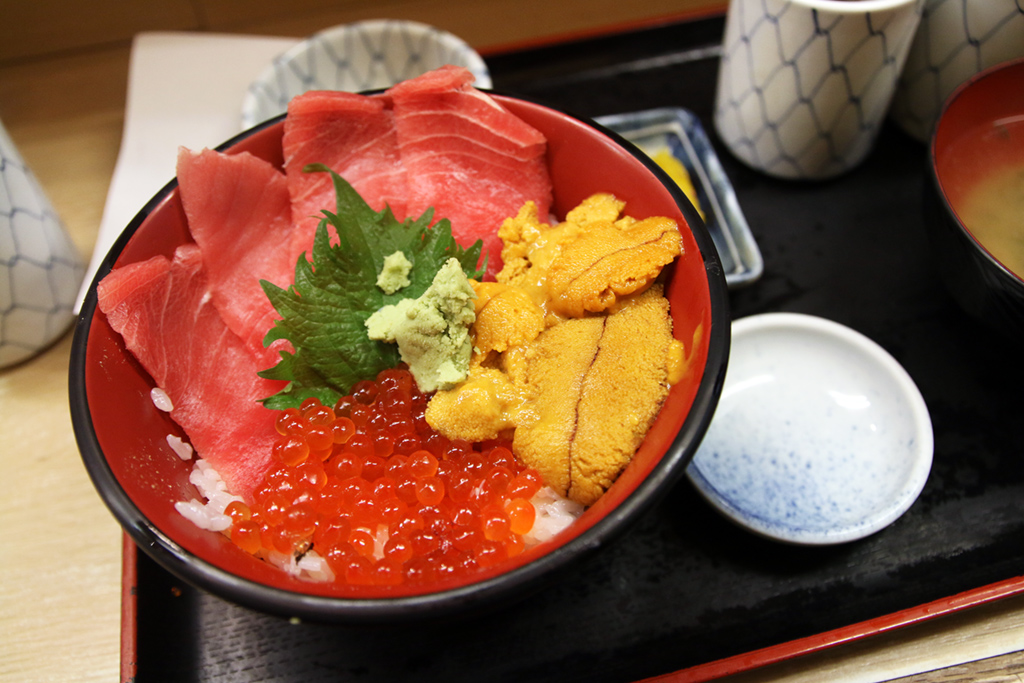 Though I couldn't read the Japanese menu, my aim was to order the fatty tuna (otoro), plus sea urchin (uni), and salmon roe, all neatly piled onto a bowl of rice.
In addition to the main event, the meal also came with a couple of pickled vegetable side dishes, miso soup, and green tea.
I don't know all that much about sashimi (other than that I love it), and especially the different grades and qualities, but I can definitely see the difference in colors between different cuts or choices of tuna.
The otoro, or fatty tuna belly, has more white marbling mixed within, instead of being the pure dark maroon in color part of the tuna.
Otoro almost looks like a well marbled piece of beef.
The kaisen-don came with four slices of otoro, a pretty good sized portion of uni (the yellow sea urchin), and salmon eggs.
The otoro was amazing, tender and fatty, and had a remarkable texture and purity to it.
It was like eating slices of butter, but much better tasting.
The uni was excellent quality as well, and it was a little slimy, and almost had a slight cheddar cheese flavor to it.
Along with the warm rice, and a dab of wasabi, it was excellent.
Finally, the salmon roe, always a delicious treat. The little bubble eggs popped in my mouth, oozing with delicious saltiness and complementing the rice beautifully.
Despite the grumpy service, the kaisen-don was wonderful.
Price – 1,800 JPY ($17.73)
Ying, not being as big of a fan of raw seafood for breakfast, decided to choose the deep fried jumbo prawns – the only non raw fish option on the menu.
At first I thought it was tempura, but they were prepared more katsu style, breaded, deep fried, and served with a tangy soy sauce like sauce.
Though it was my wife's order, I'm lucky that she always lets me have a bite, or few bites, of her food.
I'd have to say that I was quite impressed with the jumbo, lobster sized pawns.
They were wonderful, huge and meaty, and like everything I ate in Japan, they weren't overcooked.
The prawns were absolutely wonderful.
Price – 1,200 JPY ($11.82)
The sushi and sashimi restaurants within Tsukiji Market, while they are all very good, they are all a little bit touristy, and a bit overpriced (in comparison to other similar restaurants in other parts of Tokyo).
Personally, if I were to go back to Tsukiji Market again, I would probably choose to eat my main sushi or sashimi breakfast meal at one of the excellent looking restaurants in the outer section of Tsukiji Market.
The prices were less expensive, the lines weren't as long, and I think there were many places that served an equal quality of fod, just not so much of the hype.
That being said, I did enjoy my meal at Nakaya (仲家).
Also, if you do visit Tsukiji Market, don't miss this awesome bowl of ramen or a seafood treat.
Nakaya (仲家)
Address: 5-2-1 Tsukiji, Chuo-ku, Tokyo, Japan
Open hours: 5 am – 2 pm (closed on Sunday and market holidays)
Prices: Expect to pay from 1,200 – 2,000 JPY per person, depending on what you choose
How to get there: Nakaya (仲家) is located right outside the main part of the wholesale Tsukiji fish market, and in the fruits and vegetables area. See map for more details, you can't miss it.
Get exclusive updates
Enter your email and I'll send you the best travel food content.