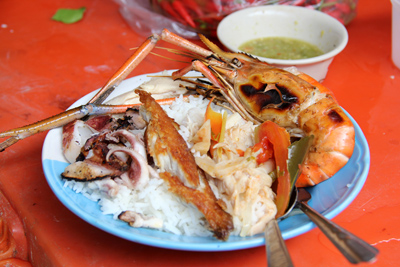 Happy New Year 2013!
Thank you for being a part of Migrationology.com.
2012 was a great year, and while I did less traveling than some years, I was able to get a lot accomplished, and I managed to eat quite a few tasty meals (all of which I'm thankful for).
In 2012 I visited my family in the United States, spent a few weeks in South Korea, took an eating trip to Malaysia, and spent the majority of my time in Bangkok where I filmed a Bangkok video and published a Bangkok travel guide.
Thank you for all your support!
Now on to the top 10 bites I enjoyed in 2012 – and all of them were worthy of a food pilgrimage.
Let me know what you think, and also I would love to hear what delicious food you ate this year, leave me a comment below!
1. Poke (Hawaii)
In 2012 I had the opportunity to visit my family in Hawaii. We did a lot of eating.
Poke, Hawaiian style cubes of raw tuna marinated in soy sauce and sesame oil and combined with sweet onions, is one of my all time favorite things to consume.
The poke bowl from Kahuku Superette was nothing short of magical.
2. Carne Asada Burrito (Phoenix, Arizona)
Also in the United States I visited more family in Phoenix, Arizona.
Being near the border of Mexico, I was excited to finally get some good Mexican food, a cuisine that's not well represented in Asia. This beautiful styrofoam box was filled with absolute deliciousness.
3. Kimchi Ice Noodles (South Korea)
After the United States it was on to South Korea where the food was indeed the highlight.
I was pretty happy eating a steady diet of just kimchi and rice, but this unique bowl of noodles sitting in a broth of ice water took me by surprise.
It was like eating a kimchi popsicle, and paired with the slippery fresh noodles, thin slices of cucumber, and a half of an egg, I loved it. It was unique and something I've never had before.
Get exclusive updates
Enter your email and I'll send you the best travel food content.
4. Korean Barbecue (South Korea)
It would be pure tragedy to visit Seoul without indulging in a Korean barbecue feast a number of times.
There's nothing quite as fun as cooking your own meal from the comfort of your own seat and eating bites of hot meat straight off the coals.
There are many Korean barbecue restaurants in Seoul (video), but my most memorable one was at a place called New Village where I enjoyed the delightful pork bulgogi (Daeji Bulgogi 불고기).
Watch the video of the meal.
5. Nasi Lemak (Malaysia)
There's nothing more comforting to a Malaysian than a plate of nasi lemak, and after you demolish it, you will know why.
It's just about all the flavors you could ever want piled onto a single plate.
When I was in Kuala Lumpur, I searched out RA Nasi Lemak and had a meal that literally made me shrivel up in my chair as the flavors exploded with glory in my mouth.
Watch the video of the meal.
6. Ikan Bakar (Malaysia)
Grilled seafood is something I actively search for, so when I read about Ikan Bakar Medan in Kuala Lumpur (video), I had to go there.
It was more spectacular than I had imagined; A hot mess of sizzling seafood bubbling in sambal chili sauce greeted me at the restaurant and I was immediately elevated into a state of happiness.
The hunk of grilled stingray, dipped into the chili sauce, and paired with rice, was a feast I would have gladly handed over my entire wallet for.
Watch the video of the meal.
7. Banana Leaf (Malaysia)
Malaysian food includes not only marvelous Malay and Chinese food, but also authentic and drool worthy Indian food as well.
This banana leaf meal from Vishalatchi food and catering was so good I literally ate three meals in a row there. The first meal included their tender mutton biryani that slid off the bone effortlessly.
From there I enjoyed just plain white rice topped with a variety of insanely amazing curries.
Watch the video of the meal.
8. Stink Beans (Thailand)
One thing I just simply can't get enough of is Southeast Asian stink beans. I have a love affair with the stink beans!
This plate of homemade stink beans stir fried in a pungent blend of garlic, chillies, and turmeric, never gets old for me. I could eat a plate of southern Thai style pad sataw (ผัดสะตอ) everyday of my life.
And, not only are stink beans tasty, they are massively healthy too!
9. Burmese Laphet Thohk (Thailand)
I've been a big fan of Burmese food ever since spending a few weeks in Yangon a couple years ago.
There are many Burmese living in Bangkok, but there's aren't as many Burmese restaurants. Wandering around Phra Khanong Market, I stumbled into Mona's kitchen, a little market stall where Mona cooks up some Burmese Nepalese specialities.
Her laphet thohk tea leaf salad was outstanding, as were all her other dishes.
Watch the video of the meal.
10. Minced Quail (Thailand)
Minced quail almost tastes like hamburger, just with a little extra crunch.
Stir fried with heaps of chillies, generous amounts of garlic, basil, and krachai (rhizome similar to ginger), this was one of the top plates of edible food I ate in 2012.
In fact my entire meal at Ran Gaeng Pa Sriyan (ร้านแกงป่า ศรีย่าน) was shockingly amazing to the point where I wanted to move into the restaurant and wake each morning for the same feast.
Watch the video of the meal.
11. Durian Ice Cream (Thailand)
Hands down, this was the best durian ice cream topped with durian sticky rice I've ever had in my life.
The homemade mixture of cream, sugar, and most importantly pungent durian of Kobe beef quality, was impressively good. The durian was strong to point where it went up my nose just a little, similar to eating a bunch of wasabi.
The remarkable flavor of durian made this one of the best scoops of ice cream I've ever consumed – so good that I immediately ordered a second after licking the first clean.
BONUS: Fruit Buffet (Thailand)
The only thing that's better than fresh tropical fruit is a buffet of fresh tropical fruit.
Suan Supatra Land is a farm located about 2 hours or so from Bangkok. A one time fee allows you to devour as much fruit as possible, and the day I went, they had about 15 different fruits to choose from.
Mango, santol, jackfruit, mangosteen, rambutan, and NOT forgetting durian, were the main fruits I packed into my bulging stomach!
Wishing you a blessed 2013 with lots of mouthwatering food to come!
What delicious food did you eat in 2012?
Get exclusive updates
Enter your email and I'll send you the best travel food content.