One of the greatest things to eat in Tanzania is mishkaki.
It's the Tanzanian version of the skewered shish kebab. Mishkaki is a creation that contains a little African, a little Middle Eastern, and a little Indian influence to it.
Beef and chicken are the most popular, but fish is also occasionally available.
One evening in Dar Es Salaam, we headed to a downtown restaurant known simply as Ali's.
As a street food lover, one thing you just got to love is how Ali's uses the street (this is not a private street, this is a public road, although small and quiet), as their own personal drive through. It reminded me of that motorcycle ice cream drive-in in Hanoi.
Cars will roll past, stop in front of Ali's and yell out their order. If a car who is not purchasing food rolls up behind them, they get honked at a few times and more times, and then have to maneuver their way around.
Along with mishkaki, Ali's serves garlic naan.
No roti, no chapatis, no other kinds of bread, just buttery garlic naan – and it's stunning!
Get exclusive updates
Enter your email and I'll send you the best travel food content.
The tandoori oven is just as it is in India, right along the street so it pours out delicious aromas.
Along with mishkaki and garlic naan, Ali's also offers a few items like fried fish and chips, and red bbq chicken and chips.
The fish wasn't my favorite, a little on the dry side.
The bbq chicken was very decent, but the chips were of the soggy greasy type. I prefer the barbecue chicken and barbecue fish at Dar Es Salaam's winning Barbecue House.
I ordered mishkaki and naan.
*One thing to remember for Tanzanian food, grilled means griddle fried, and barbecue (or bbq) refers to meat cooked on the grill.
The skewer of beef mishkaki was medium sized, and the meat was tender yet still had some gamey African texture to it.
As opposed to nyama choma, that's just straight up roasted meat with salt, mishkaki is first marinated in lemon juice, tomato sauce, garlic, and a mess of spices like coriander, cumin, turmeric, paprika, and chili powder, before being grilled.
The beef mishkaki was excellent.
The buttered garlic naan at Ali's was excellent.
It was fluffy, not overcooked, and stacked with garlic and a touch of fresh coriander.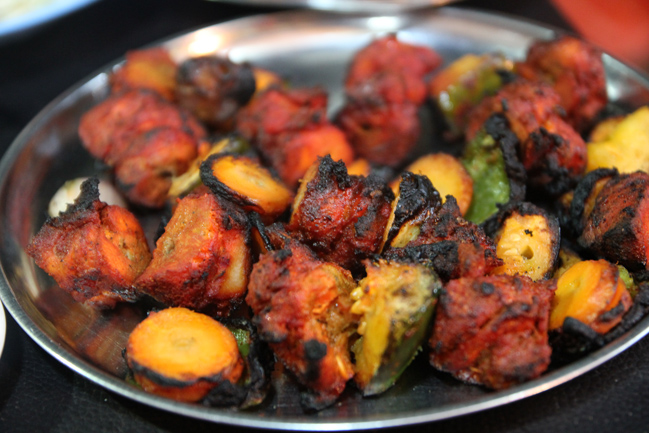 The chicken mishkaki was monstrous.
When the chicken chunks were de-skewered onto a plate, they filled it entirely. There may have been a half a chicken on a single stick!
At Ali's they like to grill their meat pretty well done, so it was pretty good, but of the dry-ish style, which is often the style of Tanzanian mishkaki. I loved it!
Overall, Ali's is a great restaurant and nice dining experience in Dar Es Salaam, Tanzania.
Now, watch the video:
(You can also watch in on YouTube here: http://www.youtube.com/watch?v=O_cpDK_IEBY)
Open hours: 5:30 pm – 10:30 pm every night but Tuesday
Prices: You'll pay about 8,000 ($4.87) – 12,000 TZS ($7.30) per person for a feast
Address: Ali's restaurant is located in downtown Dar Es Salaam, on Mwisho St., just off Morogoro, and just a 1 minute walk from the famous Mamboz restaurant.

View Best Restaurants in Dar Es Salaam, Tanzania in a larger map
Get exclusive updates
Enter your email and I'll send you the best travel food content.