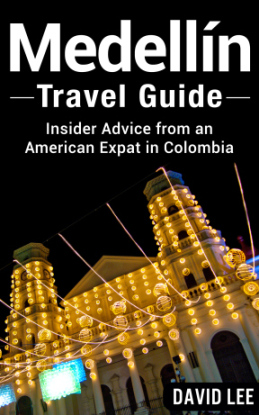 As soon as I finished University, I headed down to South America and spent about 5 months in Argentina, Chile, and Uruguay. It was an incredible time!
I then returned to the States and after that I caught a flight to Southeast Asia – where I've stayed around the area for the last 4 years.
However, I still would love to see more of South America in the future, especially Brazil and Colombia.
A few weeks ago David Lee, a great blogging friend of mine and a colleague, published Medellín Travel Guide: Insider Advice from an American Expat in Colombia, an eBook that covers just about everything you need to know about visiting or living in Medellín, Colombia.
Get exclusive updates
Enter your email and I'll send you the best travel food content.
I had a chance to read through it and I'd have to say that it is a comprehensive guide that will undoubtedly benefit anyone that plans to visit or live in Medellín.
Here are a few really good things about the guide:
Great insights that could only be written by someone who has spent a lot of time exploring the city
All sorts of tips for living in Medellin – like good list of gyms and shopping centers
Valuable information about medical and dental work – with some personal tips
Tips on learning salsa – even the teacher David used for lessons
Roundup of accommodation to cater to whatever interest you have
List of useful phrases and Colombian slang
Transportations information and how to be cautious taking taxis
Excellent safety tips
Though nightlife isn't really my personal thing, if you are interested (and apparently Medellín is very famous for its nightlife) Dave offers a ton of information about when to go out, where to go out, what to wear, and all sorts of nightlife tips. Everything you could want to know about nightlife and discotecas in Medellín is included in his guide.
I of course enjoyed the food section, where Dave goes over a number of the most popular dishes to eat in Medellín (who knew hot chocolate and cheese go well together?) and even where to eat them. There's a good roundup of restaurants with reviews and personal tips.
One of the things I love about Dave's writing is that he really lays out information clearly and explains things so they are easy to understand and follow. The guide is just good honest travel advice that's practical and helpful.
If you're planning to visit or spend time in Medellín (or anywhere in Colombia), I'm sure Dave's guide will be extremely useful.
It's on sale for just 5.99. Click here to check it out!
Get exclusive updates
Enter your email and I'll send you the best travel food content.