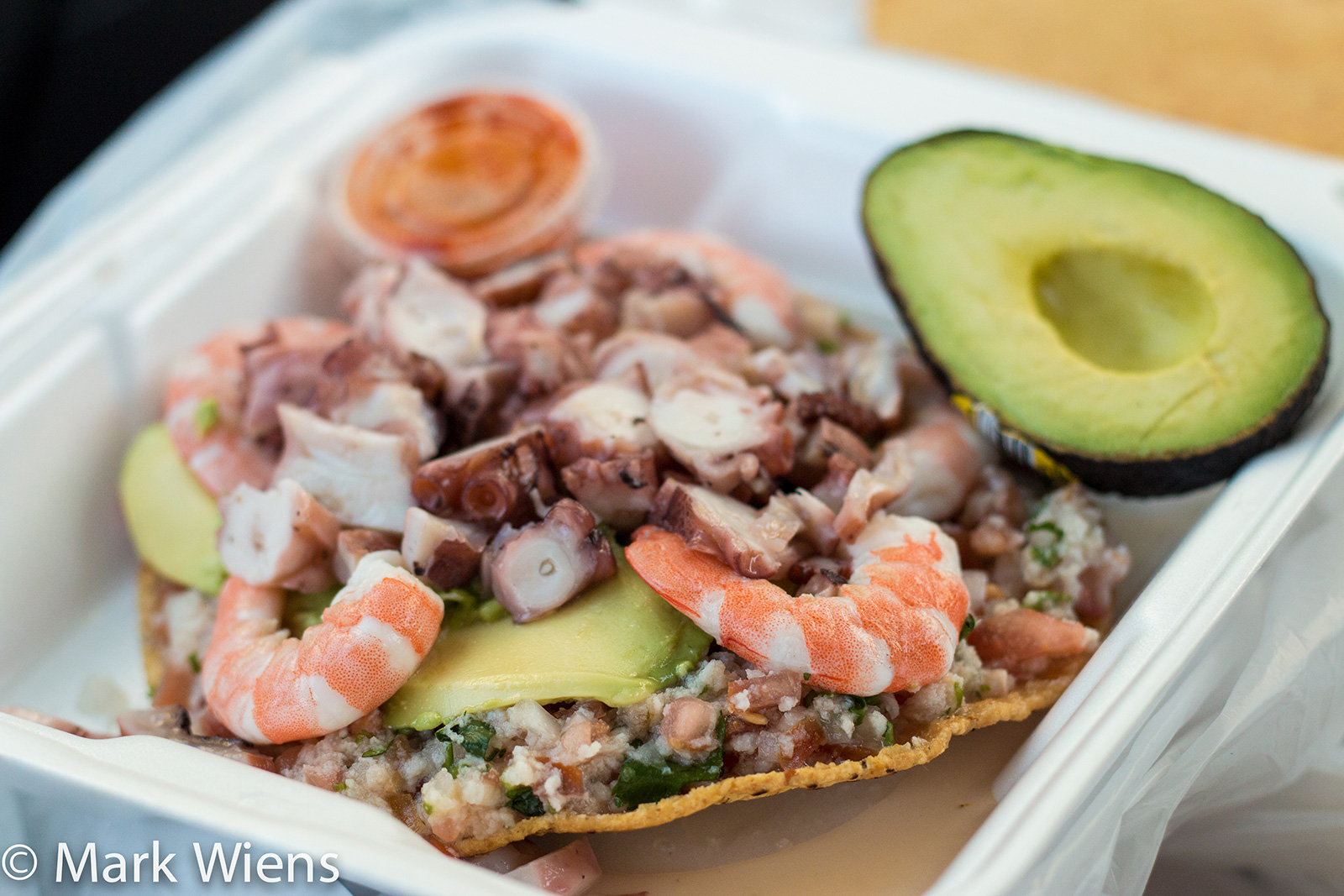 I didn't have a lot of time in Los Angeles, but one thing I wanted to make sure I ate was Mexican food.
And more specifically: Mexican seafood.
So one day, while my wife and I were visiting relatives in Los Angeles, we had access to a car, and took a drive down the freeway en-route to a restaurant called Mariscos 4 Vientos.
Although we ate in the car, as we didn't have much time, the food was outstanding. Keep reading (and watch the video), and I'm going to share all about it now.
Mariscos 4 Vientos
The restaurant is part food truck and part sit down restaurant, and from reading more about it, it looks like the menu is the same at each.
The sit down restaurant is painted blue, and the food truck sits just outside on the road. So you can choose to eat or order your food from either position.
I went to the Mariscos 4 Vientos food truck along the sidewalk, ordered, and then we headed back to our car to chow down.
Parking can be a little tricky, like in most of central Los Angeles. But I went on a weekday about 11 am, and found a street parking pretty easily, but in busier times, it might be tougher.
The Menu
I didn't really see the full menu (or not sure if there is one), but I ordered right off the side of the truck where they had a number of tostada options to choose from.
For my wife, I got here a trio of shrimp tacos, and then for myself, the attractive photos of the menu on the side of the truck really caught my attention, and I ordered three different tostadas.
Tacos de Camaron
At Mariscos 4 Vientos for my wife I ordered 3 tacos de camaron, shrimp tacos.
Luckily, she was kind enough to give me one of them!
The tacos were hard shell, nice and crispy, and came filled with pieces of shrimp, with salsa on the side. Our first step was to dump on all the salsa. Along with the shrimp, there was some kind of sauce, slightly creamy on the inside.
Get exclusive updates
Enter your email and I'll send you the best travel food content.
The tacos were very tasty, and I could really taste the quality and freshness of the shrimp. It was a great starter.
Another thing I loved about the food truck is that they gave us an entire bag of limes (my wife, from Thailand, was pretty happy about that), and they also served us halves of avocado – I thought that was generous and won my heart over immediately.
Price – $2 each
What is a tostada?
A tostada is sort of like an open faced sandwich, except instead of bread, it's a fried crispy tortilla on the bottom, and all the goodies are placed on top.
Tostadas, as compared to burritos and tacos, are always a little more challenging to eat – you don't know if you're supposed to pick it up and eat it like a sandwich, or kind of scoop things up with your spoon to avoid spilling all over the place.
The good news is:
No matter how you manage to eat the tostada, it tastes marvelous, and I love how, with a tostada, the ingredients really have to speak for themselves. Other than salsa, they aren't covered up with other flavors like may be the case in a burrito (don't worry, I love burritos too).
Mixta tostada
After devouring my wife's third shrimp taco with a smile on my face, next in line was the mixta tostada, a mix of seafood, piled beautifully onto a tostada.
The mix included fish ceviche on the base, topped with slices of avocado, then shrimp, and finally a good amount of octopus spread all over the top.
Price – $5.75
The fish ceviche on the bottom was nice and sour from lime juice and salty, mixed with onions, tomatoes, and cilantro.
I'm not sure if the shrimp and octopus were marinated, if they were perhaps in just a bit of lime juice, but what really stood out was how fresh they were. The shrimp were marvelous and firm, and the octopus was tender and meaty.
The combination of all the fresh seafood, the sour lime juice, and the creamy perfectly ripened buttery avocado, was remarkable.
I tasted my first bite of the mixta tostada with no salsa, to get a more pure flavor of the ingredients and the seasoning.
But being a lover of salsa, I had no choice but to cover my entire tostada with the chili sauce, and it was insanely good.
The salsa elevated the flavor even higher – it was mostly salty and spicy, but just complimented the fresh seafood incredibly well.
Munching down on this tostada, I already knew it was an ultimate Los Angeles Mexican seafood success at Mariscos 4 Vientos.
Ceviche de Camaron
My next tostada was ceviche de camaron, shrimp ceviche.
While the mixed tostada was already assembled onto the tostada shell, this one was packaged in a cup, I'm guessing because it was so soupy.
The shrimp were diced into little bits, and mixed with onions, tomatoes, green onions, and cilantro. The ceviche dressing was simple yet perfect: lime juice, salt and pepper (at least that's what I could taste).
But it was the simplicity that was so good. The ceviche de camaron, with a drizzle of salsa, was probably my favorite dish at Mariscos 4 Vientos.
It was extremely cool, refreshing, and flavorful.
Price – $3.50
Aguachile Rojo
Finally the last dish I ordered at Mariscos 4 Vientos in Los Angeles was the aguachile rojo, a red shrimp cocktail, which also came in a cup.
The mix included big shrimp, red onions, fresh cucumbers, and a sauce of lime juice, chilies and perhaps some tomato sauce.
The aguachile rojo, though it looked spicy, wasn't all that spicy, but it did have delicious flavor, but perhaps a little on the salty side.
It was very good, but I think the other two, which were more sour in taste, were my favorites.
Price – $3.50
Conclusion
Mariscos 4 Vientos is a street food truck and Mexican seafood restaurant in the Boyle Heights area of Los Angeles.
I ordered some shrimp tacos, and a few different seafood tostadas, all of which were extremely fresh and packed with flavor. The portion sizes were generous, and they don't hold back from giving you 1/2 an avocado on each tostada – that's another huge bonus.
Every opportunity I have on visits to the US, I must get my fill of Mexican food. Mariscos 4 Vientos didn't let me down.
If you're looking for fantastic Mexican seafood tostadas in Los Angeles, check out Mariscos 4 Vientos.
Mariscos 4 Vientos
Address: 3332 E Olympic Blvd, Los Angeles, CA 90023
Phone: 323-264-3565
Open hours: 9:30 am – 7:30 pm daily
How to get there: I'm not sure about the public transportation system in LA, but I had a car, and took the 10 to Olympic Blvd, and drove east for about 5 minutes to get to the restaurant.
Also they take cash only.
How do you like Mexican seafood?
Get exclusive updates
Enter your email and I'll send you the best travel food content.