Located within the Tanzania Scouts Association property, and opposite the Don Bosco Catholic youth center, in the Upanga District of Dar Es Salaam, is the Scouts Canteen (unofficial).
Mama Theopiste controls the kitchen, and whips up some delightful Tanzanian food everyday for lunch.
Other than a few red Coca-Cola signs and tablecloths (something that always dictates good greasy food and cold beverages in Africa), and a glass cabinet full of chips (fries), the restaurant actually has no real name.
It's more of a big thatch covered space that consists of a roasting nyama choma area, a few different bars, and a spread of plastic tables and chairs, all donated by either Coca-Cola or a local beer company – very typical restaurant decor in Tanzania.
Everyday around noon or 1 pm, a buffet of Tanzanian food is served by Mama Theopiste and a few helpers.
The food is home-cooked style, and each day, quite a few men – everyone from businessmen in suits to men drunk from the night before and who looked like they slept there – stumble into the restaurant to fill their bellies for lunch.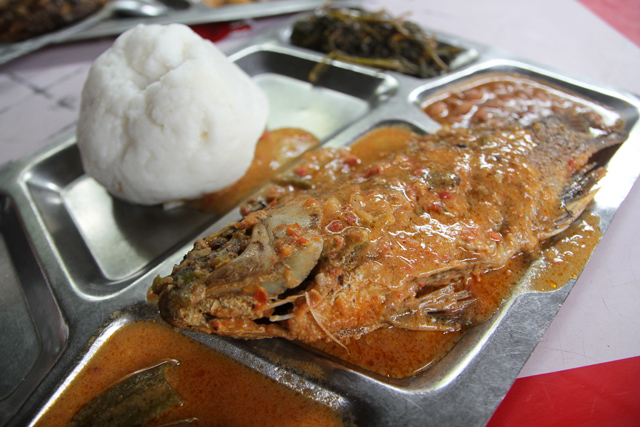 The staff at Scouts Canteen are not quite as organized as at Holiday Out, they slowly move, and if you ask for something, like a bottle of water, it normally takes a few minutes for your request to be fulfilled (that is if they don't forget).
Get exclusive updates
Enter your email and I'll send you the best travel food content.
Though service is slow, just like many places in Tanzania, the food is pretty good.
I ordered an mchuzi wa samaki, a curried fish, along with a big ball of maize flour ugali and a few accompanying sides.
Price – 5,000 TZS ($3) full plate
Though Dar Es Salaam is next to the sea, Scouts Canteen specializes in preparing Sato fish, a freshwater fish that's famous from Mwanza, a city near Lake Victoria. Sato is similar to a tilapia.
The fish was prepared in a thick rich coconut curry sauce with lots of onions and tomatoes.
Also on my plate was a scoop of mchicha (green vegetable similar to spinach), beans, some coconut curry sauce with pieces of okra, and my huge blob of ugali (same as what you'd get eating Kenyan food) – the ultimate filler.
We also ordered a plate of rice along with a catfish that was dried, rolled into a ring shape, and also curried.
The ring of catfish tasted almost a little fermented like a Thai kaeng tai pla. It was alright, not the greatest thing I've ever tasted. I thought the sato fish in coconut curry (above) was superior.
Price – 5,000 TZS ($3) full plate
Finally for good measure we decided to order a deep fried sato fish as well, and it's a good thing we did, because he was quite a tasty fellow.
Price – 3,000 TZS ($1.83)
Here's the full feast on video… watch it now…
(if you can't see see the video, watch it on YouTube here)
Boy Scouts Canteen, Dar Es Salaam
The Tanzanian food served at Scouts Canteen is a great place for a seriously filling lunch in Dar Es Salaam, Tanzania, and the food is always prepared fresh by Mama Theopiste  – she's friendly and cooks well.

View Dar Es Salaam in a larger map
Get exclusive updates
Enter your email and I'll send you the best travel food content.