One of the legendary restaurants in Stone Town, Zanzibar, that serves local Zanzibari food, is Lukmaan Restaurant.
This place, along with Passing Show Hotel, are two of the most legendary local Zanzibari food serving establishments within Stone Town.
I had been to Lukmaan restaurant a number of times on previous visits to Zanzibar (you might remember when I compared biryani to pilau), and so on my latest trip, as soon as I landed, Lukmaan was the place we immediately went for lunch.
I was happy to see the restaurant exactly where I remembered it, the baobab tree to the right side, and the blue and white striped awning.
But on my previous visits they had a menu and your ordered, now they serve buffet style where you go up to the front counter, choose whatever you want to eat, and pay up front before grabbing a seat.
Works for me!
Get exclusive updates
Enter your email and I'll send you the best travel food content.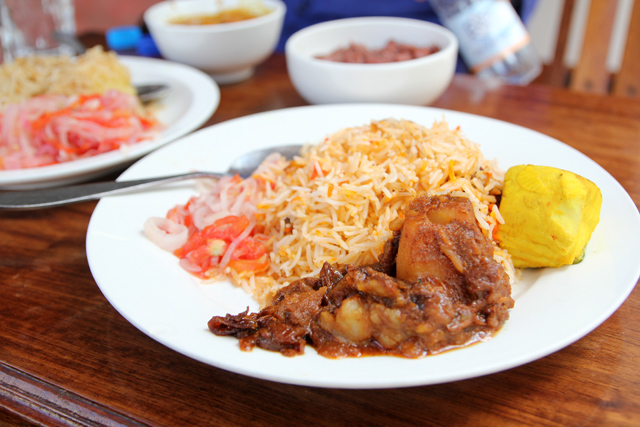 I couldn't resist the biryani, which I ordered with fish, instead of mutton this time round. It was just as wonderful as I had remembered, the rich oily sauce was flavored with onions and sweet and spicy spices.
I chose a yellow looking piece of steamed fish, and it was good, but after ordering it, I wish I would have chosen the whole fried mackerel (like the fish we ate at Holiday Out).
For some extra protein, we got a side bowl of beans. It was plain but everything it needed to be and good.
Along with the biryani at Lukmaan restaurant, another speciality rice that's eaten across Zanzibar is pilau, and I wasn't going to miss it.
The pilau rice, spiced with cinnamon bark and pods of cardamom, was dished up with a scoop of kachumbari, a combination of tomatoes and onions, on the side.
To go with the pilau rice, we ordered a bowl of octopus curry, a very popular Zanzibari food. This was by far the clear winning dish of the meal – it was stunning!
First of all, the octopus was incredibly soft, not like fall apart tender, but soft more like chicken, rather than rubbery octopus. The gravy was a heavenly concoction of coconut milk with loads of Indian inspired spices and a lot of lime juice to make it sour and spicy.
Spooning the octopus curry and sauce onto my pilau while adding in broken bits of pili pili (chili), to satisfy my chili addiction, each bite at Lukmaan restaurant in Stown Town was pure pleasure.
We loved the octopus curry so much, after cleaning out the first bowl, I went back to the counter and ordered it again.
Lukmaan restaurant serves wonderful local Zanzibar food in Stone Town.
Lukmaan restaurant in Stone Town, Zanzibar
Open hours: about 7 am – 9 pm daily, lunch is a great time to go
Prices: Most meals cost around 5,000 TZS ($3) per person, but we ate a lot and had a bottle of water as well and our bill came to 12,000 TZS ($7.26).
How to get there: Just like in all of Stone Town, getting there is the confusing part. Sometimes you've got to walk around in circles, asking locals along the way, until you get there. The restaurant is located along New Mkunazini Road, just outside of the Stone Town lanes, and right behind the Anglican Cathedral and former slave chamber.
Get exclusive updates
Enter your email and I'll send you the best travel food content.