WARNING: What you are about to witness is a graphic display of protein surrounded by a pool of oozing juices. Proceed at your own risk.
What is a Loco Moco?
The basic components of this Hawaiian delicacy are really quite simple; It begins with a bed of Japanese style rice topped with thick grilled hamburger patties, covered in over easy eggs and then it's artfully lathered in a generous portion of beefy brown gravy.
An epic meal, would be an understatement when you're talking about a Loco Moco – it's something even more grandeur, something that you not only want to devour but even get passionate with.
A loco moco is a reason to celebrate any meal of the day, but just like Sri Lankan hoppers, I think it makes a great breakfast start to the day.
Loco Moco is available throughout Hawaii, and its reputation has even reached to other parts of the world now (it's popular in Japan, and I'm hoping it becomes a Thai street food staple soon).
I got this particular foam container of delight from the highly recommended Papa Ole's Kitchen restaurant located on the island of Oahu, Hawaii.
Get exclusive updates
Enter your email and I'll send you the best travel food content.
If you happen to be cruising around the island, you have no option but to make a pit stop.
I ordered the large Loco Aina Special, a mega calorie rich pile of steamed rice, two gigantic beef patties, three fried eggs and a massive spoon of brown gravy ($10 buck and worth it).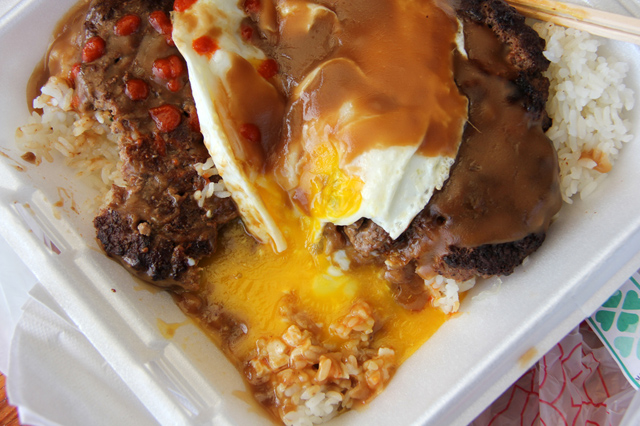 How to Eat a Loco Moco
After popping the yellow yolk with the tip of my chopsticks is when things got really messy (and more delicious).
The yellow-ee richness flowed like a golden waterfall, combining with the luscious brown gravy and congealing itself like a blanket over each delicate granule of rice.
Unlike a SPAM Musubi which you can eat with your hands, a loco moco is not hands food! Using either a spoon or disposable pair of chopsticks, grab a bite and savor the deliciousness.
For the Loco Moco dining experience you'll want to craft each bite with a proportionate amount of rice, piece of hamburger, egg, and a bunch of the sloppy brown gravy egg mixture all over.
Also, feel free to add as much or little hot sauce as you can handle. I'll just recommend that with hot sauce, it's always the more the merrier.
None of that worthless fast food preserved ground beef – a loco moco is created with high quality ground beef, mixed with a few light seasonings, a smidgen of salt and onions. The patty should be firm yet tender, mild yet massively beefy.
If you want to get this exact loco moco that I ate above, head to Papa Ole's Kitchen on Oahu's North Shore:
Address: 54-316 Kamehameha Highway., #9 Hau'ula, Hawaii, 96717. Check all the details on their website here.

View Migrationology World Map in a larger map
Get exclusive updates
Enter your email and I'll send you the best travel food content.