That's right.
Grab a bib or towel, because what you're about to see is drool worthy (and you don't have to be ashamed).
As I've mentioned before, I'm not that big of a sweets fan.
Apart from a few things, I'll normally only indulge in sweets in order to celebrate the occasional birthday, or if I need to be social in random circumstances (OK, I can be a social dessert eater too)!
That being said… I could probably eat an entire box of warm malasadas in Honolulu – and not even realize it.
The light pink box with the signature light blue Leonard's logo is tantalizing even before breaking the seal and lifting the lid.
Get exclusive updates
Enter your email and I'll send you the best travel food content.
The first peek into the box releases a sweet pastry scent so aromatic that it has the power to knock you on the couch and force you into a dreamy drooling daze before even digging in.
Leonard's Bakery, having been around since 1952, has a secret recipe for malasadas that has beat out all other competition – it's the go-to malasada in Honolulu.
One box from Leonard's malasadas comes stuffed with a dozen of the little guys neatly packed and looking ever so attractive to the stomach.
At this point, the aroma coming from the box mixed with the visual pleasure is a force so strong you'll find them irresistible.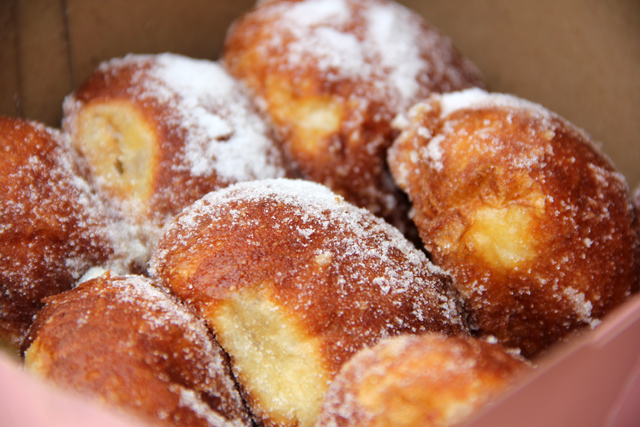 What are Malasadas?
You may be wondering by now what exactly is a malasada? Is it like any normal donut?
A malasada in its purest form is a Portuguese donut made with balls of dough, deep fried and dusted with sugar.
Unlike regular donuts, there's no hole in the middle of a malasada. What this means is that a malasada remains gooey, moist, and outrageously fluffy on the inside.
Original malasadas in Honolulu, Hawaii are made plain, but now there exists a wide variety of malasadas that are filled with all kinds of pudding like creams. If you're going to get the stuffed kind, I'd recommend Haupia (coconut pudding).
The food scene in Hawaii is a a world contender because people have brought the best tasting things from around the world to the little islands where flavors can only be improved. In Hawaii you'll find delicious Chinese dishes, classy Japanese food and even a few Portuguese favorites like malasadas.
So how did these special Portuguese donuts become so popular in Honolulu, Hawaii?
Portuguese have played a long history in Hawaii, coming to the islands to work on plantations. Just like they brought egg tarts to Macau, they brought malasadas with them to Hawaii where they were welcomed graciously into Hawaiian cuisine.
So while they aren't quite as homegrown Hawaii as the iconic SPAM Musubi, malasadas are pretty famous in Honolulu and throughout Hawaii.
Grabbing a malasada is like touching a delicate pillow of memory foam where your fingers are left indented into the pastry.
Word's cannot describe the sensation of sinking your teeth into a malasada, it's something so good it's barely fathomable. You may even think you're dreaming.
After a few bites you'll realize the box of Leonoard's malasadas is your reality and it's a valid reason to celebrate and be ecstatic!
The next time you visit Honolulu, be sure to drop into Leonard's Bakery to get a box or two of Hawaii's original malasadas.
Leonard's Bakery (Malasadas)
Website: http://www.leonardshawaii.com/
Address: 933 Kapahulu Ave., Honolulu, Hawaii
Phone: 808-737-5591
Hours: 5:30 am – 9 pm Sunday – Thursday and 6 am – 10 pm Friday and Saturday
Get exclusive updates
Enter your email and I'll send you the best travel food content.