Kolkata (also known as Calcutta), the third largest city in India, also happens to be one of the country's friendliest cities for street food lovers.
Vendors are everywhere serving everything from famous Bengali snacks to full meals of rice and curry.
Serenaded by the constant stream of honking, foot traffic, and hawkers, there's nothing better than biting into a tasty snack and washing it down with a clay cup of chai.
Enjoying Kolkata street food has to be one of the best things to do in Kolkata!
Jhal Muri
Jhal Muri is one of the most famous and omnipresent Bengali street snacks represented in Kolkata. Nearly everywhere you look, you'll find a vendor selling jhal muri.
It consists of puffed rice (like rice krispies), fried dal, peanuts, random crunchy things, fresh chopped onions, a few bits of fresh tomatoes, coriander, a handful of masala seasonings, and a light drizzle of mustard oil to top things off.
The ingredients are all added to a metal can and stirred up so the mustard is fragrant throughout the mixture. It's eaten like a bag of chips, almost always from a newspaper bag.
Price – 10 – 20 INR ($0.18 – $0.37) depending on size
Pani Puri (Puchka or Golgappa)
Known throughout the country by different names, this is one of the most iconic and beloved Indian street food snacks.
It begins with a puri, a hollow round chip, that's filled with spiced potatoes, and dunked into tamarind water before being served and eaten in a single bite.
Pani puri is an explosion of crunchy spice and flavor with a burst of watery goodness.
Price – 10 INR ($0.18) for 4
Ghugni Chaat
Made from yellow peas (also known as yellow split peas), this Kolkata street food was one of my favorites.
The smoldering hot peas are added to a small leaf bowl, mixed with tomatoes, onions, coriander , tamarind water, and lime juice, served with a wooden spoon, and known locally as ghugni chaat (cool name, huh?)!
Get exclusive updates
Enter your email and I'll send you the best travel food content.
Price – 10 INR ($0.18)
Bhel Puri
Especially famous in Mumbai, this is the Kolkata version of the famous Indian chaat (snack).
Little crunchy curls (that almost taste like uncooked ramen noodles), boiled potatoes, puffed rice (like in jhal muri), red onions, and coriander form the base of bhel puri. The dry and fresh ingredients are then dressed and mixed with tangy tamarind and spicy dressing. It's tangy, sour, sweet and spicy, crunchy and fresh… in every bite.
Price – 20 INR ($0.37)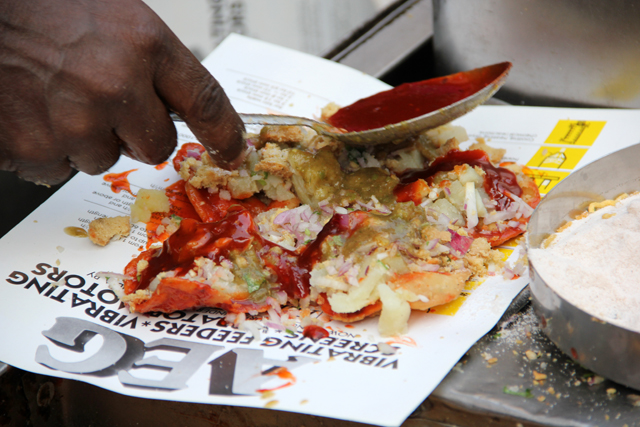 Batata Puri
Popular throughout India, this Kolkata version of papri chaat is a little different in that it doesn't incorporate curd (yoghurt) like North Indian variations like in Delhi street food.
It begins with little deep fried fritters which are like chips that are laid out flat and covered in spiced potatoes, and a bunch of chutneys and sauces.
It's like nachos, Indian style.
Price – 20 INR ($0.37)
Veg Chow
Until arriving in Kolkata (and all over India), I had no idea how popular Chinese influenced street food was. Veg chow (short for vegetable chowmein), as it's commonly known in Kolkata, is stir fried noodles mixed with a few sprigs of veggies.
The noodles are scorched on high heat in Indian style woks so they are smokey flavored, and a bit on the greasy side. A plate of veg chow is salty, and dangerously tasty.
Price – 20 INR ($0.37)
Pav Bhaji (Paw Bhaji)
Popular and a quick and light snack all over India (particularly in Western India), pav bhaji is a vegetable potato curry paired with a toastes bun.
The curry is nicely spiced and the bread is often buttered and then toasted on the same hot platter as where the bhaji curry is slow cooking.
Price – 20 INR ($0.37)
Fresh Fruit
Fruit is cheap and widely available throughout India. These plates of pre-cut fruit in Kolkata were a little fresh fruit salad.
Momos (Fried and Steamed)
Momos, the ubiquitous dumplings in Tibet and Nepal, are also commonly consumed in Northeastern India and Kolkata.
There are two versions, the steamed version, and the fried version. Veg is very common, but you can also find chicken, and even pork if you visit the Chinese morning Terreti market.
Price – 40 INR ($0.75) – fried pork momos
Kati Roll (Kathi Roll)
One of the most famous Kolkata contributions to the world of Indian street food is the Kati roll. It's essentially a paratha that's stuffed with a choice of filling and wrapped into a handheld treat – like a burrito.
Chicken or mutton kebab meat, and eggs, are the common fillings, but paneer is also an option. As for Kolkata street food, when you're craving something greasy and tasty, a kati roll is sure to please.
Nazim's is credited with introducing the original kati roll, but I preferred Kusum Rolls.
Price – 40 INR ($0.75)
Light Meal
Light meal options are also popular on the streets of Kolkata.
One of my favorite light meals or snacks is a spoon full of aloo gobi vegetable curry paired with a stack of freshly made chapatis that are roasted straight over the fire. Served with a wedge of red onion, chutney, and fresh chillies, this is a fantastic light meal.
Price – 15 INR ($0.28) – for this price, you could eat this all day long!
Full Meal
But snacks alone cannot fully satisfy, especially when one is really hungry… and luckily Kolkata street food supplies some seriously tasty full meal options as well.
Both James Hickey Sarani (formerly known as Deckers Lane) and Camac Street were my two favorite streets for lunch. Rice and a variety of curries on top is a normal filling meal that also tastes wonderful. North Indian and Bengali food are both common.
Price – 30 INR ($0.56) – where else can you eat a full meal for that price?!
Ice Cream Cone
Now I wouldn't normally mention ice cream on one of my street food guides, but I had to throw this in because I think it's the cheapest ice cream I've ever had in my life.
For just 7 INR ($0.13) you can get a single scoop cone! It's not as spectacular as the Korean street food ice cream cones, but wow was this a budget cone… and pretty good for the price.
Mango Lassi
A lassi is one of the creamiest versions of a milkshake I've ever had. This mango lassi tastes like mango puree combined with yoghurt and blended into a perfect concoction.
At the end, a few nuts and slices of cheese are tossed on top to complete a beverage that has to be one of the best things to consume in all of Kolkata.
Price – 25 INR
Chai
Along with the delicious realm of Kolkata street food, you'll need a beverage to wash it all down, and throughout India, chai is a widespread. In Kolkata they use clay cups to serve nearly every cup of chai
Price – 4 – 6 INR ($0.07 – $0.11)
I had a truly memorable time visiting the attractions in Kolkata, but as a food lover, there was nothing as memorable as the Kolkata street food.
Not only are snacks and meals widely available and tasty, the vendors are often friendly and excited to serve you!
Get exclusive updates
Enter your email and I'll send you the best travel food content.