Here is a list of 20 Kenyan food favorites to help you get excited about eating Kenyan food!
1. Ugali (Cornmeal Staple
The undeniable most common Kenyan food staple is ugali – usually made from cornmeal that is added to boiling water and heated until it turns into a dense block of cornmeal paste. Ugali has the consistency of a grainy dough and the heaviness of a brick.
For many Kenyans, ugali along with a small amount of cooked vegetables or saucy stew is a normal meal.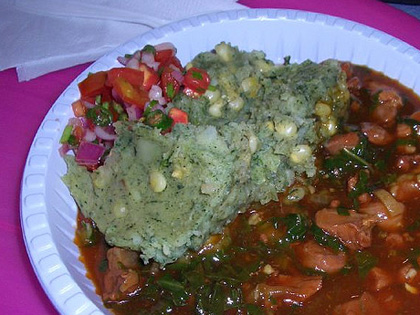 2. Irio (Mashed Peas and Potato Mix)
Irio is one of the most famous dishes in Kenya, a food that originated as a Kikuyu staple and spread throughout the country.
Green peas and potatoes are boiled and then mashed up before whole kernels of maize (corn) are added to give the mash some extra starch and texture. This hearty and heavy Kenyan food is famous to eat with roasted nyama choma meat (nyama na irio) or just some Kenyan style stew.
photo credit kiplagat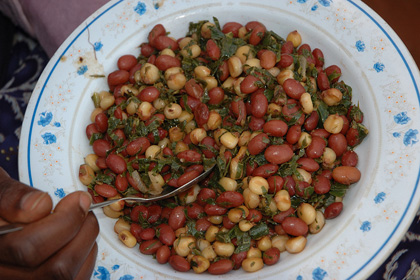 3. Githeri (Beans and Corn)
It's not too complicated, a Kenyan dish that consists of boiled beans, corn kernels, and possibly mixed in with a little bit of vegetables.
The combination of Githeri is a filling, highly nutritious, and can be quite good when complimented with salt, pepper, chilies, and even a chapati!
photo credit cimmyt
4. Kenyan Pilau (Spiced Rice)
Pilau is a glorified combination of rice cooked with flavor bursting spices like cumin, cardamon, cinnamon, and cloves. The fragrant rice is fantastic to eat with a form of meat stew and a few slices of fresh tomato and onions.
Biriyani is another form of spiced rice that is a popular Kenyan food on the coast.
Even though it's in Tanzania, I've enjoyed some of the best pilau and biryani I've ever eaten on the island of Zanzibar!
5. Wali wa Nazi (Coconut Rice)
Coconut rice is a popular Kenyan food mostly along the Indian Ocean coast. White rice is cooked with grated coconut meat to create a fragrant twist on plain boiled rice. Wali wa nazi is best enjoyed with a serving of fish or chicken curry, some vegetables, or even bean stew.
6. Sukuma Wiki (Collard Greens / Kale)
One of the most popular vegetable Kenyan dishes is sukuma wiki (known as collard greens or a form of kale in English).
Get exclusive updates
Enter your email and I'll send you the best travel food content.
The nutritious green leafy vegetable is often cooked in oil with a few diced tomatoes, onions, and flavored with a sprinkle of mchuzi mix (Kenyan food secret flavoring salt – MSG) or stock cube flavoring.
7. Kenyan Stew
Kenyan stew can include a number of different meats: beef stew, goat stew, chicken stew or any other animal stew. Kenyan stew dishes might also include a few other base vegetable ingredients such as carrots, peppers, peas, or potatoes. The sauce is usually formed from a light tomato base and accented with onion, salt and pepper, and that essential mchuzi mix!
8. Nyama Choma (Roasted Meat) – Pride of Kenyan Food
Any Kenyan food list is not complete without a mention of nyama choma, also known as roasted meat. Goat and beef are the 2 most common forms of nyama choma, but chicken (kuku choma) and fish (samaki choma) are also valid choices.
Fat and the grizzle from the meat is the choice part of the animal, and is often consumed with a quick dip into a pile of salt for extra flavoring! It's also possible at many places to get the "fry," – the fried meat variation.
Find the best places to eat nyama choma in Nairobi right here.
9. Matoke (Plantain Banana Stew)
Matoke is originally a dish from Uganda, though it is widely available and popular in Kenya as well.
Plantain bananas are cooked up in a pot with some oil, tomatoes, onions, garlic, chilies, meat (optional), and lemon juice. The bananas are cooked until they become soft and begin to form a thick sauce with the other ingredients.
The result is a delicious dish that is reminiscent of boiled potatoes in sauce and excellent to eat with rice, ugali, or a chapati.
10. Chapati (Flatbread)
Chapatis in Kenya can trace their origin from the influence of the Indian population. Kenyan style chapatis are made with a flour dough that is wound into a coil before being rolled into a flat round circle. The dough is then fried on a skillet accompanied by plenty of oil so it becomes crispy on the edges but remains moist and doughy on the interior.
Chapatis can be considered more of a special form of Kenyan food, a treat to eat. Chapatis go well with fried cabbage, beans, or even just rolled up with a cup of tea!
11. Kachumbari (Tomatoes and Onions)
The simple formula of diced tomatoes, onions, chili peppers, cilantro, and sometimes avocado, is a natural power combination of vegetables that cultures all the way from Mexico to Kenya have discovered. Kenyans enjoy kachumbari as a garnish, a side salad that accompanies things like nyama choma or beans.
12. Kenyan Bajias
There are multiple forms of what is commonly known as bajias. The Kenyan variety (sort of borrowed from India) is normally what can be described as glorious spruced-up plate of awesome french fries (chips).
Potatoes are sliced up and battered with seasoning, deep fried, and served with a Kenyan tomato salsa that is worth boasting about.
As one of my own personal favorites, I even picked this dish (link here) for an entire (small) article!
13. Masala Chips (French Fries Masala)
The dish starts with a greasy plate of freshly deep fried french fries (chips).
Tomato sauce, chili sauce, herbs, cilantro, and whatever else the chef decides are all added to the fries, coating them in a luscious sauce that will have you licking your fingers and the plate!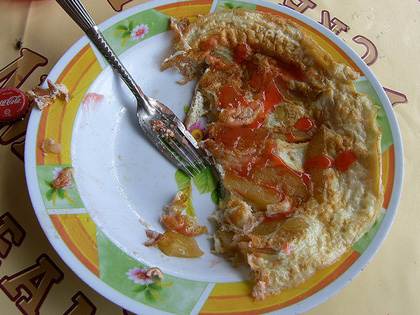 14. Chips Mayai (French Fries and Egg)
Chips mayai can be described as a French fry Kenyan omelet.
It all begins with a plate of famous Kenyan chips that are placed in a frying pan before being covered in a generous amount of beaten egg and cooked through.
Lather it up with a generous portion of chili tomato sauce and it's a snack that will provide calories of energy for a few days!
Chips mayai is a one of the Kenyan dishes that is also popular in Tanzania.
photo credit mwilliamrice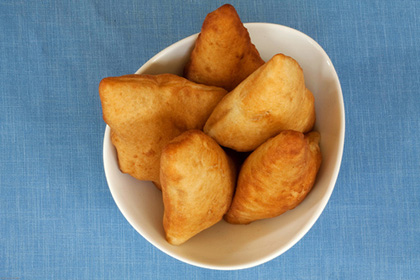 15. Mandazi (Kenyan Doughnut)
They can be smelled from a kilometer down the street, that lovely familiar scent of a blob of deep frying dough.
The smell is enough to entice anyone to make a mandatory mandazi stop.
Mandazi's make a great snack or a light breakfast with a cup of sweet chai.
photo credit pareshjai
16. Mutura
Mutura is the real Kenyan sausage, a protein rich meaty snack that could be the envy of every beer drinker.
Goat intestine wrappers are stuffed full of the alluring combination of ground meat parts and goat blood. The sausage is boiled until it is almost cooked through and then thrown on the grill to dehydrate the meat and give it that sensational smoky taste.
If you are searching for that truly authentic Kenyan food street meat experience, mutura will go above and beyond your expectation!
17. Kenyan Burger
Though it's not a traditional Kenyan food staple, there's something about the burgers in Kenya that have the power to make one smile with happiness.
Some restaurants choose to grill their burgers while others choose to deep fry their burgers, adding that extra grease to the meat for super calorie deliciousness.
This particular burger from Burger Hut Nairobi is the double hut, a burger that's so mouthwatering it could spark a world burger pilgrimage (if it was just a little more famous).
18. Grilled Maize
One of the most popular on-the-go snacks in Kenya is a cob of roasted maize. The corn is picked when it has become mature, so it's a dry starch that is perfect for roasting over hot embers.
As the maize roasts, some kernels pop like popcorn while others blacken to a crunchy crisp. Some street stall vendors will supply a chili lime salt garnish for the grilled maize.
19. Samosas
Another Indian snack turned Kenyan food are samosas – small triangular pockets of spiced meat or vegetables put in a pastry wrapper and deep fried to a golden brown.
Squeeze a sprinkle of lime juice on a samosa for ultimate enjoyment.
These golden snacks are available everywhere from sit down restaurants to Nairobi street food pushcarts.
20. Chai (Kenyan style tea)
Kenyan coffee is one of the more famous varieties on earth, yet it is tea that is the popular hot drink of choice for many locals. Kenyan tea is brewed dark, mixed with plenty of whole fat milk, and sweetened up with a few heaping tablespoons of sugar.
As for myself, give me a kilo of mubuzi choma sliced from the hind leg, a side of kachumbari, and a warm Tusker or bottle of Stoney Tangawizi and I'm a very, very happy man.
What's your favorite Kenyan food?
Get exclusive updates
Enter your email and I'll send you the best travel food content.