Along with pani puri and ghugni chat, jhal muri is one of the most praised and widely present Bengali street food snacks.
In Kolkata you'll find jhal muri at just about every street corner and directly outside of nearly every important door you ever exit (outside of banks, hospitals, transportation stations, museums, etc.).
Jhal Muri
Eager to sample as many Indian street foods as possible when I was in Kolkata, jhal muri was something that couldn't be missed.
It's a dry snack, perfect for walking and snacking, or as a snack while riding any form of transportation. It's the type of snack I would have loved to be munching on while I was driving a truck back in University, or sitting in a movie slowly munching.
Puffed rice, which is essentially the same thing as Kellog's Rice Krispies (a puffed rice cereal popular in the US), is the staple ingredient of any jhal muri mixture. I'm sure India was eating puffed rice long before Kellog's began marketing it.
You'll immediately know a vendor serves jhal muri by his overly large sack of muri (puffed rice) positioned somewhere at the street stall.
Get exclusive updates
Enter your email and I'll send you the best travel food content.
Accompanying the puffed rice are a variety of dry nuts and crunchy looking things, as well as a plate of sliced coriander leaves, red onions, and some limes. Finally, you'll notice a few unmarked jars or bottles filled with spices and a variety of oils.
For jhal muri, the vendor will grab a metal can, toss in a handful of puffed rice, some lentils, roasted peanuts, possibly some other crunchy items, coriander (cilantro), onions, and fresh chopped chillies.
He then seasons it with a squirt of fragrant mustard oil, a squeeze of lime, and a few pinches of masala powder, and stirs everything together in a metal can using a stick.
Like many good Kolkata street food snacks in India (dry snacks that is), jhal muri is served in a little bag made from recycled newspaper.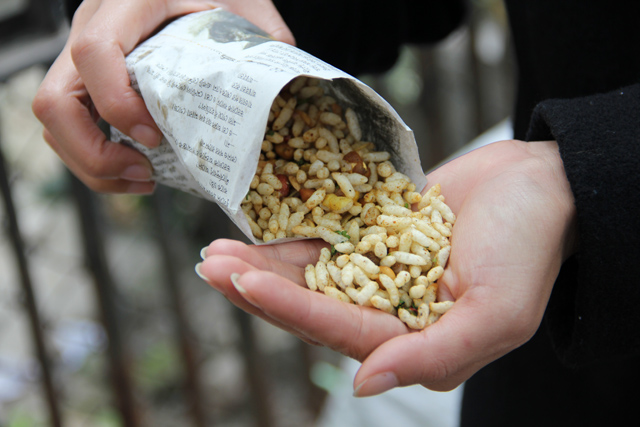 Though it's not a snack I'd eat everyday, I did enjoy the mixture. The puffed rice went well with the slivers of onions and chillies and every now and then I'd get a peanut or fried lentil. What really makes jhal muri so delightful is the mustard oil, which gives it a lovely flavor.
In Kolkata many vendors will give you a choice of what size packet you'd like to order. Depending on how snacky you may feel, you can get the 10, 15, or 20 Rupee newspaper bag full.
Here's the video to go with this article. Press play now!
(If you can't see the video, click here to watch it on YouTube)
Enjoy!
Get exclusive updates
Enter your email and I'll send you the best travel food content.