I was in Phoenix, Arizona, USA, and I was on my way to Singapore.
At this point, we had no plans to fly Japan Airlines.
My first flight, just a short one hour flight from Phoenix to Los Angeles, was delayed… which caused me to miss my connecting flight from LA to Hong Kong and the next flight from Hong Kong to Singapore.
As frustrating as flights can sometimes be, I try to do my best to think of it always in a positive way: After all, being safely on the ground, no mater the circumstances, isn't so bad.
I've already written about, and made a video about the food on Korean Air, which I think is very good for being airline food, but after I wrote that, some people commented telling me Japan Airlines also had very good food.
Our flight left from Phoenix about 2 hours late, but we eventually made it to LA, although we weren't sure how to were going to proceed.
After waiting in customer service lines and talking with the Oneworld Alliance, they were finally able to reschedule our trip, and we caught a flight with American Airlines from LA to Tokyo, and from Tokyo to Singapore they scheduled my wife to connect in Tokyo and fly with Japan Airlines to Singapore.
The American Airlines flight got us where we needed to go, although I think most airlines from the US could do with some serious improvements.
Nevertheless we made it safely to Tokyo's Narita Airport.
As soon as we got off the plane in Tokyo, we were greeted by a Japan Airlines employee who had my name written on it.
"Follow me," she kindly said.
She took us to a Japan Airlines counter where we were issued our ticket from Tokyo to Singapore, and upon giving us our ticket they said:
"You can also use the Japan Airlines Sakura first class lounge."
I took a look at the time, and our departure time, just 1.5 hours away, and my wife and I rushed as fast as we could to the Japan Airlines lounge to try and eat and drink, and enjoy the first class lounge, for as much time as we could.
When we arrived, the lounge was pretty busy, and a few of the foods were finished, but they did have some delicious Japanese curry.
I made sure to have a couple of plates. The curry was salty and rich, filled with chunks of tender beef. Along with a scoop of fresh hot steamed Japanese rice, it was pure comfort.
I drank a couple cups of coffee and a had a cool Asahi on tap, and then unfortunately we had to run to catch our flight… or risk missing another flight… this time our fault.
Although I wish we could have had another couple of hours to relax in the Japan Airlines first class lounge, my wife and I both enjoyed it while it lasted.
On the airplane, the flight attendants were extremely kind and helpful, perhaps some of the kindest employees on any flight I've been on.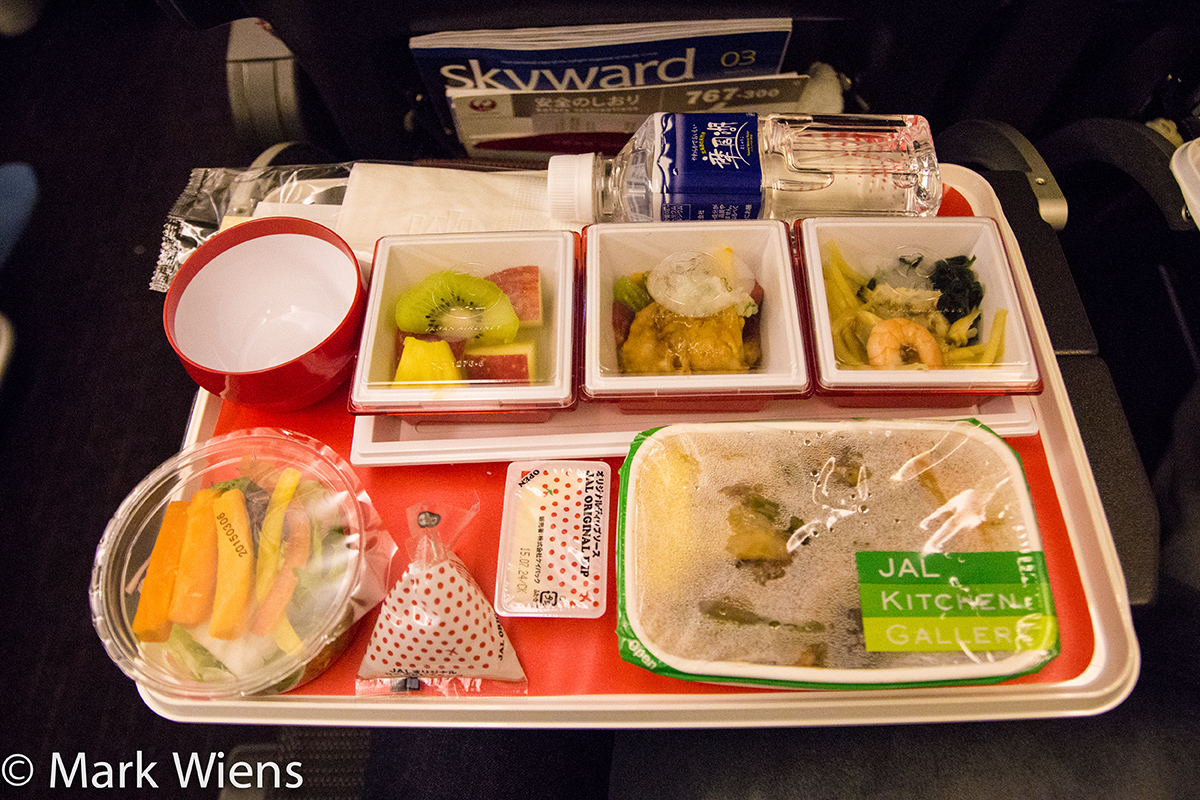 Our flight from Tokyo to Singapore was about a seven hour flight, and about an hour after take-off we were served dinner.
The flight attendants came around with a menu, that included two different items. I chose the grilled pork with miso sauce on steamed rice.
I didn't take any pictures of the actual food (as we filmed a video instead), but just as Japanese food always is, everything on the tray was neat and tidy and there were a number of different dishes included.
On the top was a bamboo shoot and shrimp salad, a fried piece of fish, and a fruit cup. Then on the bottom was a lettuce salad and the hot dish.
The grilled pork was pretty good, covered in a thick creamy miso sauce, and paired with shitake mushrooms.
Of course the meal wouldn't compare to a Japanese meal on ground, but for being 12,000 meters in the sky, it was very good, one of the best meals I've had on an airplane.
Conclusion
My wife and I were scheduled to fly from Phoenix in the USA, to LA, to Hong Kong, to Singapore, but our first flight to LA was delayed, causing us to miss our onwards flights.
After a lot of flight re-arrangement, we were re-routed through Tokyo and were able to catch a flight with Japan Airlines (nor our scheduled airline) from Tokyo to Singapore, which got us into Singapore just an hour later than our previous schedule.
Although we didn't have any extra time to go into Tokyo to eat this time, we did get to enjoy the Japan Airlines first class lounge while we were in Tokyo's Narita Airport.
I was very impressed with our Japan Airlines flight – the service was extremely good, and the food was impressive too. If you ever get a chance to fly with Japan Airlines, go for it!
Have you flown with Japan Airlines? What's your favorite airline?
Get exclusive updates
Enter your email and I'll send you the best travel food content.