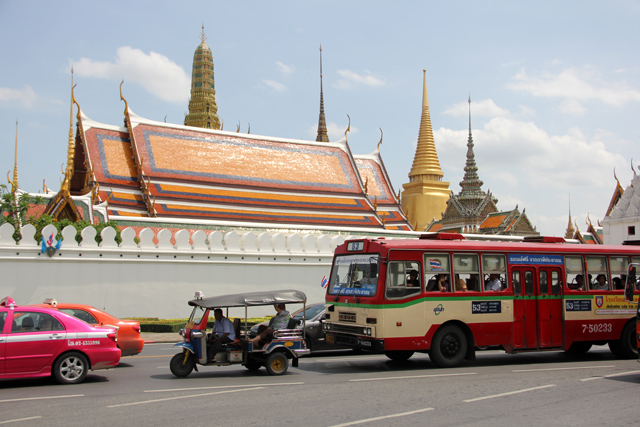 For the size and busyness of Bangkok, the city is in my opinion quite safe.
Living in Bangkok and exploring the city for years now, I've almost never felt threatened in any way.
However, I would never say that Bangkok is an extremely safe city (I'd never say that about any city), because it's always possible to be in the wrong place at the wrong time, even in the safest statistical place on earth.
This article is to cover a few Bangkok safety tips, which in reality can be put to practice wherever you are.
Overall, you should have no problems visiting Bangkok, and you should be more concerned about crossing the streets than anything else. Here are some of my personal Bangkok safety tips.
1. Daily Precautions
Pickpockets – Pickpockets, like in any big city or busy areas, are not unheard of in Bangkok. Never carry your wallet in your back pocket and make sure you carry a purse that has a zip closure. If you carry a purse when you're walking around, keep it snugly on your shoulder and wrapped in your arm.
Mobile Phones – Busting out your iPhone or other fancy mobile device in a busy market always makes you vulnerable. I had a friend who was walking through a Bangkok fresh market while texting someone on her iPhone. Someone swooped by, grabbed it, and was gone forever in moments. This is a lesson.
Motorcycles – Riding on the back of motorcycles is fun and one of the most convenient ways to get anywhere in Bangkok. That being said, the majority of road accidents in Bangkok include motorcycles. I'm not telling you not to take motorcycles, I take them too, but just know that they aren't the safest mode of transport.
Another thing about motorcycles is that if you are carrying a bag, always leave the strap around your body / neck, so that someone doesn't whiz by and snatch your bag.
My word of advice:
Get exclusive updates
Enter your email and I'll send you the best travel food content.
Pickpocketers and small thieves are small risk takers who are just looking for easy things to steal. If you don't give them an easy chance, they won't do anything – keep this in mind and try to act more accordingly all the time as a safety precaution.
2. Scams
Bangkok gets a lot of toursim, and for this reason there are a fair amount of scams, almost exclusively in the touristy areas of town. Here are some Bangkok safety tips for some of the common scams.
Bangkok Tuk Tuk and Gems Scam – A tuk tuk driver will approach you saying he'll take you anywhere or even give you a tour for an absurdly low 20 THB. He's serious too, but he'll then proceed to take you on a whirlwind tour of Bangkok while taking you to multiple gem stores as he collects a nice commission. If it sounds too good to be true, even in Bangkok, it is!
The same idea can also happen with custom tailor stores. A tour guide will take you on a tour for a really cheap price and then deliver you to all sorts of tailor stores.
Attraction is Closed – Another very common scam is when someone approaches you and says that "this attraction is closed today," for some fake reason. He then proceeds to offer you something else, and he'll be happy to take you there.
1) Always make sure you walk up to the attraction yourself and see if it is actually open or closed, and 2) know the opening hours and times of the attraction (my Bangkok travel guide includes lots of useful visiting information).
Taking a taxi – Remember this: No matter what taxi color or what time it is, a taxi should ALWAYS use the meter.
If the driver offers you a fixed price, it's not a scam, but it's sure well over the meter price. Walk away and find another taxi. This is especially common in touristy areas of town near the Grand Palce and Wat Phra Kaew.
Bar Nightlife Scams – I won't get into any of these much as I don't really go to bars in Bangkok, but just be alert and be cautious with overly fake friendly people. One common scam is going to an adult show for cheap and then being forced to purchase outrageously expensive drinks.
My word of advice:
Scammers are extremely skilled, but keeping yourself calm, thinking things through and using common sense is often enough to beat them. Don't make quick decisions. Think first.
3. Protests / Riots / Mobs
As the political and everything capital of Thailand, Bangkok is and probably will be in the future, the scene of of riots and protests.
Some of them in the past have been violent.
The thing to remember is that the protests and protesters are there to make a specific point, not just to destroy everything in sight or hurt innocent people.
Go into the middle of the protest and of course you're at potential risk of getting caught up in a crossfire, but stay away from the area and you should be fine.
Bangkok is a giant city, and while there may be a protest taking place near government offices, you won't even know anything is happening while you're shopping at a mall or eating street food.
If there's a big protest happening in Bangkok when you are visiting or about to, check out Richard Barrow who covers current events in Bangkok, and also follow him on twitter for immediate updates.
My word of advice:
Big protests and riots are very concerning, but in reality they are normally in only certain specific areas of town while the rest of city goes on as normal. Check out Barrow's latest updates and it's most likely still safe to travel to Bangkok.
Conclusion
The other thing I can think of for solo female travelers is to make sure you have adequate and secure accommodation.
I would recommend Lub d Siam Square as it's in a great location and secure, but I also recommended some other good places to stay in my Bangkok guide.
Remember to keep alert, look in all directions before crossing the streets, keep your valuables hidden or pickpocket-proof when you're walking through crowded area, and you should have a wonderful and safe time visiting Bangkok.
So to answer your initial question, is it safe to travel to Bangkok?
Yes! Remember these safety tips and you should have a safe and wonderful time visiting this enchanting city that has so many awesome things to do and see!
Get exclusive updates
Enter your email and I'll send you the best travel food content.