The Kati roll, which is more commonly just referred to as a just a "roll," is one of Kolkata's (Calcutta) most beloved street foods.
Nizam's Restaurant is credited with being the first to create this Mexican burrito like Kolkata creation, but nowadays rolls are served all over the city in restaurants, but most commonly from roadside stalls.
Kusum Rolls and Kababs, an extremely popular kati roll establishment, is where I headed for my first taste of a Kolkata roll.
What is a Kati Roll?
A Kati Roll begins with a ball of dough that's rolled out into a paratha flatbread. It's fried in a pool of oil on high heat so it not only cooks, but becomes crunchy on the edges and flaky.
Depending on what the customer orders, the paratha flatbread is cooked plain or an egg (or two) are scrambled on top of it.
A choice of usually chicken or mutton is then piled into the paratha along with raw red onions, chillies, hot sauce and a dash of seasonings, and then rolled up into an Indian burrito.
Kusum Rolls – Kolkata
Before seeing the crowd of hungry customers huddled around the counter at Kusum Rolls, you'll smell the luscious aroma of spiced chicken, onions, and hot frying paratha bread.
Once you're there and you see them rolling up delicious looking ingredients, it will be impossible to resist getting in line to order.
Get exclusive updates
Enter your email and I'll send you the best travel food content.
The menu at Kusum Rolls in pretty basic.
Egg roll (not a Chinese spring roll, but a paratha with an egg in the middle rolled up), chicken roll, and mutton roll.
But it gets much better.
For each meat you can then combine it with an egg… egg chicken roll, egg mutton roll.
…And then you can double (or probably even triple) anything you like… double egg roll, double egg chicken roll, double egg double chicken roll, double egg mutton roll, double egg double mutton roll… and so on. Get's crazy!
I chose the egg chicken kati roll – doubles on everything sounded a little overdose for me.
Instructed by a friend to ask them for mustard sauce, I did.
Wrapped in a thin piece of paper, the kati roll was piping hot and grease immediately made the paper transparent.
My first bite included the most perfect crispy yet slightly still gooey mix of paratha, flavorful chicken, onions, and the marvelous mustard sauce.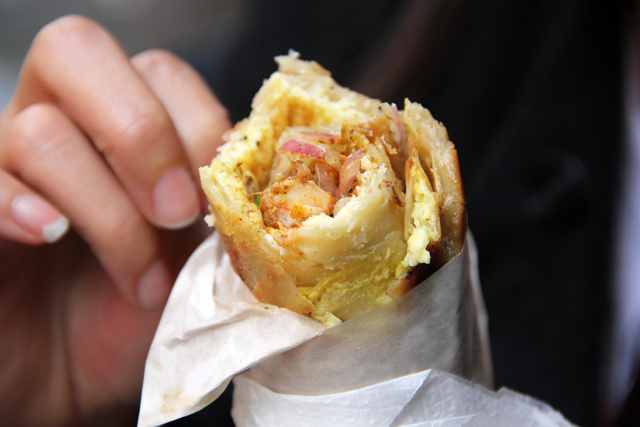 It was one of those bites where you completely forget about everything else in mouthwatering amazement.
It was indeed extremely greasy and heavily rich, but it was impossible to put down.
A Kolkata style kati roll is by all means one of the ultimate unhealthy treats one could possibly desire.
Though I wouldn't be able to eat a Kati Roll everyday, due to the heavy greasiness, once in a while it's an extremely tasty Indian street food in Kolkata.
If you ever visit Kolkata, certainly don't miss the kati rolls at Kusum Rolls and Kababas, and if you can handle it, go for "double egg double meat!"
Now here's a video of the egg chicken kati roll from Kusum Rolls…
(If you can't see the video, watch it on YouTube here)
Kusum Rolls and Kababs
Address: 21, Park Street, Kolkata , 700016
Price: Mine was 40 INR ($0.75)

View Migrationology Food Map in a larger map
Get exclusive updates
Enter your email and I'll send you the best travel food content.