Indian desserts are very famous in Varanasi.
You'll find street side vendors within the narrow alleys and along the bustling streets of the city waiting to serve and fulfill anyone's sweet tooth.
I'm personally not a huge sweets fan, I'd normally prefer to fill myself up with and extra helping of rice and curry over dessert (just like in Thailand, Thai desserts can be good, but I'd rather eat more curry).
But, eating is one of the top things to do in Varanasi, and since it was my last day in town, after stopping at the Kashi chaat bhandar, I decided to try the desserts.
Spotting an Indian desserts shop in an alley near where I was staying, I stopped by.
It's pretty obvious to spot an Indian desserts maker in India. Their cabinets are often illuminated by bright lights and their treats are bright and colorful.
Get exclusive updates
Enter your email and I'll send you the best travel food content.
While there are many famous sweets shops throughout Varanasi (video), you'll find some pretty good ones just within the lanes around the Main Ghat.
Not having a clue what to order, I simply asked the vendor to give me a mixture of some of his finest.
He thought for a few moments and then swiftly reached into his prized assortments of sweets and filled a box with five different items.
The entire box came to just 30 Rupees ($0.55).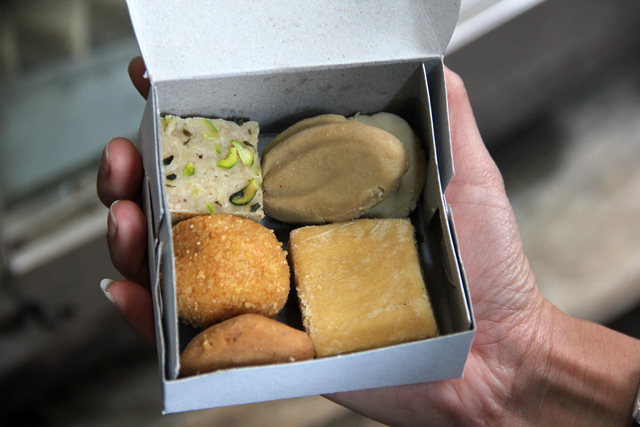 My box consisted of many famous Indian desserts, most of them being North Indian in origin. Laddu, kalakand, lal peda, sandesh, and peda were in the mix.
Standing on the side of the lane I grabbed the laddu for my first nibble. Flour, sugar, and lots of ghee are the main components of laddu. It's then shaped into a ball about the size of a ping pong ball and tastes like a nutty fudge.
Next up was the lal peda, kalakand, and sandesh. They all tasted quite similar, mostly containing lots of sugar and milk or cheese to create a rich milky fudge.
Finally I sampled the peda, one of the most famous Varanasi sweets. Made with khoa, milk that's been cooked down to a cheese kind of like ricotta, it's them mixed with ghee and milk powder and flavored with hints of cardamom and pistachios.
Here's the video:
Many of the Indian desserts I was able to sample in my mixed box of Varanasi sweets were very sweet, milky, and extremely rich. Many of them were sprinkled with cashews or pistachios and flavored with cardamom.
Overall, I enjoyed sampling these desserts, and when you're in Varanasi, you should do the same! Also, don't forget to try malaiyo!
Get exclusive updates
Enter your email and I'll send you the best travel food content.