Varanasi, located in the Uttar Pradesh state of India, is famous as being the most sacred Hindu city in India. However, it's also home some famous sweets and also Indian snacks known as chaat.
One day, I headed over to the Kashi Chaat Bhandar, a well known Varanasi munchers establishment.
What is Indian chaat?
Chaat is a term used for little Indian street food snacks – perhaps a more accurate English cultural translation is an appetizer (but not necessarily preceding a larger meal), or light snack.
To me, chaat is like a bag of potato chips… except it's fresh, more flavorful, and filled with countless tasty ingredients.
Chaat is normally a combination of junk food (like fried crunchy things), spices, yogurt (curd), onions, or a varied assortment of other ingredients. It's normally considered savory  as opposed to sweet, but then again, chaat is often a mind blowing combination of all flavors, sweetness sometimes being mingled with spicy and sour.
Throughout India, I enjoyed eating at many chaat stalls; They are great places to stand up while shoveling in a quick snack that bursts with flavor. Pani puri and ghugni chaat can both be considered varieties of Indian chaat.
Having little clue what to actually eat, I let the friendly owner decide my order.
Get exclusive updates
Enter your email and I'll send you the best travel food content.
"Just wait one moment," he said with a smile, "I'll take care of you."
Special Kashi Chaat
First up was what he called the special Kashi chaat. It was a mixture of slow cooked chickpeas, spices, butter, oils, chopped corriander, and I watched a host of other ingredients get stirred up before it was all scooped into a clay bowl and handed to me.
It was like bean dip, rich and creamy, salty and sour with lime juice. It was excellent as is, but I thought it would have even been better with a chapati or plate of rice as it was rich.
Dahi Puri
Next he handed me a plate of dahi puri.
Now these are the same little puris (hollow deep fried chips) that are used in preparing pani puri, but instead of being filled with tamarind water, these are first filled with spicy potatoes and drowned in thick curd (which is like unflavored yoghurt).
Then a few sprinkles of sauces and spices are tossed on top to complete the chaat.
It think Dahi Puri is marvelous. Each round puri is supposed to be eaten in a single bite so the diversity of flavors are blend together in your mouth, and let me tell you, it's quite a burst of deliciousness.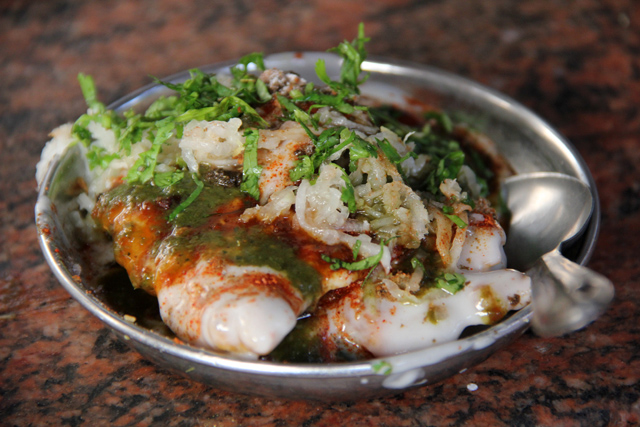 Palak Chaat
Before I had to surrender of richness overdose (I can't eat too many snacks without eating some rice and carbs to break the richness), he handed me one more concoction: Palak (spinach) Chaat.
Ok, there wasn't much spinach in this chaat despite its name, but there were a few leaves embedded into a deep freed crispy fritter that was then smothered in thick curd and the same host of spices and garnishes on top. It was a crunchy, yoghurty, spicy, sour mishmash, that was delicious too.
Here are the three Indian chaat dishes I enjoyed at the Kashi Chaat Bhandar in Varanasi, all lined up and looking beautiful.
Gulab Jamun
After polishing off the trio of chaat's, the owner handed me a gulab jamun – a golf ball sized famous Indian dessert – and said, "here, this is for free."
I had had gulab jamun a number of times, but this happened to be one of the best gulab jamun's I've ever had in my life. It was sweet like honey and crumbly like a soft half cooked cookie.
It honestly melted in my mouth, chewing was unnecessary.
Kashi Chaat (Chat) Bhandar
Hours: About 4 pm – 11 pm daily
How to get there: Kashi Chat Bhandar is located across the Gondawar intersection in Varanasi India. It's about a 10 minute walk from the Main Ghat (along the Ganges River).

View Migrationology Food Map in a larger map
This famous Varanasi food establishment is a true winner, a place you shouldn't miss if you love Indian street food as much as I do! I also included this spot on my Varanasi travel guide.
Get exclusive updates
Enter your email and I'll send you the best travel food content.