It's quite an easy process to travel from Kota Kinabalu, Sabah, Malaysia, to Bandar Seri Begawan in Brunei in a single day.  I recently took the journey completely hassle free, comfortable, and arrived safely.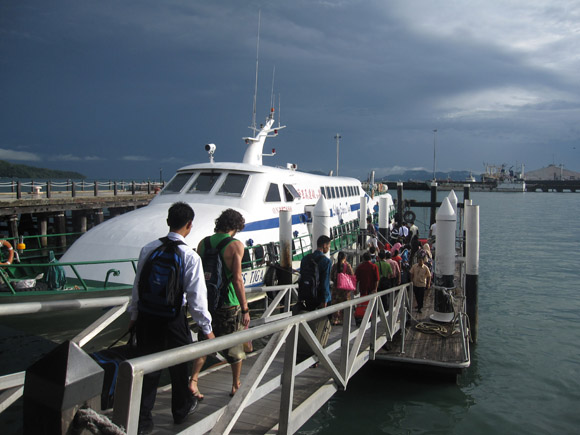 Kota Kinabalu to Brunei in 1 Day
Get to Jesselton Point Ferry Pier in Kota Kinabalu the afternoon before departure in order to purchase a ferry ticket for the next morning
You have to take 2 different ferries to Brunei, 1st to Labuan riding the Labuan Express Tiga vessel (duty free port in Malaysia), 2nd to Serasa Ferry Terminal, Muara, in Brunei riding the Seri Anna vessel
Purchase both ferry tickets at Jesselton Point, Kota Kinabalu, for a package deal costing 56 Malaysian Ringgits
The ferry boat will leave Kota Kinabalu at 8 am so arrive at the jetty around 7.30 am
You will watch some shoot-em up horrible film on the ferry and soon after arrive in Labuan at about 11 am
The next ferry to Brunei will leave at 1:30 pm, so you have a bit of time to mess around, shop for duty free chocolate, alcohol, etc. (Note: If you leave the ferry terminal, you will be charged an extra 5 Ringgits for ferry terminal tax)
The ferry to Serasa Ferry Terminal in Brunei will take a little over 1 hour and you will arrive about 3 pm
From the terminal dock, Bardar Seri Begawan is still 30 km away.  You have 3 options,
Take a taxi- B $20
Wait for a bus (could take an hour or more)- B $2
Take a taxi to the small bus terminal in Muara 5 minutes away- B $5, and then take the bus to city center- B $1
Note: Confirm all time and prices as they do tend to fluctuate.
Get exclusive updates
Enter your email and I'll send you the best travel food content.
You will arrive at the central bus station in Bandar Seri Begawan, Brunei around 4 pm. From there, most things of interest, including great hotels to stay at, are within easy walking distance.
Brunei to Kota Kinabalu in 1 Day
Get to the central bus terminal dock in Bandar Seri Begawan, Brunei by about 6:30 am in order to catch the bus (B $2) to the Serasa Ferry Terminal (bus will be market to ferry terminal)
The bus should leave anywhere from 6:45 am to 7 am depending on demand and arrive at the ferry terminal close to 7:45 am
Buy the ferry ticket to Labuan which will cost B $17 and leave at about 8:30 am
When you arrive in Labuan at about 10 am, immediately go through immigration, then exit the terminal, and head to the ticket counter to buy a ticket to Kota Kinabalu at 1 pm (34 Malaysian Ringgits)
You will have about 3 hours to mosey around, eat, and shop
The ferry to Kota Kinabalu will depart at 1 pm and arrive about 3 hours later
When I visited Brunei, I stayed at the YMCA, but there are many other places to stay within the city. Don't forget to indulge ambuyat when you're in Brunei!
Get exclusive updates
Enter your email and I'll send you the best travel food content.